Nikon F3 Review: A Comprehensive Icon Analysis
Last Updated on August 23, 2023

The Nikon F3 is one of those cameras that seems to never retire; it has been one of the pioneers that set the foundation for how new modern professional cameras should be. In this Nikon F3 Review, we will explore the circumstances that led to its manufacturing, as well as all the unique features that this camera possesses. And of course, we will also address the weaknesses that this camera has, because it does have them.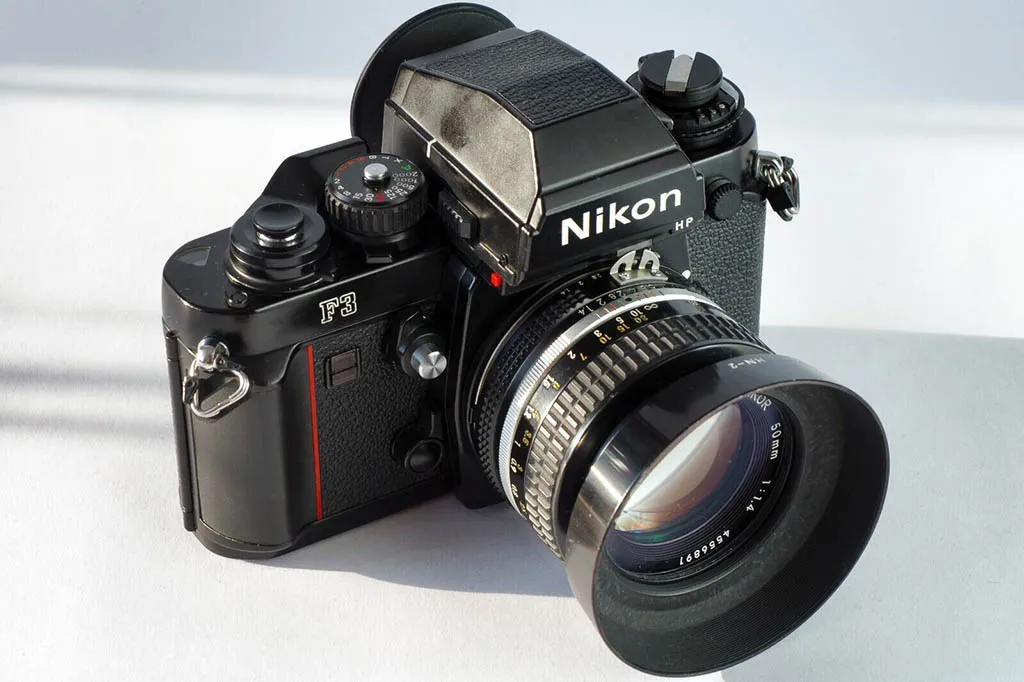 To kick off the article, I'm providing you with an overview of all its features and functions (which are quite a few), and then we'll dive right into discussing the camera.
Nikon F3 Full Specs
| | |
| --- | --- |
| Date Release | March 1980 |
| Camera Type | 35mm single-lens reflex (SLR) |
| Picture Format | 24mm x 36mm standard 35mm film format |
| Lens Mount | Nikon F bayonet mount |
| Compatible Lenses | Nikon F mount lenses, AF lenses (with limitations) |
| Shutter | Electromagnetically controlled, horizontal-travel, titanium foil focal-plane shutter |
| Shutter Release Button | Switch meter on when depressed halfway, meter remains on for 16 sec after button release |
| Automatic Exposure Control | Aperture-priority automatic exposure control, stepless shutter speeds from 8 sec to 1/2000 sec |
| Manual Exposure Control | Quartz digital control for 16 shutter speeds from 8sec to 1/2000 sec, including B and T |
| Backup Mechanical Release Lever | Trips shutter at approx 1/60 sec for battery failure situations |
| Exposure Metering | TTL center-weighted full-aperture metering, works with all interchangeable viewfinders |
| Metering Range | EV 1 to 18 (ISO 100, f/1.4 at 1 sec to f/11 at 1/2000 sec with 50mm f/1.4 lens) |
| Film Speed Setting | ISO 12 to 6400 |
| Exposure Memory Lock | Via button |
| Exposure Compensation | Via dial; +2 to -2 EV in 1/3 increments |
| Film Advance Lever | Single stroke type; automatic film advance possible with MD-4 motor drive |
| Self-Timer | Quartz-controlled approx 10 sec delayed exposure |
| Viewfinder | Eyelevel finder DE-2 (standard), High-Eyepoint finder DE-3 (standard); interchangeable |
| Viewfinder Display | Liquid crystal display (LCD) shows shutter speed, exposure information, ready-light, aperture |
| Focusing Screen | Split-image microprism Type K (standard); interchangeable with 29 other types |
| Finder Coverage | Virtually 100% |
| Viewfinder Magnification | Nikon F3: 0.8x, Nikon F3HP: 0.75x (both with 500mm lens set at infinity) |
| Multiple Exposure Control | Provided via lever |
| Reflex Mirror | Automatic instant-return type with lockup facility |
| Depth-of-Field Preview | Provided via lever |
| Frame Counter | Additive type; frame numbers from 0 to 40 |
| Film Rewind | By crank provided after film rewind button is pressed |
| Flash Synchronization | Possible at all speeds up to 1/80 sec with electronic flash |
| Accessory Shoe | Provided for flash units and accessories (details in the article) |
| Battery | 3V lithium battery CR-1/3N type, 1.55V silver-oxide batteries SR-44 type, or 1.5V alkaline batteries LR-44 type |
| Motor Drive Coupling | Electrical contacts and mechanical couplers provided for operation with motor drive MD-4 |
| Camera Back | Hinged; interchangeable with camera back MF-6, data back MF-14, or 250 exposure magazine back MF-4 |
| Body Dimensions | Nikon F3: approx 148.5 x 96.5 x 65.5 mm, Nikon F3HP: approx 148.5 x 101.5 x 69 mm |
| Body Weight | F3: 715g approx, F3HP: 760g approx |
History
Nikon's "F" series dominated the professional sector during the 1960s and 1970s. The debut of this lineup began with the Nikon F in 1959, where modularity would become the hallmark of this camera. Eleven years later, and staying true to the "modular" concept, the iconic Nikon F2 was introduced in 1970, which would remain a favorite among photojournalists and advertising professionals for a decade.
The Nikon F3, launched in 1980, marked a complete change in photography, not only due to the technological revolution from what had been done up to that point, but also because it set the path that the rest of the manufacturers would follow in the subsequent years. However, this change didn't happen overnight; Nikon evolved various aspects of technology in the F3 based on models from different ranges of its production line.
In the 1970s, the transition to digital control improved exposure accuracy and flexibility. Nikon contributed to this evolution with the Nikomat EL series (Nikkormat in Japan), culminating in the Nikomat ELW in 1976, which introduced automatic exposure control and an automatic film advance mechanism. In 1977, Nikon introduced the AI System (Automatic Maximum Aperture Indexing), which automated maximum aperture correction when mounting lenses, implemented in models like the Nikon F2 Photomic.
In 1979, to address the demand for affordable models, Nikon launched the Nikon EM, a compact electronic SLR camera, accompanied by the Nikon E Lens Series, maintaining optical quality and expanding its market.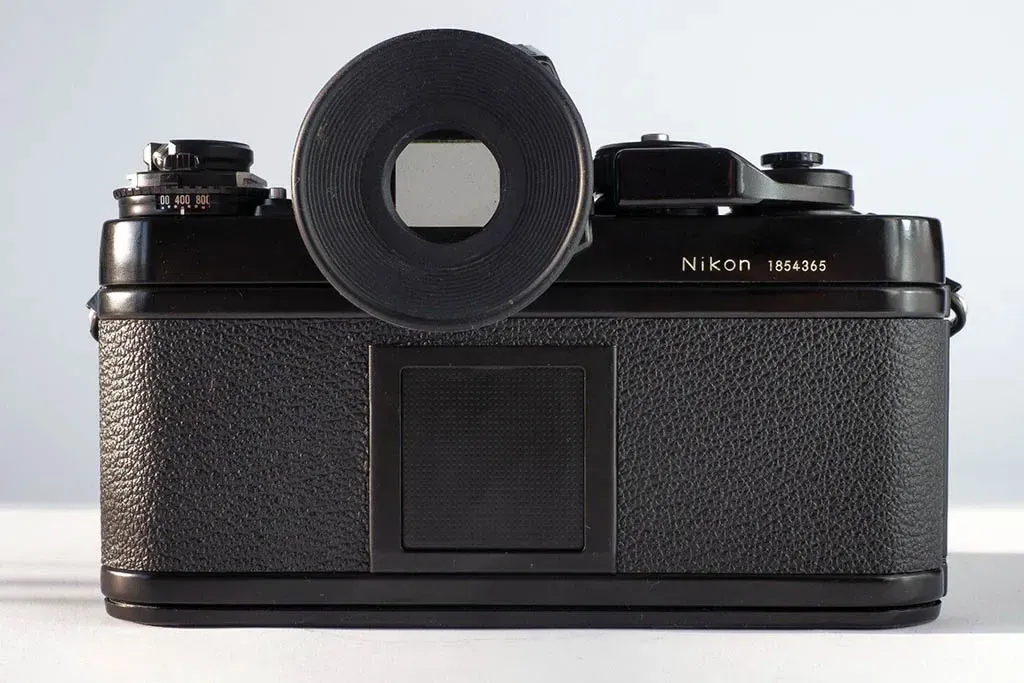 The development of the Nikon F3 was the culmination of everything learned previously and the new technology that only this camera possessed up to that date. It featured a modular design, an LCD screen for exposure data (shutter speed in the viewfinder), and titanium materials. The F3 introduced through-the-lens (TTL) metering, an automatic flash exposure control system, a unique reflex mirror for light metering, and a shutter based on digital circuits.
The Nikon F3 stood out for its versatility and adaptability in various situations. It was a popular choice for professionals and advanced enthusiasts, even being used by NASA in the first space shuttle.
The production of the Nikon F3 ceased in 2001 after 21 years, having coexisted with the Nikon F4 and Nikon F5. Its legacy endures as an iconic camera that merged electronic and mechanical technologies in SLRs, leaving a mark that keeps it relevant as one of the best SLR cameras in history to this day.
Versions of the Nikon F3
Nikon released several versions of the F3 that essentially improved the camera's performance in specific aspects. The camera isn't entirely different in all cases; some modules could even be adapted to the original version.
Nikon F3 Original: The standard version from 1980.
Nikon F3 HP: An upgrade over the original version, with the only change being the DE-3 High Eyepoint (HP) pentaprism, which covers 100% of the frame's viewing area in the viewfinder.
Nikon F3/T: Features a more durable and lightweight titanium body than the original. It was offered in two colors: champagne and black.
Nikon F3AF: An autofocus version that uses two special lenses with built-in motors. The Nikkor AF-80mm f/2.8 and the Nikkor AF-200mm f/3.5.
Nikon F3P: This version, released for the "press" sector in 1983, incorporates several improvements for use in extreme conditions. It includes a more impact-resistant body, weather sealing, an improved shutter and ignition system, the MF-6 Auto Film-Stop back attachment with an LCD screen, support for the MD-4 motor drive (shutter and winding motor), and other details.
Nikon F3 Limited: A variant of the F3P sold only in Japan, featuring a matte black finish and a gold logo.
Nikon F3 NASA: An adapted version for use in space, with modifications to withstand extreme conditions. In the collector's market, it can cost between $20,000 and $30,000.
Design

The design of the Nikon F3 was overseen by the innovative car designer Giorgetto Giugiaro. Drawing inspiration from the design lines of the 1976 Golf GTI, Giugiaro crafted the F3's design, which maintained a simple yet striking aesthetic. It featured a raised grip that offered ergonomic comfort and the iconic vertical red line near the grip, now distinctive of Nikon cameras.
The ergonomic design of the F3 presents an intuitive arrangement of dials and buttons. Furthermore, it incorporates various functions, including mirror lock-up, depth of field preview, and exposure controls. All of this upholds the tradition of the modular body design from the Nikon F and F2.
Lenses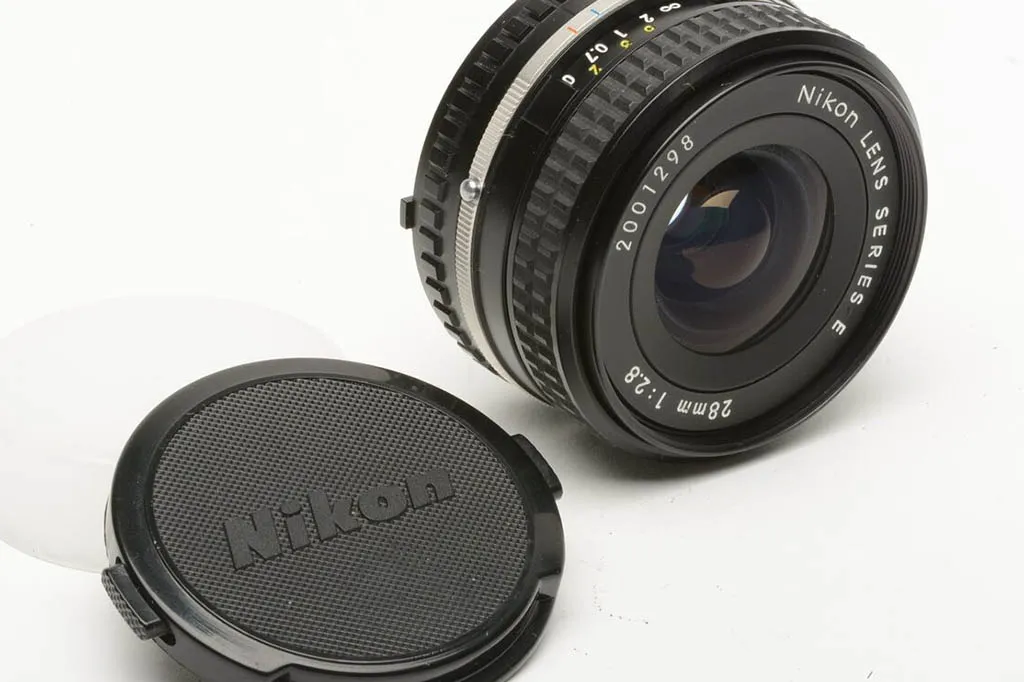 The Nikon F3 offers a wide range of compatibility with different F-type mounts, including Pre-AI, AI, and AI-s. Even the more modern mounts might work with their respective limitations. However, my preferred setup for the Nikon F3 is with "Series E" lenses, resulting in a very lightweight and compact combination. Especially with the Nikkor 28mm f/2.8 Series E, the Nikkor 50mm f/1.8 Series E, and the 100mm f/2.8 Series E.
In the press and photojournalism sector, the most reputable lenses include the Nikkor 24mm f/2.8 AI, which also includes its high-speed version, the Nikkor 24mm f/2.0 AI (both were updated to the AI-S mount – the first in 1981 and the second in 1982), along with the Nikkor 50mm f/1.4 (AI and AI-S), which is an all-around workhorse in the professional field.
Portrait lenses also encompass a good variety of 50mm lenses, with a special emphasis on those with f/1.2 aperture, spanning focal lengths of 50mm, 55mm, and 58mm. In other words, an impressive array of options solely for the f/1.2 aperture choice, which also includes various versions ranging from Pre-AI to AI-S. This list of lenses would also encompass the Nikkor 85mm f/1.4 and f/2.0.
Discussing the lenses usable with a Nikon F3 would lead to an endless list, as one of Nikon's main strengths – and a key factor in its success – lies in the quality and variety of its optics. Not to mention, it arguably possesses the most versatile mount in the market.
Check prices on the Nikon lenses at KEH camera store
Shutter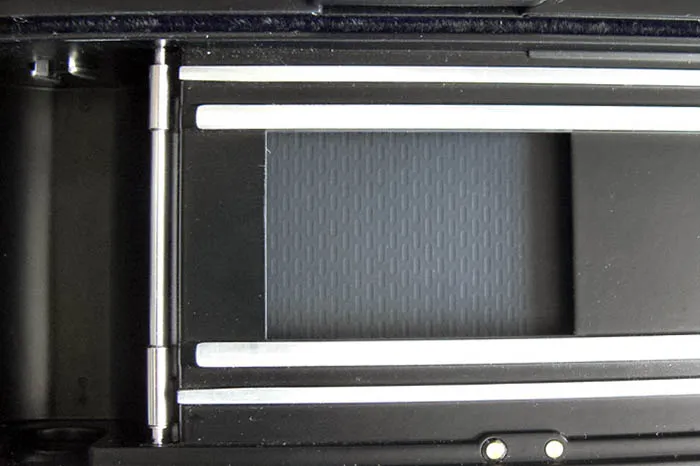 The shutter of the Nikon F3 is an electronically controlled focal plane shutter, capable of operating at shutter speeds ranging from 8 seconds to 1/2000 of a second. It also features a "safety" mechanical shutter speed of 1/100s, which can be activated when the camera is without batteries. The batteries used are SR44 (x2) oxide batteries. However, alkaline batteries like LR44 (x2) and dual lithium batteries like 3v 1/3N Duracell batteries (x1) are also compatible.
The F3 boasts one of the most reliable shutters in an SLR camera, featuring an electronically controlled horizontal focal plane shutter constructed from titanium. This material enhances resistance to both high and low temperatures, in addition to providing exceptional long-term durability. As a result, these shutters continue to function without any significant issues for the most part, even to this day.
In addition to displaying all the shutter speeds, the shutter dial indicates the Bulb mode (B), timer mode (T), flash synchronization mode (X), and aperture priority mode (A).
Flash and TTL Usage
The Nikon F3 stands out for its meticulous integration of technical capabilities and adaptability in flash usage. It offers extensive support for dedicated flashes, such as the SB-16A and other models from the Nikon Speedlight series. The range of flash modes, including TTL, enables automatic exposure measurement through the lens, dynamically adjusting the flash power in real-time to achieve exposure precision.
The F3 features flash synchronization ranging from X-sync mode with a shutter speed of 1/80 of a second to FP (Focal Plane) High-Speed Sync, allowing synchronization at even higher speeds, particularly in situations with elevated shutter speeds.
It should be noted that the positioning of the flash shoe is not the most optimal; it is situated above the film rewind crank and exposure compensation controls, making it impractical for use when a flash is attached. Furthermore, the camera doesn't incorporate a built-in hot shoe by default; instead, the AS-4 adapter must be used to enable this functionality. Another option is to employ the remote Nikon Sc-14 for TTL remote use.
Viewfinders, prism and screens
The Nikon F3 features the standard Eye-level DE-2 finder, with the option to exchange it for three other types. The focusing screen comes with a micro-split design (Type K) as the default, and it can be replaced with a selection of 29 other types to suit varying preferences and shooting conditions.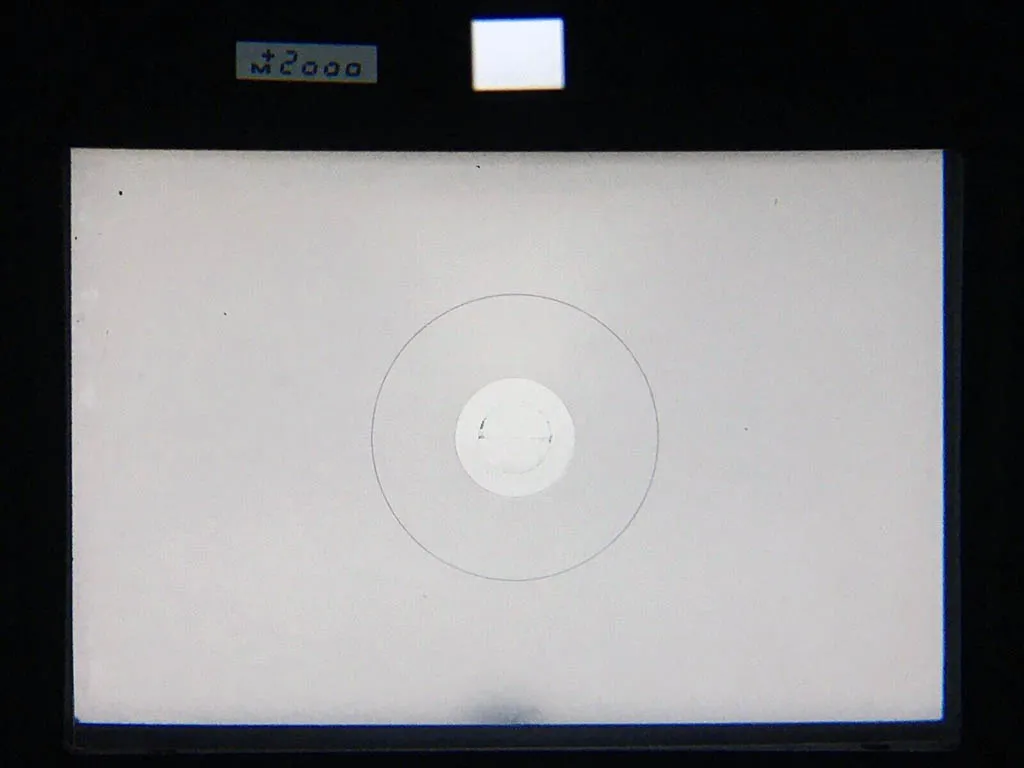 The integration of a LCD to display exposure data marked an innovation. The shutter speed control was based on digital circuits for increased precision, while the shutter release button adopted an electromagnetic design for seamless motor drive integration.
Finder Types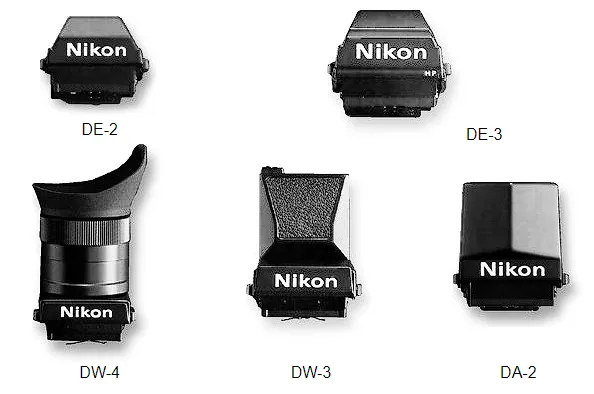 Nikon DE-2: The standard eye-level finder for the F3.
Nikon DA-2: A wide-view finder, ideal for sports photography.
Nikon DE-3: High Eyepoint finder, default in the Nikon F3P. Covers 100% frame, a beauty.
Nikon DW-3: Waist-level finder option.
Nikon DW-4: A finder with a 90-degree eyecup.
Pros and Cons
Pros
Design.
Reliable titanium shutter.
Extensive range of lenses.
Diverse range of viewfinders, focusing screens and other accessories.
Cons
Flash shoe position and accessory dependency for flash use.
Almost complete battery dependency.
Price and Buying Guide
The changes in Nikon F3 prices translate to an appreciation compared to the ten years prior to 2023. Back in 2013, the F3 had an average price of around $250 (body only), whereas nowadays it's around $350 approximately.
This refers to the approximate average price of a unit that's in "Good" condition and doesn't include extra accessories, meaning just the camera body. If we're talking about units with extra accessories like viewfinders, data backs, or that come with the MD-4 motor, the price can significantly increase. There are also units that come in their original box and are in "Like New" condition, which can easily surpass $1000.
Now, what should you consider before buying a Nikon F3 online? Above all, I'd focus on three things: ensuring the body doesn't have any dents (even cracks) or dings on the viewfinder. As mentioned in this review, the F3 is a camera built to withstand these kinds of incidents and keep functioning smoothly. The only issue is that the F3 is a camera with moisture sealing, which ensures it can endure decades of use. However, moisture leaks can be detrimental to any system, especially electronics, so I would steer clear of those units.
You can purchase an F3 online through platforms like eBay or specialized stores like KEH Camera, which often offer cameras with warranties. Regardless of where you make the purchase, try to follow the mentioned advice.
Check prices at KEH Camera store
Nikon F3 Sample photos
Some shots taken with the F3.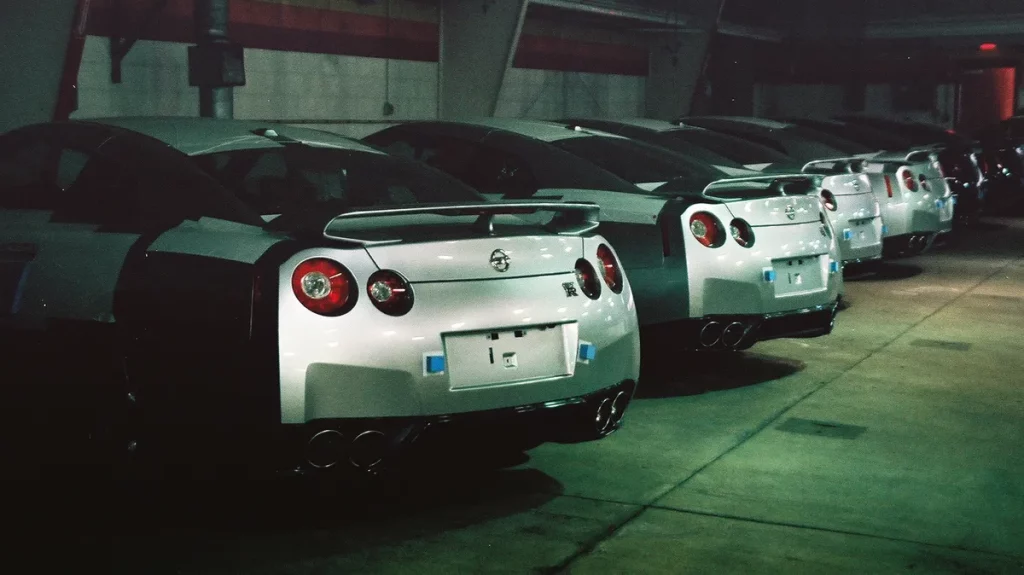 Final thoughts
Throughout much of my career, I've tested dozens of cameras, and I have a special fondness for the mechanical systems of classic Nikon and Minolta cameras. I believe that both brands have always been the ones to take the most risks and innovate. The Nikon F3 is the kind of camera that would have been difficult to acquire in its time due to the high required budget. However, the advantage of belonging to this era is that it can be much more affordable for enthusiasts today.
For many, the Nikon F3 is like the Leica of SLR cameras. It boasts a luxurious construction and technology, ensuring absolute reliability in any situation. The feature I emphasize the most is its vast field of view and the shooting experience; it's a sturdy camera no matter how you handle it. It's true that it has its shortcomings when it comes to flash usage, especially if you're into studio photography. It can work for the studio with an extra investment in accessories, but there are better options, like the FM2 or FE2, for example.
Without dragging this out too much, I hope this Nikon F3 review has been helpful. See you around, happy shooting!
References
Instruction manual: https://cdn-10.nikon-cdn.com/pdf/manuals/archive/F3.pdf