Canon EOS Rebel S Review: A Small Modern "Classic"
Last Updated on March 4, 2023

In this Canon EOS Rebel S review, we'll take a closer look, exploring its strengths and weaknesses to provide you with a better understanding of this "old" yet modern SLR film camera.
The Canon EOS Rebel S is a camera that still holds its own in today's digital age. Its advanced exposure metering system and versatile lighting options make it a nice choice for both beginner and experienced film photographers.
There are many similar models that Canon released throughout the 90s with very small improvements, and this camera is one of the first in this range and one of the most popular. In Europe, this camera was also known as the Canon EOS 1000F and was contemporary with other cameras such as the Nikon F50.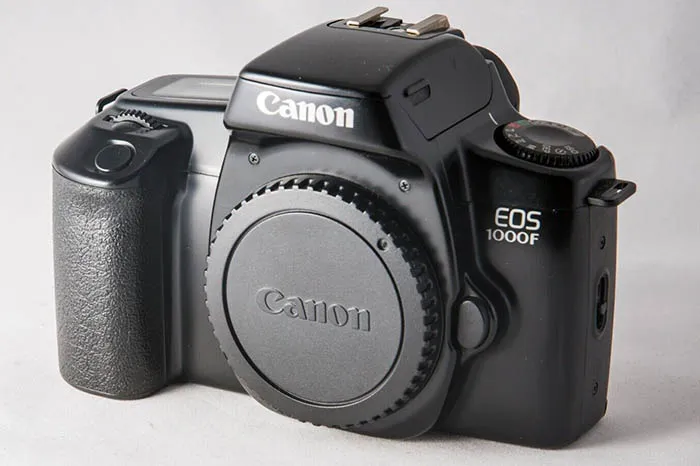 Canon EOS Rebel S Specifications
| Feature | Specification |
| --- | --- |
| Year release | 1990 |
| Film Format | 35mm |
| Lens Mount | Canon EF Mount |
| Shutter Speed Range | 30 sec – 1/2000 sec |
| Exposure Modes | Program AE, Shutter Priority AE, Aperture Priority AE, Manual Exposure |
| Metering Modes | Center-weighted, Partial, Evaluative |
| Exposure Compensation | ±2 EV in 1/2 or 1/3 EV increments |
| ISO Range | 25-5000 |
| Flash | Built-in, range up to 39 feet; External flash sync available via hot shoe |
| Red-Eye Reduction | Fires two flashes instead of one |
| Viewfinder Coverage | 92% vertical and horizontal |
| Self-Timer | 10 seconds |
| Battery | 2x 3V CR2 lithium battery |
| Dimensions (WxHxD) | 5.6 x 3.6 x 2.5 in. (141 x 92 x 64 mm) |
| Weight | 11.3 oz (320 g) body only; 14.1 oz (400 g) with 35-80mm lens and batteries installed |
Brief History
The Canon EOS Rebel S is the built-in flash version of the original EOS Rebel (EOS 1000). The "S" stands for "Strobe", the same goes for the European version, where the "F" for 1000F stands for "Flash".
In addition to the model with flash, which is the model for this review, there was also the Canon EOS Rebel S QD or Quartz Date model, which includes, in addition to the flash, a data back, which enables the date to be placed on the photo.
The Rebel line is the entry range of SLRs manufactured by Canon. With the EOS Rebel (with and without "S") the entire history of this line of Canon cameras in America begins, starting from 1990, 40 years have already passed, until reaching the latest (digital) model, the Canon EOS Rebel T8i of 2020.
Exposure Metering System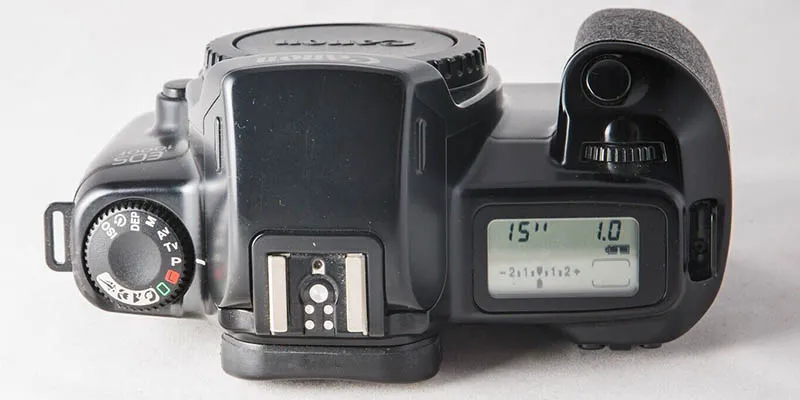 The EOS Rebel S boasts an advanced exposure metering system that allows for precise control over exposure in different lighting conditions.
Center-weighted metering mode: measures the light in the center of the frame and uses this information to calculate the optimal exposure. This mode is great for portraits and other subjects where the main point of interest is in the center of the frame.
Spot metering mode: measures the light in a small area of the frame, typically around 4% of the center of the viewfinder. This mode is useful for scenes where the subject is in a high-contrast area, such as a bright sky or dark shadows.
Evaluative metering mode: measures the light in multiple areas of the frame and uses this information to calculate the optimal exposure. This mode is ideal for scenes with complex lighting, such as landscapes or cityscapes.
Lighting
The Canon EOS Rebel S offers a range of lighting options, here are some:
Built-in flash with automatic and fill flash modes: The EOS Rebel S has a built-in flash with a range of up to 12 meters (39 feet) at ISO 100. The automatic mode is perfect for low-light situations, while the fill flash mode can be used to add a bit of extra light to backlit or shadowy scenes.
Hot shoe for external flash: The camera also has a hot shoe that allows for the use of an external flash for even more lighting options.
Slow sync flash mode: This mode allows for flash photography in low-light situations by keeping the camera's shutter open for longer while the flash illuminates the scene.
Red-eye reduction flash mode: Instead of a single flash, this mode fires two flashes to reduce the likelihood of red-eye in portraits.
Standard 35-80mm lens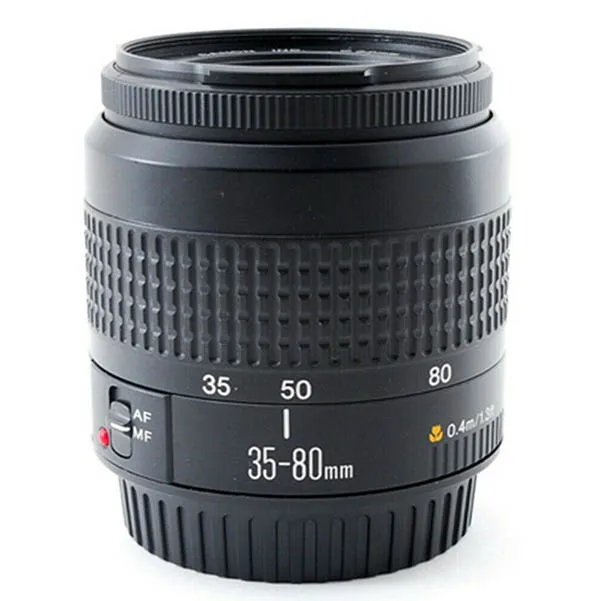 The Canon EF 35-80mm f/4-5.6 kit zoom lens is built with inexpensive materials and provides average performance. Although later versions had some marginal improvements, it is not an investment worth considering for those looking for decent quality.
A superior option for the Canon EOS Rebel S is to consider the Canon 50mm f/1.8 lens. Despite its affordable price, this lens significantly improves the resulting image quality. See price on KEH Camera
On the other hand, if you already have the kit lens, you can still use it at the minimum focal length (35mm) to use it as a basic wide angle.
Pros and Cons
These are some of the Pros and Cons of the Canon EOS Rebel S.
Pros:
It is a compact and lightweight SLR camera.
It offers a wide range of exposure metering modes.
It has a built-in flash and a hot-shoe for external flashes.
Good viewfinder size.
Cons:
The maximum flash sync speed of 1/90 is quite low compared to other cameras of its time.
Some users have reported issues with the film advance motor, which can cause the camera to jam or not advance the film properly. (Buy one that is well preserved.).
Autofocus can sometimes be inaccurate in low light situations or with fast-moving objects.
Who is this camera made for?
This camera is an excellent option especially for those who already have one or more professional Canon lenses, and want to take advantage of shooting on film. Which, to name a few, can be; the excellent image quality that results, that is, great contrast and an exceptional tonal range (especially with professional films).
For those who are starting out in analog photography, it is also a great option, since they will have a camera that performs very well at an excellent price (less than $20).
Why would I buy this camera if there are better cheap options out there?
The main reason someone buys a Canon EOS Rebel S, besides because it's so cheap and… "why not?" It is because in general you have simply come across it in some camera store at a very cheap price or because you have inherited it.
Because it is true that there are other Canon cameras that are just as cheap and slightly better. Something that of course you will only take advantage of if you are a more advanced user and want to use it for very specific types of photography.
For example if you want to take studio portraits, this camera will work very well in most cases. But if for example you want to freeze someone jumping or moving, it will fall short.
What other options are there to the Rebel S?
There are some options that may interest you as an alternative to a Canon EOS Rebel S that incorporate some improvements and are very reasonably priced for what they offer.
Under $50
The Canon EOS Elan 7 is a good option in this price range, it has a good grip and ergonomics, it offers 7 focus points compared to the 5 of the Rebel S. It also increases the sync speed with the flash up to 1/125.
Under $100
The best option in this price range is a Canon EOS 1N, which is already a professional camera by all accounts. Shoot at 5 frames per second and sync with flash at 1/250. Of course, it is robust and somewhat heavy.
If you want more classic options, you can read our article on the best 35mm cameras for beginners.
Canon EOS Rebel S Photos
Some sample photos shot on an EOS Rebel S with the standard lens.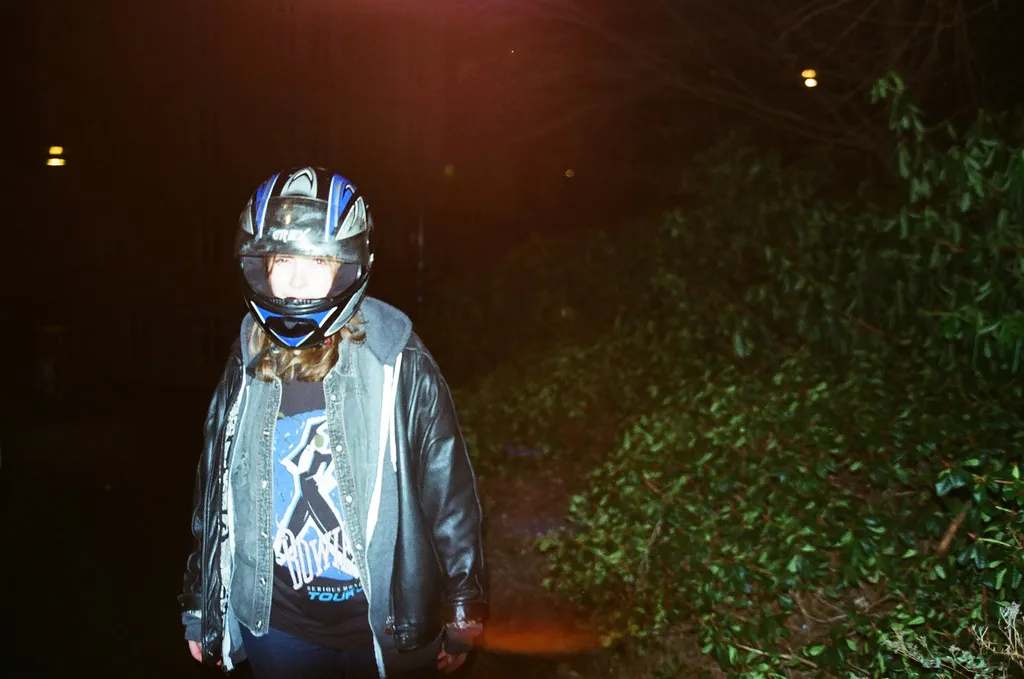 Conclusions
The Canon EOS Rebel S is a camera that can already be considered "classic" since it also begins a long tradition of this range that extends to our times.
It is a balanced camera that offers good benefits for most occasions. It is not the best for professional studio photos, although it can be used without problems. It has a good range of speeds, optimal for both night photography and nature photography. Of course, with a good lens.
And this unique thing is precisely the most profitable thing about this camera, it is a body capable of carrying modern lenses and resulting in the possibility of creating high quality images on film.