Mamiya 645 Pro and M645 Series: Mamiya's Compact Medium Format Guide
Last Updated on August 23, 2023

The Mamiya 645 Pro is a medium format SLR camera from the Mamiya 645 series. Overall, the Mamiya 645 series offers affordability and is an ideal choice for those looking to easily acquire a second-hand medium format camera.
While there are many medium format cameras produced in Japan, such as Zenza Bronica and Pentax, the distinctive feature of Mamiya's medium format SLRs is their affordability in the second-hand market compared to other options. Additionally, a major advantage is the wide variety of Mamiya Sekor lenses that can be used.
The manual lenses from the M645 series are easy to find at very reasonable prices online.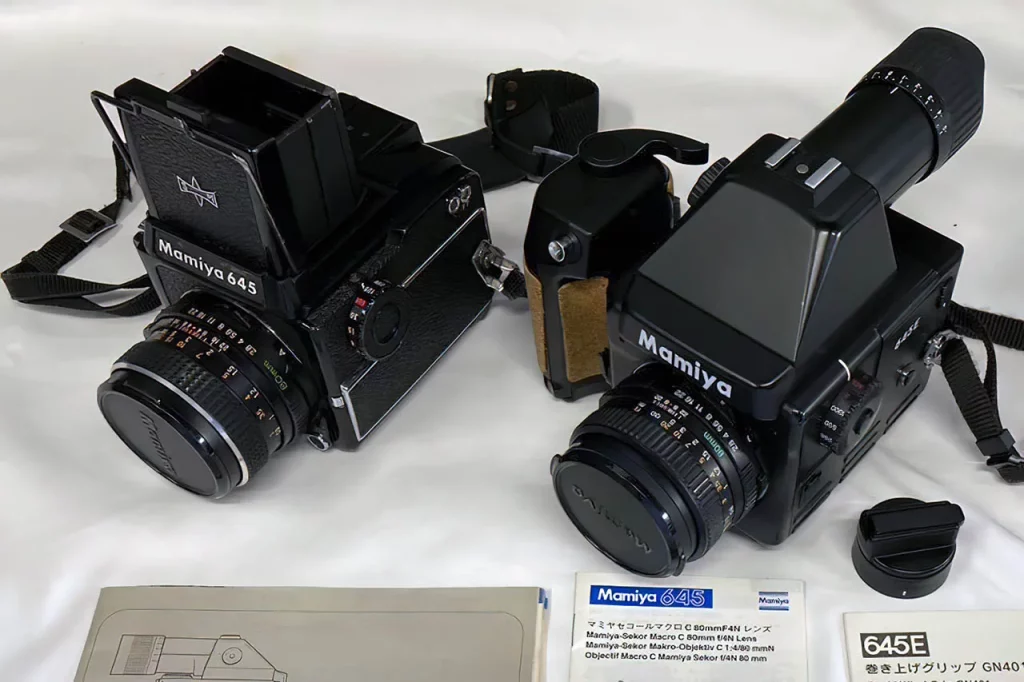 Despite this, the exceptional build quality that characterizes medium format SLRs suitable for professional use is maintained. This quality makes them recommendable even for those seeking their first SLR 6×4.5 format camera.
Mamiya 645 Pro and the 645 Series
The medium format SLR cameras from the Mamiya brand are referred to as "645" in reference to their format. This is the Mamiya 645 series.
Mamiya 645 Series
Within Mamiya's medium format cameras, the Mamiya 645 series is one of the more recent ones.
When it comes to medium format SLR cameras from Mamiya, the RB67 and RZ67 series are well-known in the second-hand market, but the medium format cameras from the Mamiya 645 series stand out for being more affordable and easier to find in the online market.
Furthermore, another significant advantage is the variety of available Mamiya Sekor lenses. Manual lenses from the M645 series can be acquired at very reasonable prices in the second-hand market.
Despite being affordable, these medium format cameras maintain a top-tier build quality that makes them suitable even for professional use. They are an excellent option for those seeking their first second-hand medium format camera.
Common Features and Specifications of the Mamiya 645 Series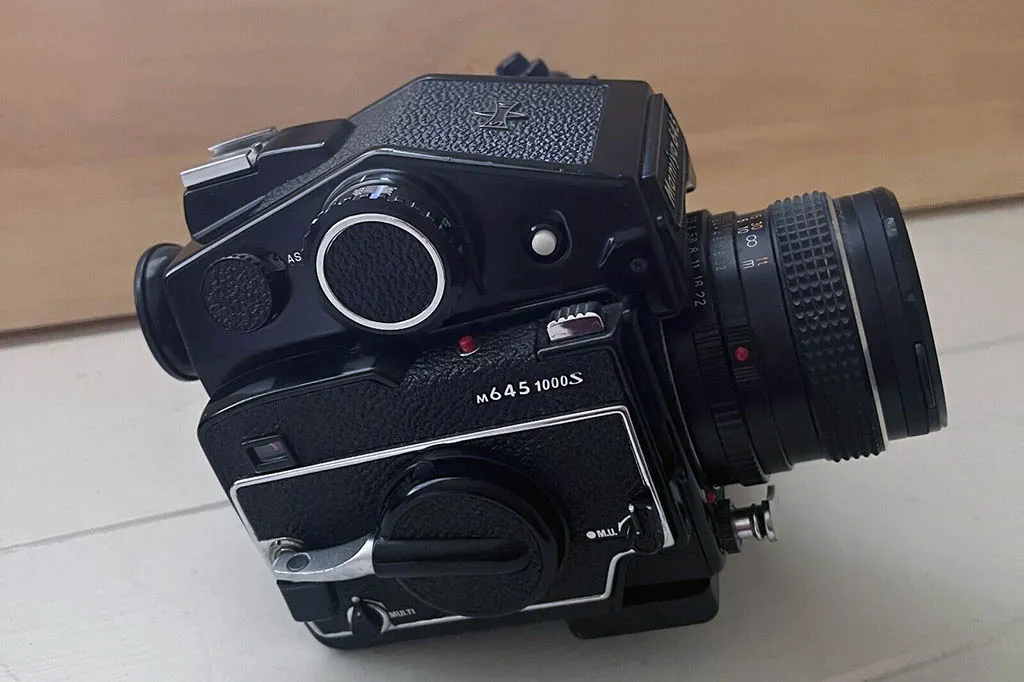 If you're searching for cameras from the Mamiya 645 series in the second-hand market, there are three main categories you can consider:
The models from the original M645 series, including the M645, M645 1000S, and M645J, featuring a look reminiscent of Hasselblad cameras.
More modern models like the M645 Super and M645 Pro, with a contemporary design.
The M645AF series, which includes models with autofocus.
These models share a key feature: the lens mount is compatible across all of them. However, note that autofocus lenses cannot be used on manual camera bodies.
Starting from the original M645, all these cameras use an electronic focal plane shutter. Additionally, the viewfinders are interchangeable, with both waist-level and eye-level viewfinders available.
Original M645 Series: A Hasselblad-Evoking Aesthetic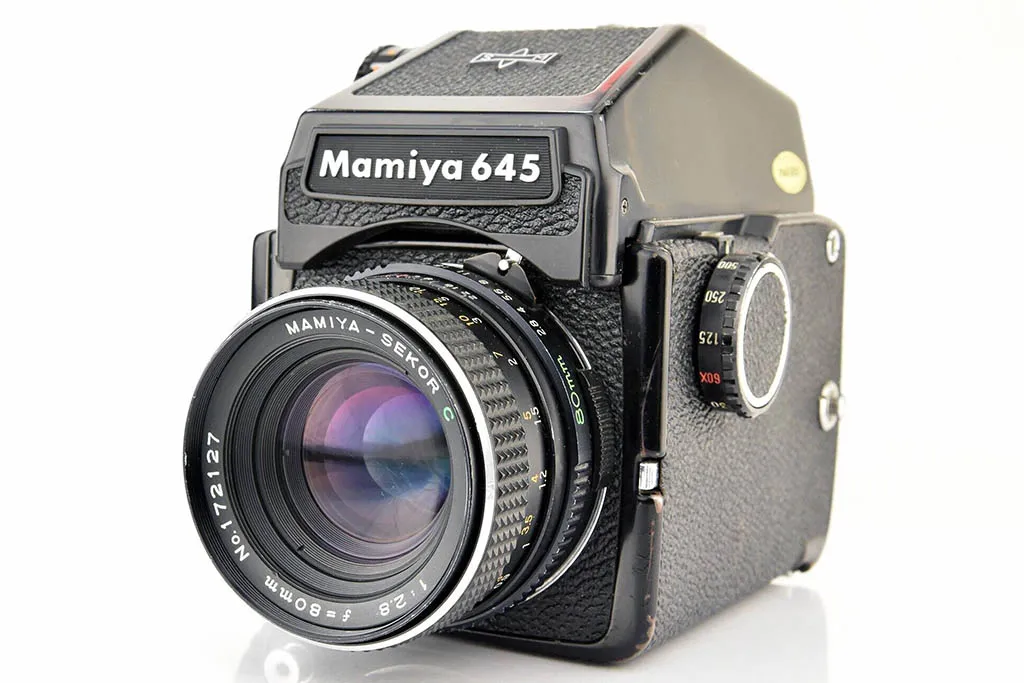 This series began with the release of the original M645 in 1975. Its distinctive feature is the classic appearance with a leather-coated metal body, reminiscent of Hasselblad cameras. The design is particularly elegant when paired with the waist-level viewfinder.
The original M645 series includes the M645 (1975), M645 1000S (1976), and M645J (1979), with the main difference between them being shutter speed. Both the M645 and M645J (a lower-cost export model) have a maximum shutter speed of 1/500 seconds, while the M645 1000S reaches 1/1000 seconds.
These three models have fixed backs that cannot be swapped.
In the second-hand market, these models are often the most affordable among medium format cameras. While some might have concerns about electronic components, my personal experience with an original M645 is that it still functions perfectly after just replacing the foam.
For those seeking well-functioning models, ones with electronic shutters can be actively used for a long time.
Although the 645 format differs from the 6×6 format, this camera series remains an excellent option for those seeking a second-hand medium format camera. In fact, its 1980s design holds a unique appeal that can be even more eye-catching than the look of later models.
M645 Super and M645 Pro Series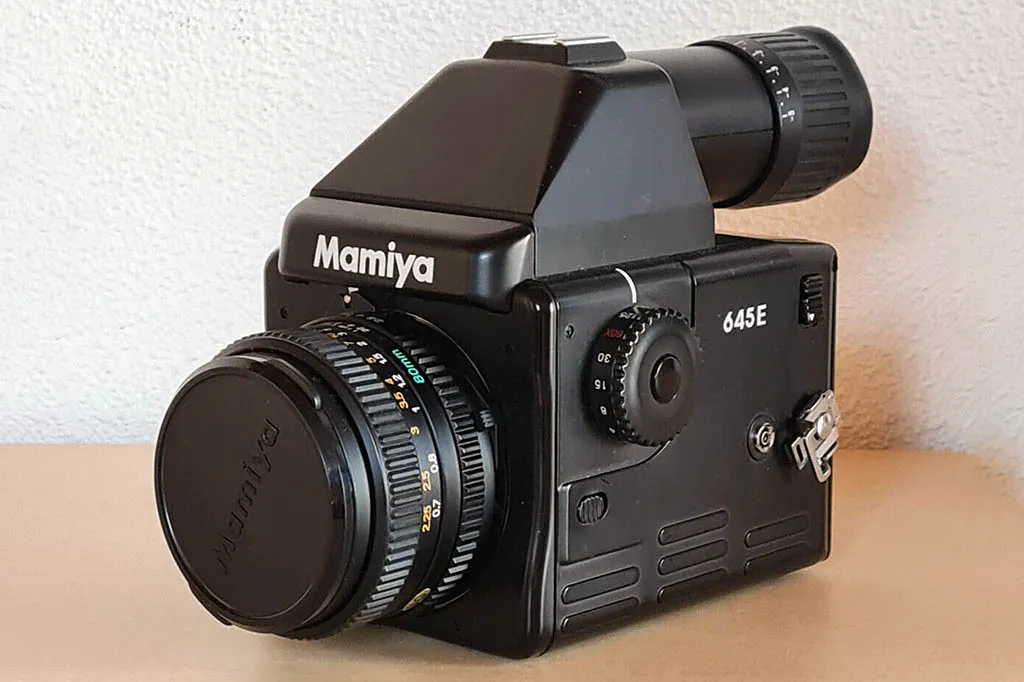 The M645 Super series, launched in 1985, introduced a more modern design for the camera body and allowed for interchangeable film backs.
The lens mount remains the same as in earlier models, meaning lenses are interchangeable. However, accessories are not compatible between the original M645 series and the M645 Super.
Within this series, the following models can be found:
M645 Super (1985): The first complete model change in the Mamiya 645 series.
M645 Pro (1992): Improved the battery consumption issue of the original M645 Pro.
M645 Pro TL (1997): Introduced automatic TTL flash adjustment.
M645E (1998): An economical model based on the M645 1000S with a design similar to the M645 Pro.
These models are also often affordable in the online market. They can commonly be found in second-hand camera stores, even in slightly worn but functional physical conditions.
Mamiya 645AF Series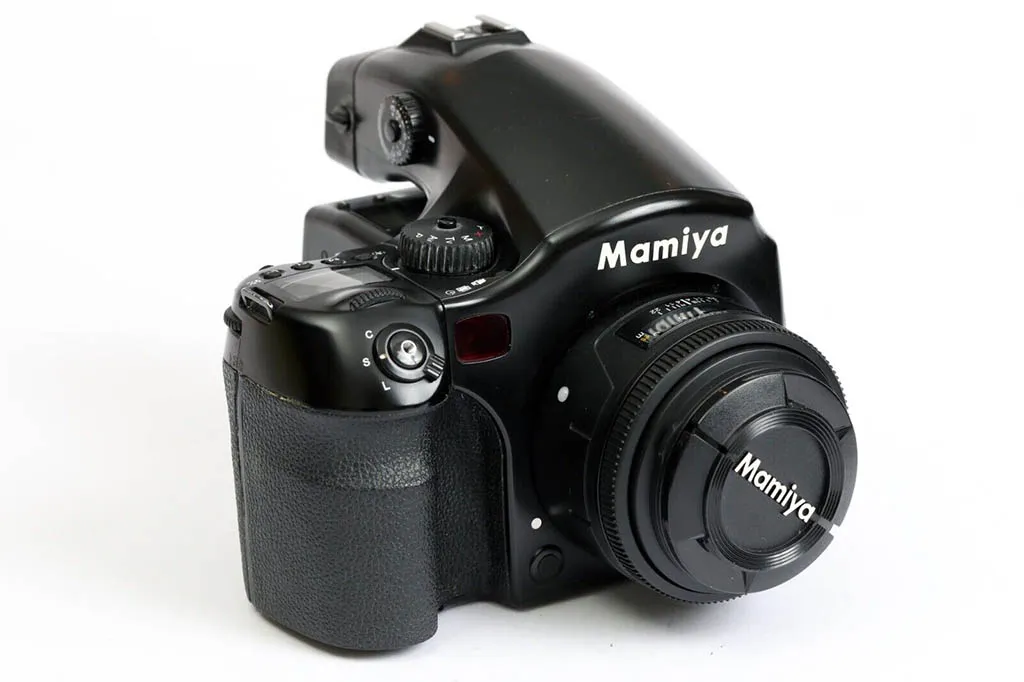 In 1999, the Mamiya 645AF was launched with autofocus, marking the first time Mamiya implemented autofocus in their cameras. However, autofocus lenses are no longer compatible with earlier camera bodies that use manual focus.
Additionally, in 2001, the M645AF D model included compatibility with digital backs. Subsequent improvements were released such as the DII (2005), DIII (2008), DF (2009), and DF+ (2012), and these cameras continue to be used by professionals as digital back cameras.
These models typically maintain a relatively stable price in the second-hand market. The lenses from this series, compared to lenses from the manual focus era, tend to have a higher price due to their utility in the digital age.
Competitors in the 645 Format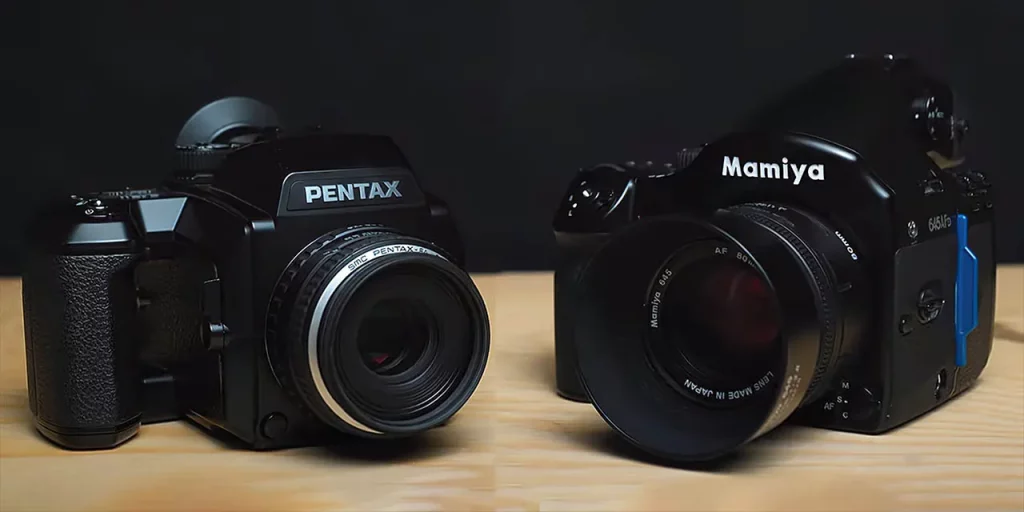 Alongside the Mamiya 645 series, there are other cameras in the half-frame format that serve as competitors.
If mobility is what you seek, the Pentax 645N is an option.
If expansion is your priority, Bronica ETRS is a solid choice.
If luxury is valued, the CONTAX 645 stands out clearly. All these options have unique features.
When looking for a medium format SLR, considering and comparing these options can be highly beneficial.
Compact and Reliable Medium Format
The Mamiya 645 series offers medium format cameras that are relatively affordable, making them an excellent choice for those seeking an entry into the world of medium format.
Although medium format lenses tend to be expensive, Mamiya Sekor lenses also have more accessible prices in the second-hand market. This enables you to create a complete system and use it for various situations. Furthermore, due to their compact size and lightweight nature, these cameras are ideal for everyday carry.