Bronica ETRS Review and Guide
Last Updated on May 17, 2023

The Bronica ETRS Camera is a popular medium format film camera that was released in 1978 by the Japanese camera manufacturer, Zenza Bronica. It was created as a more affordable option to its predecessor, the Bronica SQ, while still offering professional-level features and build quality.
Known for its versatility, reliability, and ease of use, the Bronica ETRS quickly became a popular choice among photographers looking for a good quality affordable medium format film camera.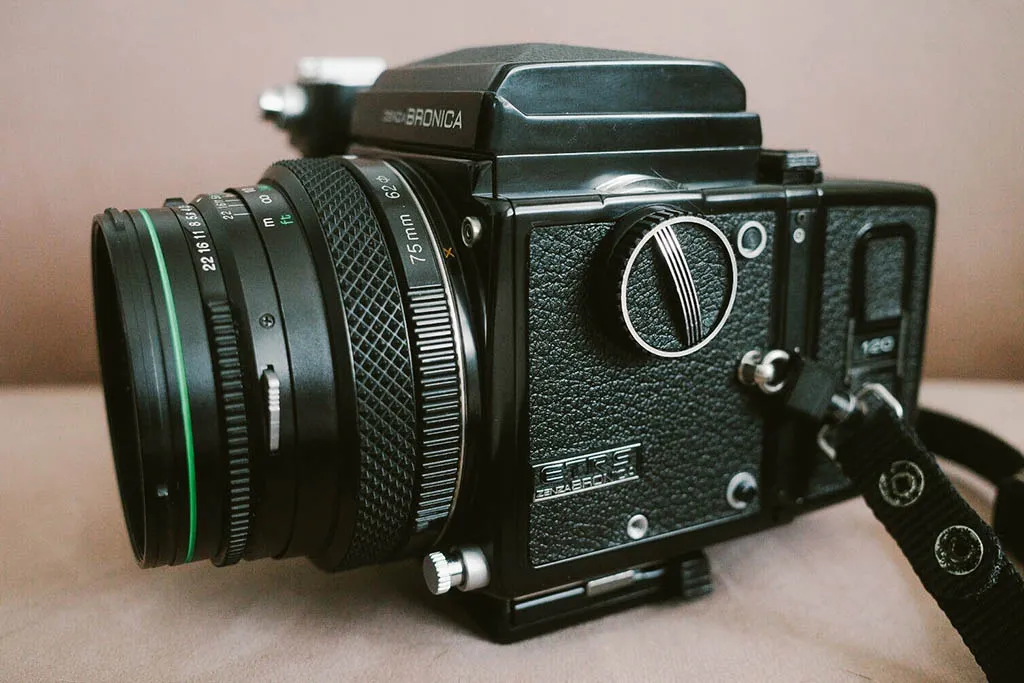 Specs
| | |
| --- | --- |
| Year release | October 1978 |
| Camera type | Single Lens Reflex |
| Film type | 4.5x6cm, medium format 120 /220 film |
| Standard lens | Zenzanon-EII 75mm f/2.8 |
| Shutter type | Seiko electronically controlled leaf shutter |
| Shutter speed | 8″ – 1/500sec |
| Film magazine | Interchangeable, 5 types options |
| Viewfinder | Interchangeable (5 options), Waist level finder (standard) |
| Flash | PC socket X,  sync for all speeds |
| Meteting | With AE-II and AE-III finders only |
| Battery | 6v Battery 4SR44 Silver Oxide / 4LR44 Alkaline |
| Dimensions | 110 w x106 h x157 d (mm) |
| Weight | 940g (without lens), 1340g with kit lens (approx.) |
Overview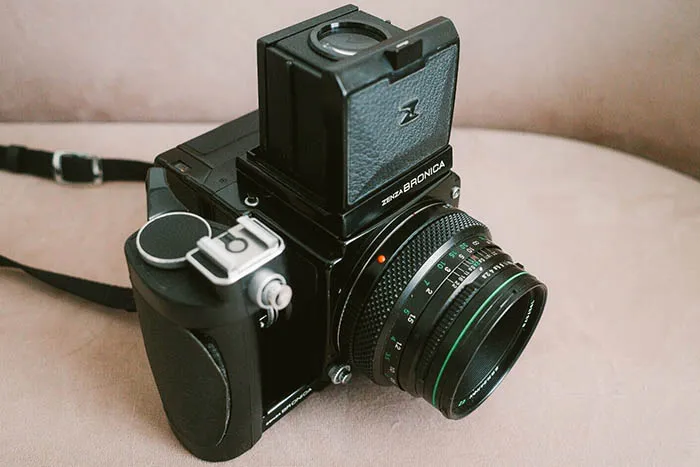 The Bronica ETRS is a 6×4.5cm format camera that can shoot 15 frames per roll of 120 film. It features a modular design that allows for interchangeable lenses, film backs, and viewfinders, giving the user the flexibility to customize the camera.
The ETRS comes with a focal plane shutter that offers shutter speeds ranging from 8 seconds to 1/500 seconds. The camera also features a bright waist level viewfinder that enables accurate focusing and framing. The viewfinder displays 95% of the image area. The ETRS also features an interchangeable back system that enables users to swap backs quickly and change between different types of film.
The ETRS body requires a battery for proper operation; it operates on a 6V 4SR44 silver oxide battery (or alkaline 4LR44), although silver oxide batteries are more recommended as they last a bit longer. Without a battery, it will shoot at 1/500, regardless of the speed you have set.
The ETRS with the standard Zenzanon-EII 75mm, has a maximum aperture of f/2.8, which makes it suitable for low light photography and shallow depth of field portraiture. The lens has a close focusing distance of 0.6m, making it an excellent option for capturing close-up shots.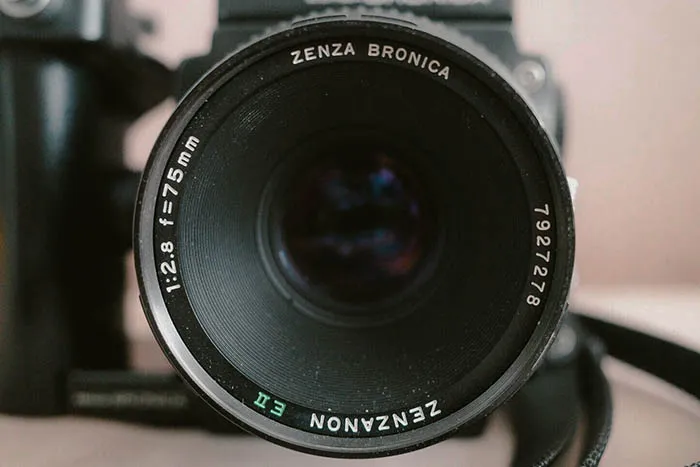 The ETRS camera belongs to the second revision of the ETR series. This enhanced version introduces several new and improved features that elevate its performance and functionality. One of the main improvements is the interchangeable viewfinder system, which allows photographers to select the viewfinder that best suits their needs. Read below to see each of the finders for the Bronica ETRS.
Body Design and Construction
The camera body is made mainly from metal, with durable synthetic materials used for the grip and certain controls. It's ergonomically designed, with a comfortable grip that allows for a secure hold on the camera. The ETRS also features a battery-powered motor drive (Motor Drive E) option that offers both single and continuous shooting modes. This makes it easier to capture action shots or shoot multiple frames in quick succession.
In addition to the motor, the ETRS also features the Speed Grip E, which is designed to enhance the camera's performance and provide greater versatility by allowing for quick speed lever actions controlled with the thumb.
Mount and lenses
The Bronica ETRS features a bayonet mount that allows for easy and secure attachment of interchangeable lenses. The camera is compatible with a variety of Bronica lenses, including both fixed focal length and zoom lenses, ranging from wide-angle (40mm) to telephoto (up to 500mm), and all of them have fully automatic lens diaphragms.
Some of the best known lenses for ETRS are:
Zenzanon-EII 75mm: (6 elements in 4 groups), minimum focusing distance of 0.6m.
Zenzanon-PE 40mm F4: (9 elements, 8 groups), minimum focusing distance of 0.35m.
Zenzanon-PE 50mm F2.8: (9 elements, 7 groups), minimum focusing distance of 0.5m.
Zenzanon-PE 105mm F3.5: (6 elements in 5 groups), minimum focusing distance of 0.9m.
Zenzanon-PE 150mm F3.5: (6 elements in 5 groups), minimum focusing distance of 1.5m.
Zenzanon-PE 200mm F4.5: (6 elements in 5 groups), minimum focusing distance of 2m.
Zenzanon-PE 250mm F5.6: (6 elements in 6 groups), minimum focusing distance of 3.5m.
Zenzanon-PE 500mm F8: (11 elements in 10 groups), minimum focusing distance of 8m.
All the lenses of the Zenzanon family released for this generation of Bronica, and more specifically for the ETRS, are equipped with a built-in Seiko electronic leaf shutter.
Removable Film Back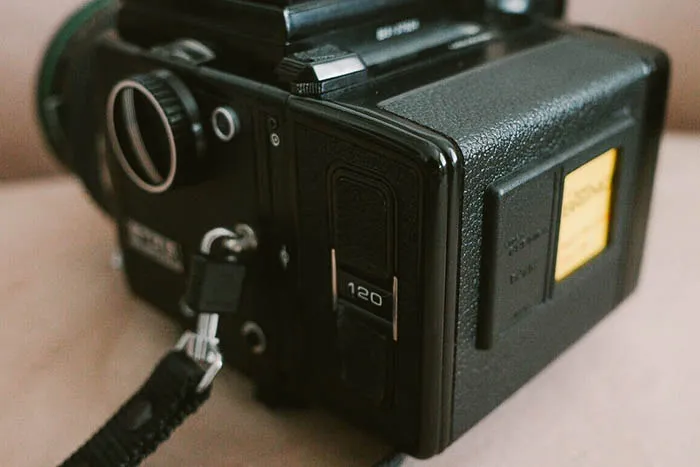 The Bronica ETRS Camera is renowned for its easy-to-use removable film back, particularly when compared to other medium format cameras on the market. The film back can be removed using a simple latch, allowing the user to change their film quickly and efficiently without the need for any additional tools.
Film Backs
The Zenza Bronica ETRS offers five types of film backs: Film Back ETRS 120 (15 exposures), Film Back ETRS 220 (30 exposures), Film Back ETRS 135N Frame Size: 24 x 36mm, Film Back ETRS 135W Frame Size: 24 x 54mm, and Polaroid Pack Film Back E (8 exposures). These film backs are interchangeable, allowing you to use different film types within the same session.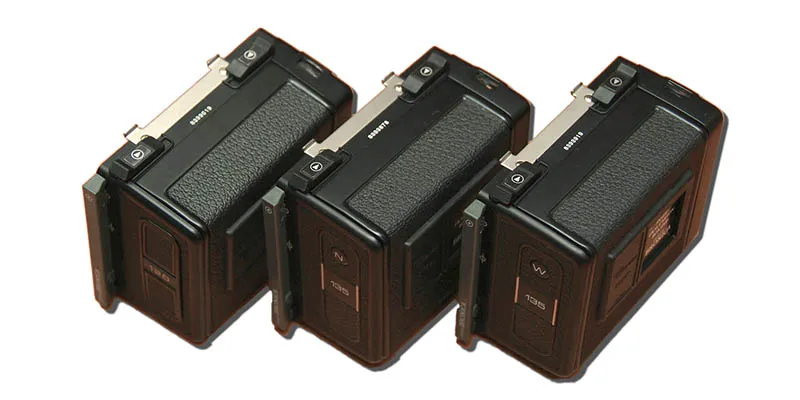 Each film back consists of a film holder and a film back frame, with specific film holders provided for 120 and 220 roll films. The film holder includes an insert or frame for loading the film, along with a built-in film winding mechanism.
On the other hand, the film back frame consists of a base with a dark slide slit and a back cover featuring a film type indicator frame. The film back frame completely encloses the film holder, protecting it from external light and connecting it to the camera's main body.
Buy film backs for the Bronica ETRS here.
Comparison with Hasselblad Film Back
Although resembling a Hasselblad, the Bronica ETRS camera offers a different experience. Its film back has a distinctive feature: it's removable, making film changing easier. Unlike the Hasselblad, the film carrier can also be detached, albeit with a different operation. Initially, removing both the magazine and the film back may require multiple attempts.
It's not necessary to remove the film back to reload it. Both the magazine and the film back securely fit in the rear of the camera, providing a sense of solidity. The dark slide has a plastic piece and typically slides smoothly. It's important to note that the exposure counter doesn't move when loading the camera, contrary to the Hasselblad. Therefore, it's necessary to check that the multiple exposure lever isn't engaged after taking several photographs.
Film Loading and Film Back Steps
Loading the Back:
Start by opening the back of the camera.
Ensure the dark slide is inserted correctly with the circles at the top.
Take out the film insert and adjust the take-up spool to the lower position.
Remove the paper ribbon from the film and make sure there are no leftover glue or paper bits.
Insert the film into the insert, making sure the black backing paper faces the lens.
Close the top hinge section to hold the film in position.
Feed the film into the take-up spool.
Ensure the film is fully pulled through to avoid overlapping frames.
Keep slight tension on the film by gently turning the bottom wheel.
Align the arrows on the film and the back.
Place the insert back into the camera and close it.
Shooting and Film Advancement:
Use the wheel or the camera to advance to the first frame.
Take your shots (up to 15).
Once you finish the film, it will automatically wind off.
Open the back and send the film for development.
Repeat the process for the next roll.
Remember to:
Double-check the dark slide position.
Remove the paper ribbon completely.
Ensure the backing paper faces the lens.
Maintain tension on the film while loading.
Align the arrows for correct film positioning.
Use the wheel or the camera to advance frames.
Wind the film completely off before opening the back.
Slide Protection and Smoothness of Movement
The Bronica ETRS Camera is designed with a robust slide protection and smoothness of movement mechanism that ensures the camera remains safe from unwanted damage and performs smoothly. The mechanism helps in easy switching between the film advance and rewind modes. It is designed to prevent any accidental film exposure, scratches or damage to the camera during normal use. Furthermore, it provides a seamless and smooth operation of the camera, resulting in an enjoyable shooting experience.
Multiple Exposure Lever and Its Effect on Film
The Bronica ETRS Camera comes equipped with a multiple exposure lever, which is a valuable feature for experienced users. The lever is located on the camera body and allows you to create multiple exposures on the same frame of film. This feature is especially useful for experimental and artistic photography, where the layering of images adds depth to the final result.
As mentioned earlier, it is necessary to pay special attention to its use, as we can forget that it is on and end up losing the functionality of the frame counter.
ETRS Viewfinders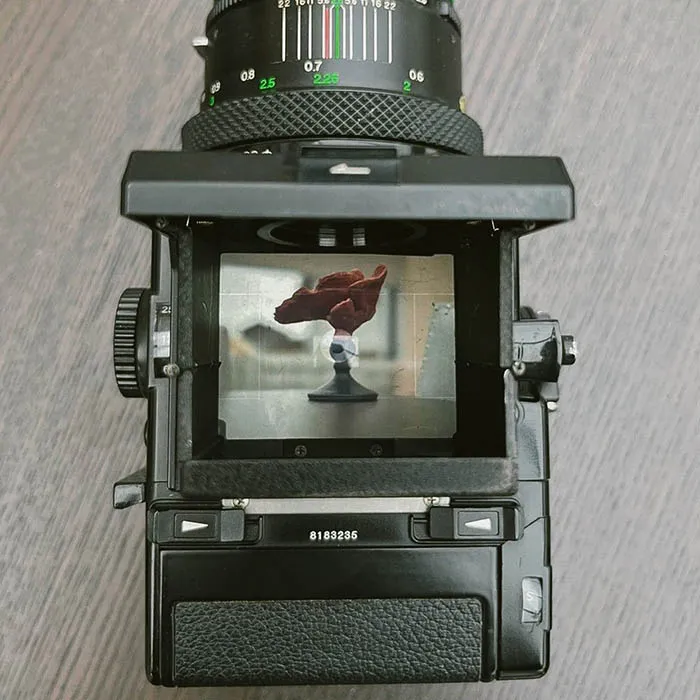 There is a diverse range of viewfinders available for the ETRS, each of them serving different needs. Here is a list of each one along with their features.
1. Waist-Level Finder E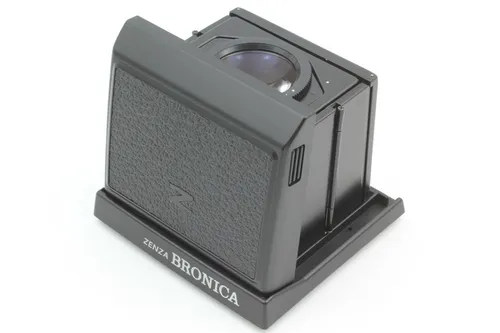 This accessory folds flat and provides a laterally reversed upright image when used. It includes a flip-up magnifier for precise focusing, suitable for meticulous composition work. The single-action opening and closing mechanism ensures user-friendly operation.
It is the standard viewfinder of this camera, or at least it is the viewfinder with which it was initially launched.
2. AE-II Finder E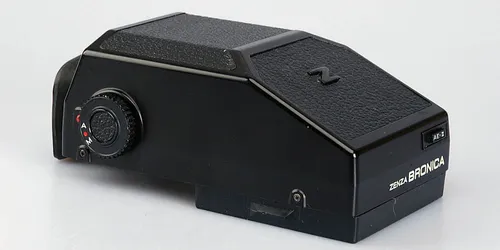 This prism-type finder enhances your ETRS camera with automatic exposure capabilities. Operating in aperture-preferred mode and through-the-lens metering, it delivers an eye-level laterally-correct upright image for effortless viewing and focusing.
The shutter speed is automatically adjusted in smooth, continuous steps. The finder's integration with the automatic exposure control system enables accurate exposures in various conditions. It also allows the flexibility to switch between manual exposure control with metering or simple prism viewing without metering.
3. Rotary Viewfinder E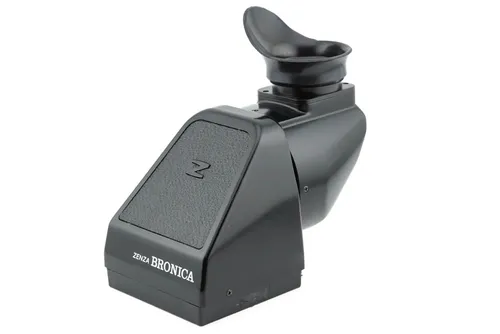 Designed for reflex view-focusing, this accessory features a rotating eyepiece that adjusts 90 degrees to the left or right. It enables easy view-focusing of a bright and distinct erect image, synchronized with the lens. The Rotary Viewfinder E provides reflex viewing in horizontal and vertical formats and eye-level view focusing from the side.
4. Prism Finder E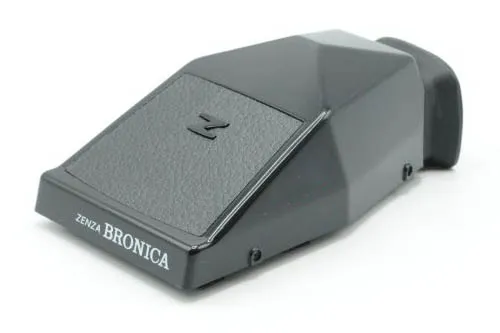 The Prism Finder E is a suitable choice for capturing fast action. It presents an eye-level laterally correct and upright image, ideal for tracking fast-moving subjects. With its bright and high-magnification image, shooting in both horizontal and vertical formats becomes effortless.
5. Sports Finder E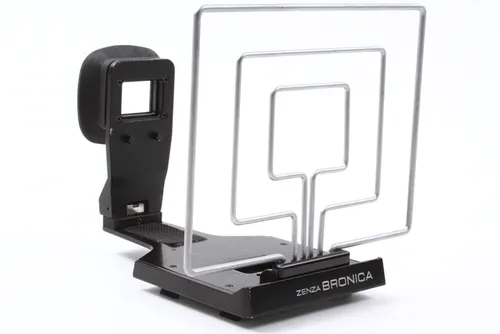 Specifically designed for news coverage and sports photography, this foldable open-frame accessory offers direct-viewing frames tailored for 50mm, 75mm, and 150mm lenses, ensuring precise framing. Its compact design allows for easy storage.
Bronica ETRS vs ETRSi
The ETRSi is another variant of the ETRS based on the second revision of the model. It features a range of new and improved characteristics, including a mirror lock-up switch located near the film advance lever, TTL flash metering with OTF flash exposure capability, and multiple exposure functionality with a red indicator in the viewfinder.
Furthermore, a traditional bulb mode has been added, allowing for extended exposures, although it consumes power during use. Further enhancements have been made to the film advance mechanism, body grip, and the film back holder EI, which now incorporates a locking dark slide system similar to that found in the older Bronica 6×6 cameras.
Pros and Cons
Pros
Affordable price
Leaf-shutter lenses
Modularity
Portable and handheld shooting
Features a flash hot shoe
Cons
Need a battery to function
Lack of a 'Bulb' mode
Film format restriction (only 6×4.5)
Price and buying guide
The Bronica ETRS is an affordable option for a considerable medium format camera suitable for any type of user. In the second-hand market, you can find deals around $500 (Lens+body+viewfinder+film back). This camera stands out for its modular components and produces a frame ratio of 6×4.5 cm, making it an interesting choice for those transitioning from 35mm and seeking a larger format without losing the ability to capture photos in portrait and landscape modes.
Moreover, it offers good portability, especially when using one of the available grips. The specially designed Zenzanon PE lenses for this version are true gems, featuring solid mechanics and delivering sharp, contrasted, and smoothly focused results. It features electronically controlled exposures and a mechanically controlled shutter speed, although electronically regulated (which can be a drawback for those who prefer fully mechanical cameras).
The ETRS excels in modularity and flexibility, allowing for easy interchangeability of film backs and viewfinders. Whether you're interested in starting with medium format photography or seeking a more professional workflow without spending as much as you would on cameras like the Hasselblad, the Bronica ETRS is an excellent choice.
Bronica ETRS Photos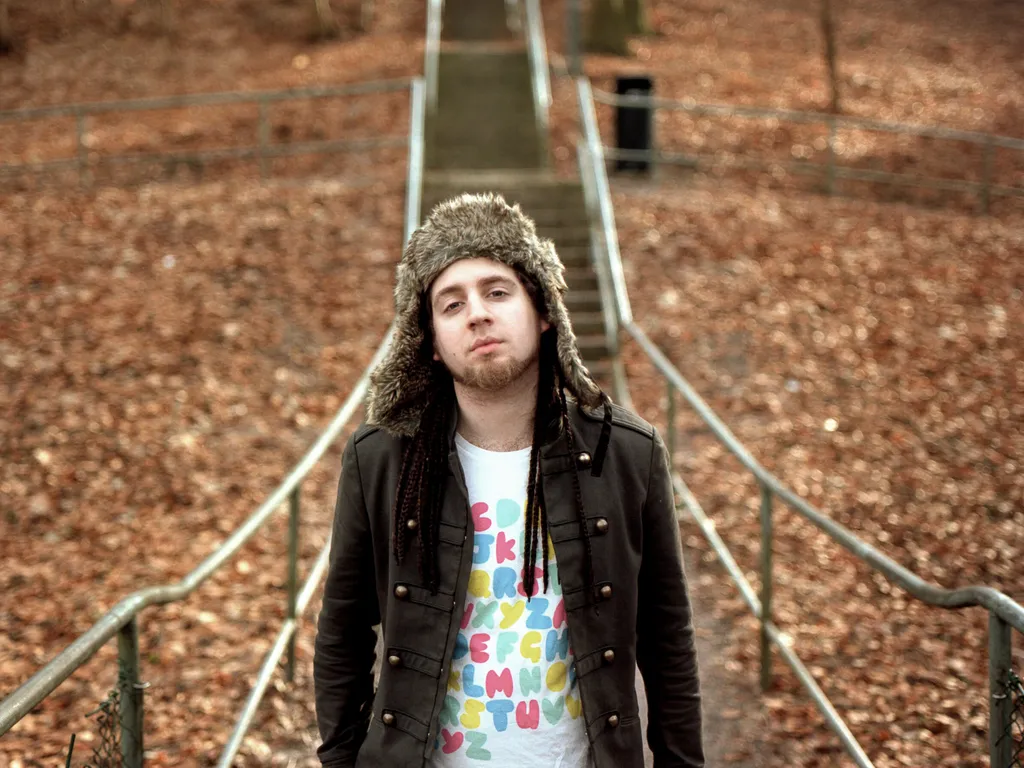 Conclusions
To say that the Bronica ETRS is a camera for amateurs or beginners and not for professionals would be a hasty remark, as we have seen in this review-guide. The ETRS offers interesting functionalities that allow for a workflow at higher levels than cameras with greater renown.
It is true that some of its parts may seem of lesser quality (plastic) compared to German cameras, but considering its price, it is definitely worth it.
Useful links