5 Affordable Medium Format Film Cameras in 2023
Last Updated on January 20, 2023

It is necessary to know the options for this 2023 in terms of affordable medium format film cameras, that is why we have prepared a list of cameras that can be useful for beginners and advanced users.
Every year we update this list as the market changes and trends, even if it seems incredible to believe, do the same, even if they are cameras that are no longer manufactured today.
The criteria of this list focuses on starting with the simplest cameras until reaching the "sophisticated" ones. Because even if they are cheap cameras for being medium format, they are engineering works of art.
1. Kiev 6C TTL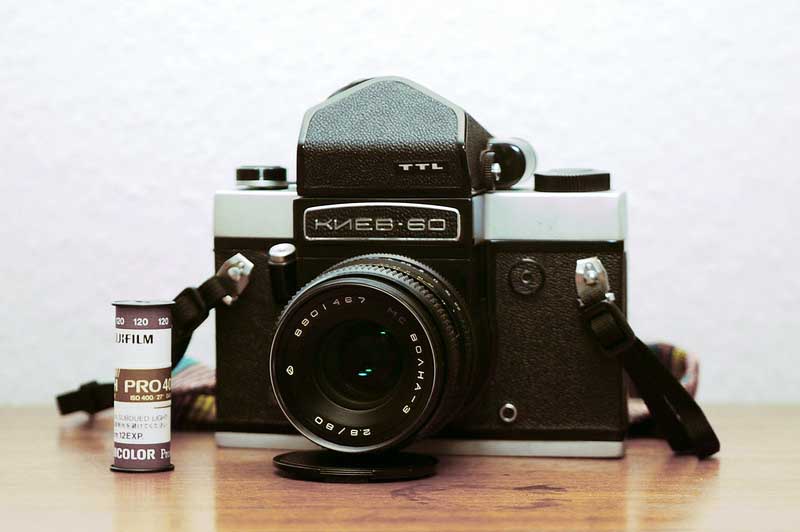 The Kiev 6C (also Kiev 60) is manufactured by the Arsenal Factory in Kiev, Ukraine. It is a 6×6 SLR medium format camera that is inspired by the German Pentacon Six camera.
It has its older brother, the Kiev 88, which is inspired by the Hasselblad and belongs to the professional range of the Soviet medium format camera line.
The 6C features a Volna-3 80mm 1:2.8-22 lens. A cloth curtain shutter, shutter speed b, 1/2 – 1/1000. In order to cover the large negative at the film plane, the focal length is increased. Has an optional waist level finder and a removable pentaprism.
Being an SLR it is quite intuitive for the user who is used to this system, yes, it is not a very sophisticated camera, it can be noisy and rough, but without a doubt the resulting photos are very outstanding..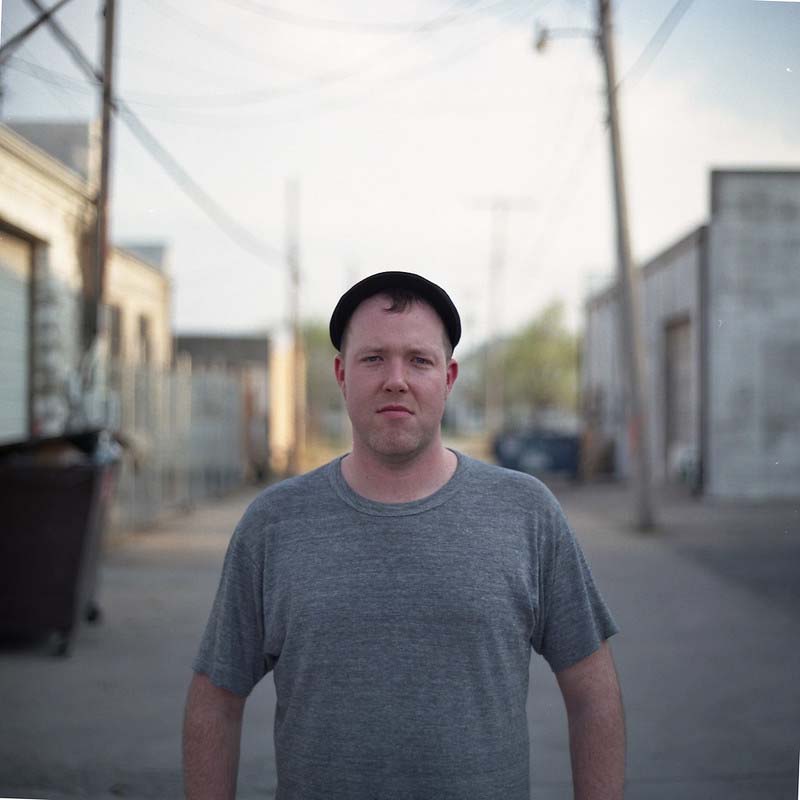 We could consider the Kiev 6C an affordable option to the Pentax 67 for example.
Pros and cons
| | |
| --- | --- |
| Pros | Produces excellent results, removable pentaprism |
| Cons | The shutter tends to fail on models with a long service life |
Price
Its estimated price is between 50-200$ USD depending on the condition, accessories and lenses with which it comes.
2. Yashica mat 124g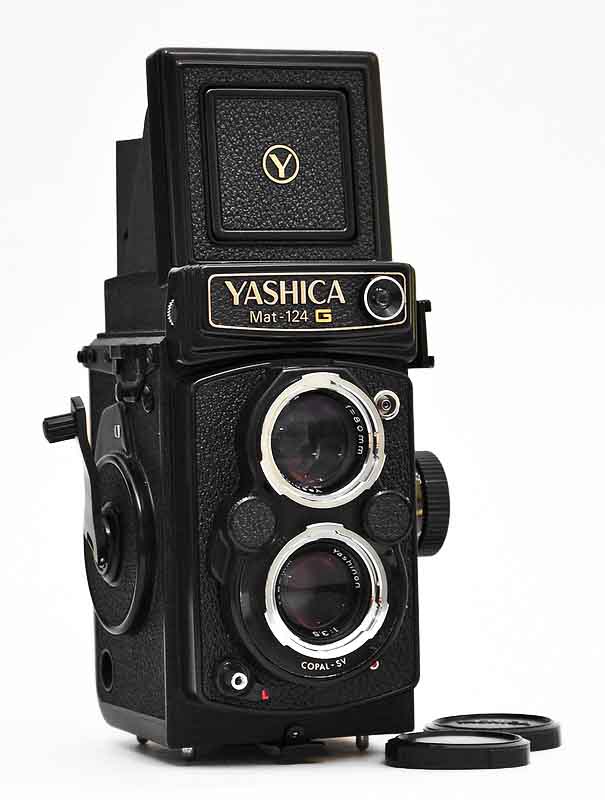 The Yashica Mat 124G is a TLR camera made in Japan, in its time it was known to be a cheap alternative to the German Rolleiflex.
But we will say that the characteristics of this make it a very interesting option for those who want to venture into the world of medium format.
As we mentioned, being a TLR (Twin lens reflex), it has two lenses, one to focus and the other to capture the image.
Both lenses are fixed at 80mm, the viewing lens is f2.8, the taking is f3.5, and the shutter speeds range from 1-second to 1/500th.
The Yashica Mat is a 6×6 camera, that is, it captures 6cm frames per side and uses 120 films.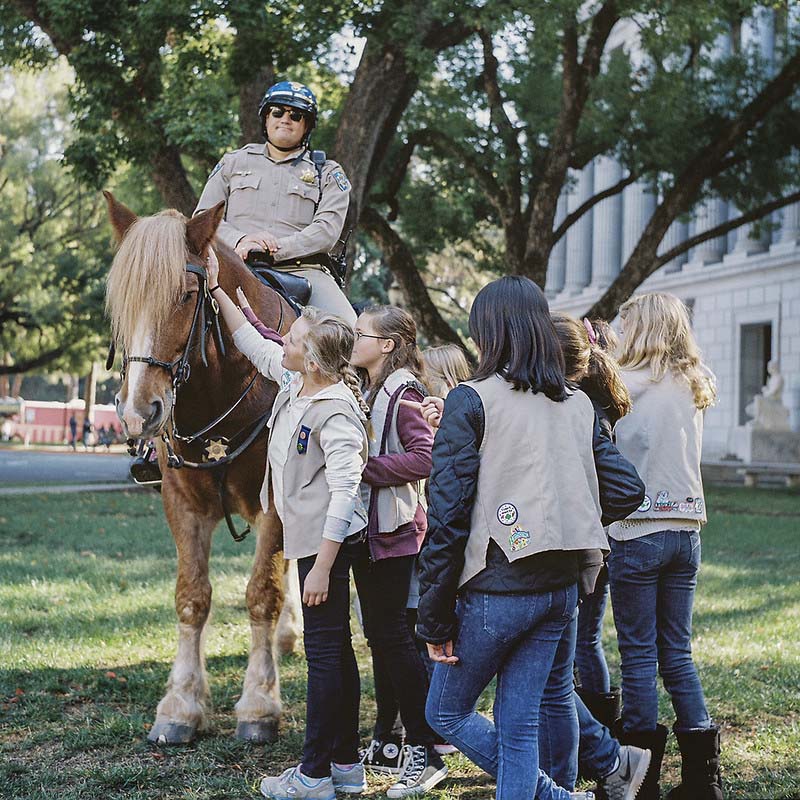 Has a focusing knob, light meter, and a waist-level finder with a focusing screen. Controls for the shutter speed and aperture are on the front of the camera, making navigating them simple and effective.
Pros and cons
| | |
| --- | --- |
| Pros | Reliable, good optics |
| Cons | Many plastic parts |
Price
Its estimated price is between 200-300 $ USD depending on the condition and accessories that the camera brings.
3. Mamiya C330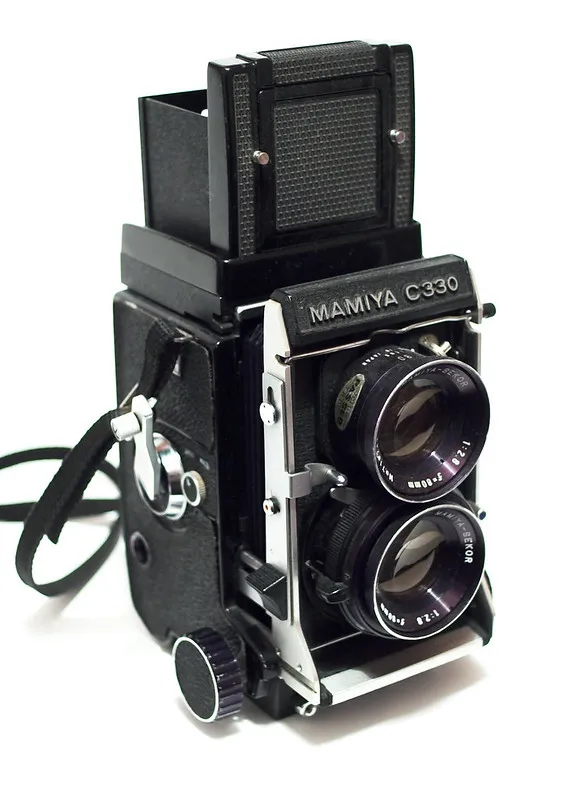 The Mamiya C330 is a 6×6 TLR camera, it has interchangeable lenses with focal lengths ranging from 55mm to 250mm. A feature that only Mamiya knew how to implement in its TLR cameras.
The Mamiya C330 compared to the rest of this list was focused on the professional sector, so it has many accessories, including grips and interchangeable pentaprisms.
The C330 differs from its predecessor, the Mamiya C220, in that it is slightly heavier, has a longer crank, and features interchangeable viewfinder screens (among other things).
The prime lenses of the C330 can be an 80mm f/3.7 Mamiya-Sekor and its brightest version, the 80mm f/2.8. Equivalent of course to a 50mm in 35mm format. Shutter speeds range from 1 to 1/500 sec, and bulb.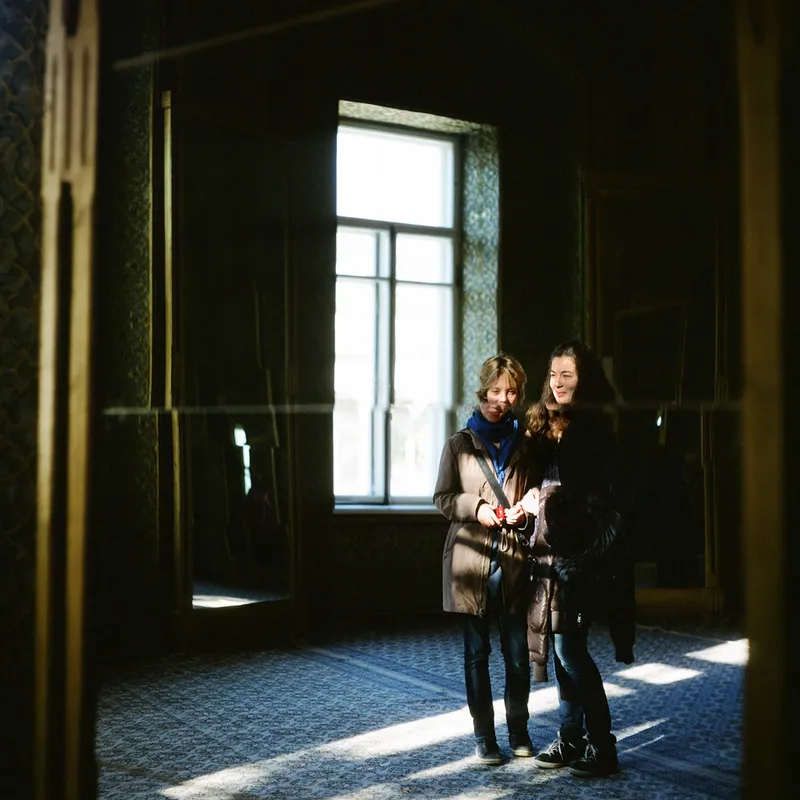 There is no doubt about the quality of the resulting photos in combination with the 80mm f/2.8. Good background separation and well defined image.
Pros and cons
| | |
| --- | --- |
| Pros | Lot of accessories, interchangeable lenses |
| Cons | Heavy, bulky. |
Price
In the online market you can buy a C330 for around $200 to 400 bucks. Maybe even more depending on how many lenses or extras it comes with.
4. Minolta Autocord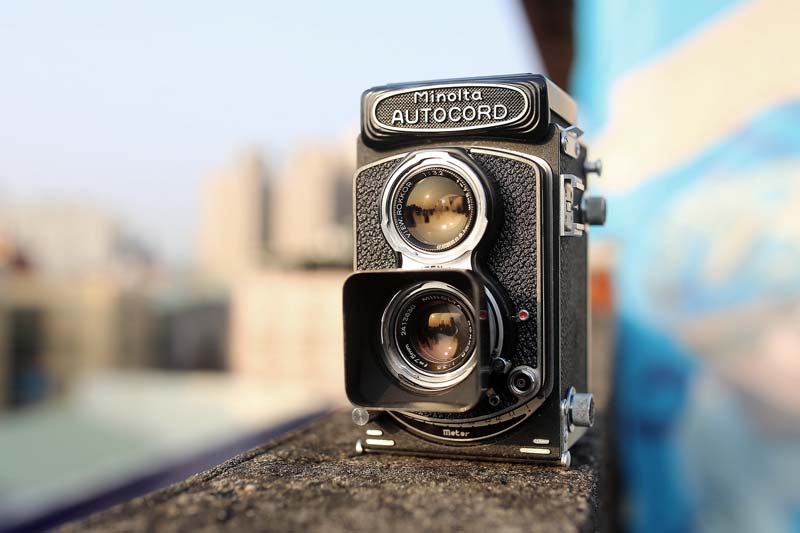 The Minolta Autocord is the evolution of the Minoltaflex of the early 1930's. It is another TLR alternative to the Rolleiflex, although for many, it is its possible competitor.
It is also made in Japan by Chiyoda Kogaku Seiko. It is built to shine, as the engineering of this camera is quite sophisticated.
The Autocord has a round lens sensor dial that can be rotated to adjust the three settings of the model—off, low, and high.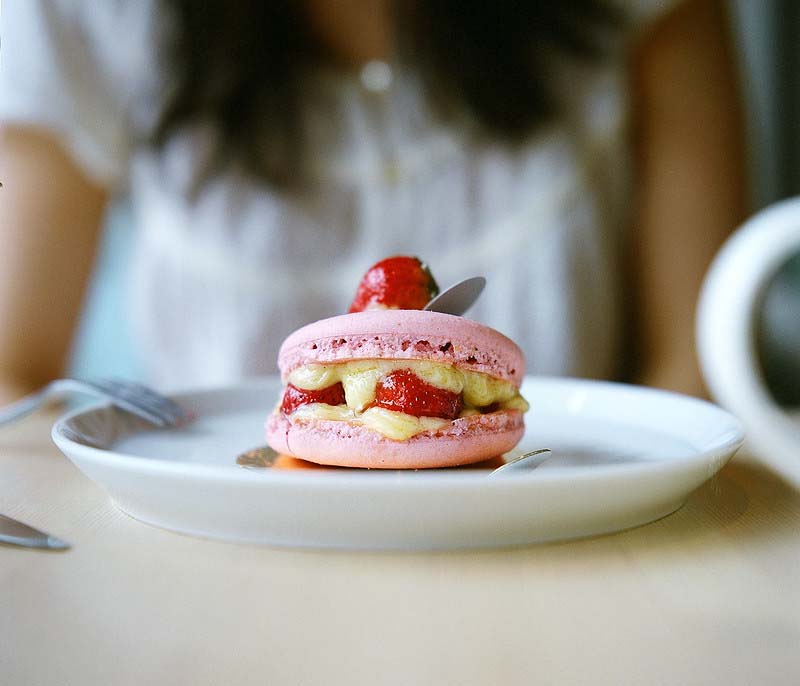 Features a Minolta Rokkor f/3.5 / 75mm taking lens and a Citizen-MVL shutter, Bulb position (B) and 1 to 1/500 sec.
Pros and cons
| | |
| --- | --- |
| Pros | Very reliable, compact |
| Cons | None if it is in an optimal state of conservation |
Price
Its estimated price is between 100-300 $ USD depending on the condition.
5. Rolleicord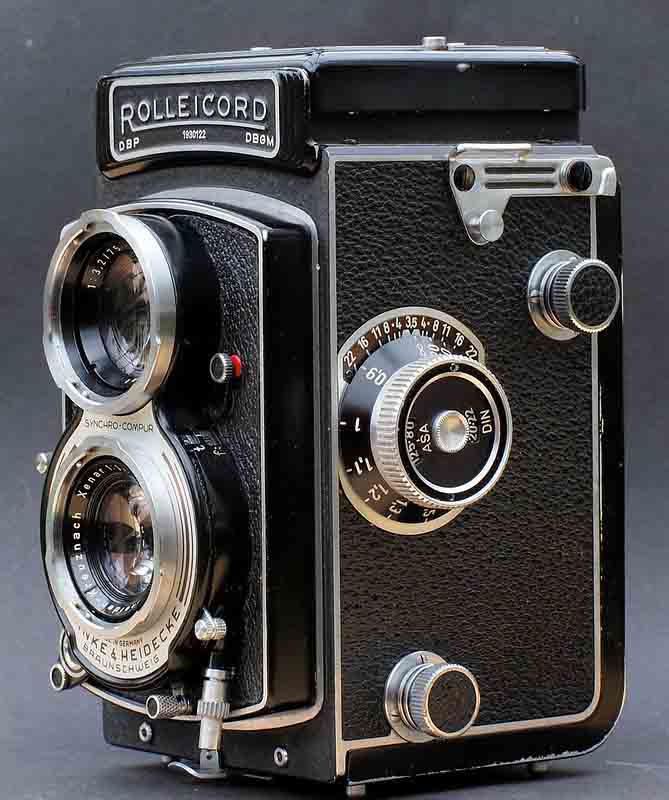 Another TLR, the Rolleicord is a high-quality camera made with amateur photographers in mind. Produced in two variations, a version with extravagantly patterned metal faceplates, or a plain leatherette covering.
The latter sports the nifty 'Art Deco' designation. Many models were made, with the later models generally being more expensive and sought after due to the improvements made to them.
Features a 75mm f/4.5 Zeiss Triotar lens. This model uses a knob instead of a crank—what is generally found on the Rolleiflex.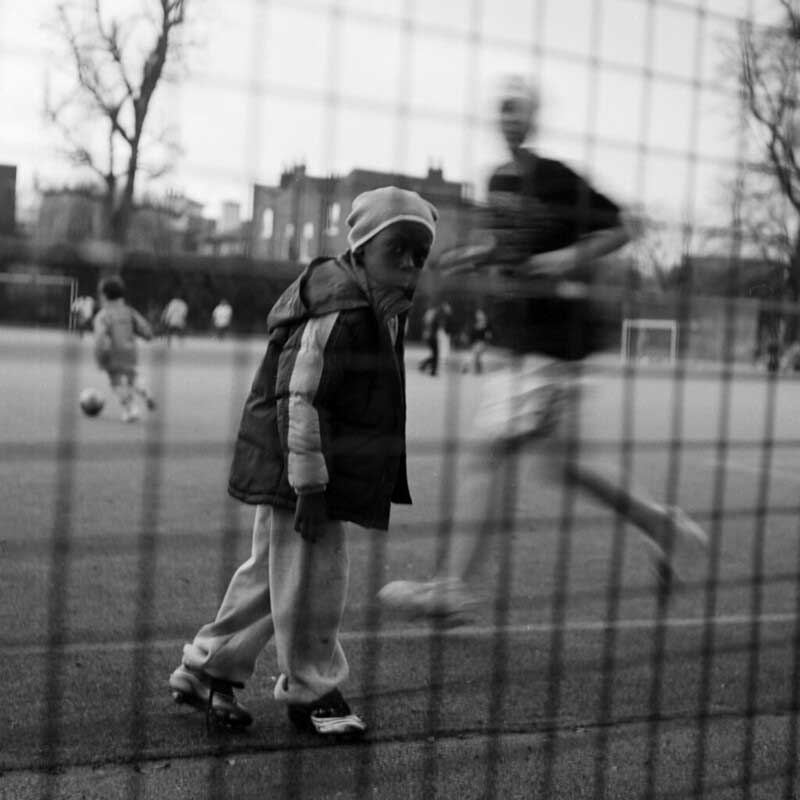 In conclusion, what makes this camera stand out from the previous ones is the quality of its construction, giving it remarkable reliability.
Pros and cons
| | |
| --- | --- |
| Pros | Reliable, solid construction |
| Cons | Price goes up every year |
Price
Its estimated price is between approximately 300-500$ USD.
More Affordable Medium Format Film Cameras?
Still want to see more affordable medium format film cameras? In this video there is an alternative list to consider.