5 Best Medium Format Film Cameras for 2023
Last Updated on October 29, 2023

In this list of the best medium format film cameras in history, we will analyze the most important aspects that make them worthy of being on this list.
We will analyze a bit of its history, its most important characteristics and what we should look at in addition to the price, if we want to acquire one. We will also list a couple of cameras that deserve a special mention as they could have been on a larger list.
Criteria for this selection:
We chose 5 and no more, since in my opinion it is a number that does not dilute too much the result of what "the best, the best" means.
I do not include second best or third best (except the mentions at the end), the best is the best.
We already have another article on the best medium format film cameras for a tight budget.
We do not add advantages and disadvantages since it is ambiguous, which for some may be a disadvantage, it is not for others.
The list is not hierarchical, but it does start and end with the gems.
Having said that let's start with the list.
Hasselblad 500C/M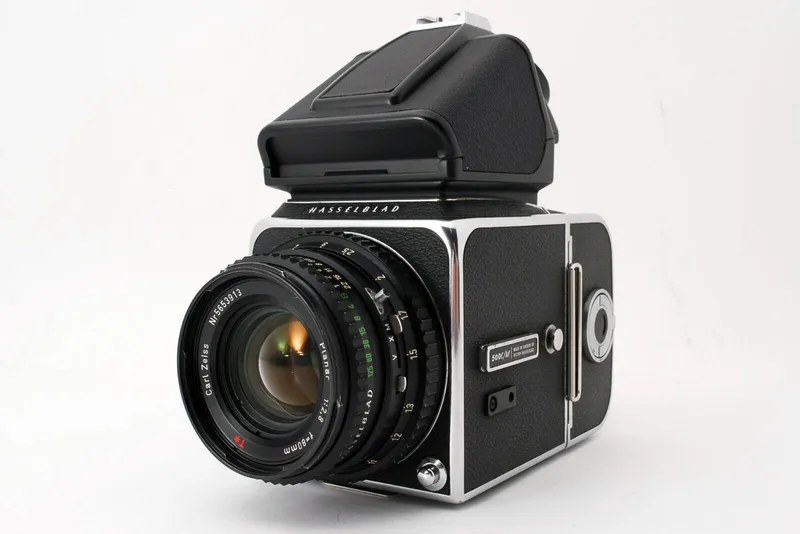 We are facing one of the most relevant cameras in history, or perhaps the most relevant. It does not have specifications that are very different from other cameras. But it's a camera created with the highest possible quality and made to be durable and reliable.
So much so that today it's one of the most current cameras in the world of advertising photography and fashion photography (it has already turned 80). It was also the camera of choice for NASA to go to the moon on Apollo 11, which is no small feat.
In 1957 is when Hasselblad took the big step as a camera manufacturer, adding a shutter that lived up to their ambitions, they replaced the focal plane shutter with a central, Synchro-Compur shutter (hence the "C"). Probably this decision, along with implementing sophisticated manufacturing systems, put Hasselblad at the top of prestige.
In 1970 "Modification" would come out of this camera, the 500CM (again, hence the M). It really is the same camera, the only thing that differentiates them is the new viewfinder exchange system, that is, in this model in two simple steps you remove the viewfinder.
Why is it one of the best cameras in the world? Because its manufacturing system is impeccable, it's simply a camera that is made to last a lifetime.
500C/M Basic specs
| | |
| --- | --- |
| Camera system: | Single lens reflex, SLR |
| Film type: | 120, 220 film |
| Shutter | Compur shutter, leaf shutter |
| Aspect ratio: | 6×6 |
| Shutter Speeds: | 1sec to 1/500sec, B |
| Stock lens: | 80mm f/2.8 Carl Zeiss Planar T* |
500C/M Main features
The range of Carl Zeiss Synchro-Compur leaf shutter lenses are one of the most outstanding features of the Hasselblad 500C/M. Already the simple fact of being able to load with a variety of lenses is something important. Lenses manufactured by Carl Zeiss that have the shutter in it.
The 80 and 100mm Planar and the 50mm Distagon stand out above all. All implement advanced distortion and chromatic aberration corrections.
Price and buying guide
An advantage of the 500C/M is that it can get one without problems on the internet, there are many on the market and at different prices. The ideal is to try to search in local online sales sites, sometimes we can find interesting prices, it sometimes happens that the people who sell them do not know if they work or not, so that ignorance forces them to sell them "AS-IS", all we have to do is try to go see them in person.
The easiest way would be to visit sites like eBay or Amazon, prices can fluctuate quite a bit as you can find the camera with more or less components. Either only the body or the camera accompanied by a lens or several of them. Depending on the state it will have one or another price.
The general and approximate prices are as follows:
Body only: $600-1200
Body and lens: $1,500-2,200
Special versions like gray-moon and some others can double their value.
Rolleiflex 2.8F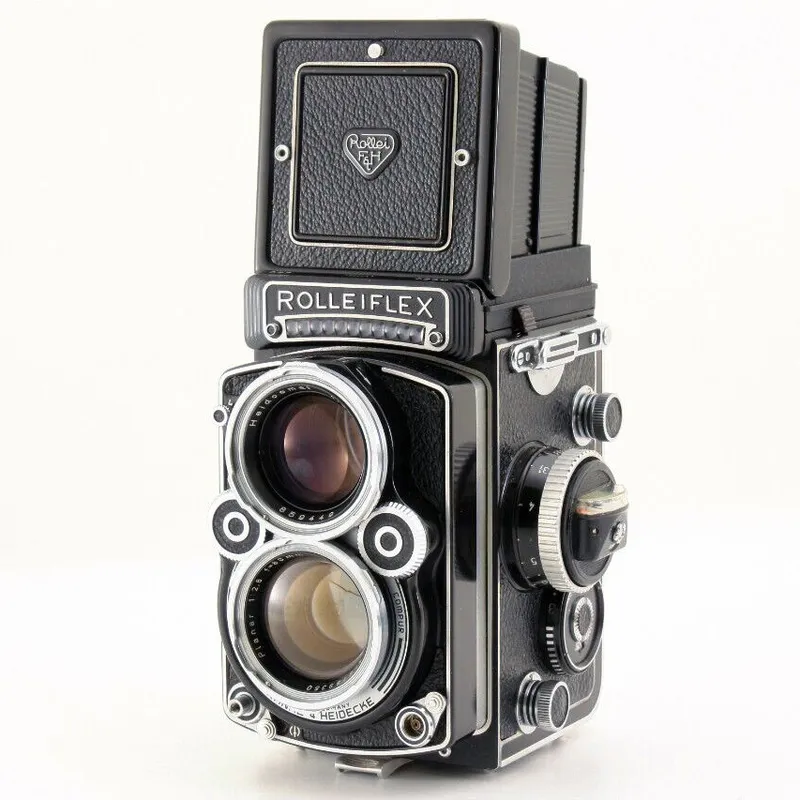 The Rolleiflex 2.8F is a German camera released in 1960 with the Twin lens reflex (TLR) system which means that it uses 2 lenses for separate purposes, one to focus and the other to capture the image itself. These types of cameras were the first in medium format to become popular in the middle of the 20th century.
They gradually lost popularity compared to SLRs, but the Roilleiflex despite this, maintained its well-earned prestige and remained as "The" TLR par excellence.
It has its younger sibling, the Rolleicord, which is a model focused on the amateur range and is a little cheaper, we mentioned it in our article on the best medium format cameras for beginners.
It has two 80mm lenses with an aperture of f/2.8 Carl Zeiss Planar, a main viewfinder with which you focus from above with the camera on your navel, and a secondary viewfinder with which you can compose from an upright angle, like an SLR (we use simple terms here).
The Rolleiflex 2.8F has a light-meter located on the front, below the logo, which over the years is losing effectiveness, what many do is replace it with a pocket external light-meter (like this one).
Rolleiflex 2.8F Basic specs
| | |
| --- | --- |
| Camera system: | Twin lens reflex, TLR |
| Film type: | 120, 220 film |
| Shutter: | Compur shutter (leaf shutter) |
| Aspect ratio: | 6×6 |
| Shutter Speeds: | 1sec to 1/500sec, B |
| Fixed lens: | Carl Zeiss Planar 80mm f/2.8 |
Rolleiflex 2.8F Main features
The Rolleiflex is a camera with which shooting is very enjoyable, it has no parts that protrude too much from the body so it's like holding a small bucket in your hand, also like any good German camera, it is mechanically manufactured in a very sophisticated way, It's not common for the Rollei to suffer breakdowns due to the passage of time, except for light measurement.
It wears the legendary Carl Zeiss Planar, one of the best lenses made in the last century and that has aged without losing its shine. Produces incredibly sharp images with an excellent level of contrast. It's just hard to compete with something so well done.
Rolleiflex 2.8F Price and buying guide
When buying a Rolleiflex it is good to look closely at the body, that it does not have bumps or marks that indicate that it has suffered a considerable blow, because it's the only way to make sure that it didn't have to be repaired due to previous damage. Since being such a painstakingly manufactured camera, repairing major blows carries the risk that the repairs will not be entirely permanent.
The prices of the Rolleiflex 2.8F can fluctuate depending on where it is purchased, having a considerable range depending on the visual state of the camera. It also happens that in recent years they have appreciated so much that they are no longer easily found on the internet, so you have to be attentive to offers.
Normal use and in good condition: $600-1000
Mint, like new: $1000-1500
Pentax 645N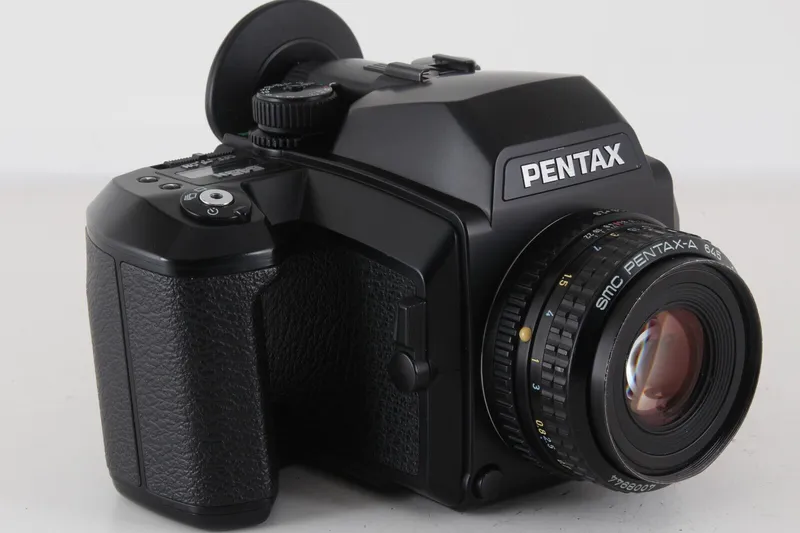 It was necessary to end up with a modern camera in this list, that is, a camera that has functionalities that the previous ones do not have. And what better than bringing a camera that, although it may not seem very sophisticated, is a reliable, effective and high-quality camera for being totally electronic.
The Pentax 645n is a fast and effective camera (it has AF) and produces great quality images. The series of lenses that accompany it (35, 45 and 75mm for example) are modern pieces that have little to envy the German manufacturers.
For these reasons, and breaking a bit with cultism towards traditional cameras, this camera earns a position on this list.
645N Basic specs
| | |
| --- | --- |
| Camera system: | SLR |
| Film type: | 120, 220 film |
| Shutter: | Electronic leaf shutter |
| Aspect ratio: | 6×4.5 |
| Shutter Speeds: | 4sec to 1/1000sec, B |
| Default lens: | 75mm f/2.8 AF |
645N Main features
Its most outstanding feature is a 2-in-one, the bright viewfinder accompanied by its excellent light meter (in 3 modes, including matrix) make it the fastest camera on the list. Ideal for portraits and wedding photography, it is already one of the most appreciated cameras by many photographers.
645N Price and buying guide
One of the good things about this camera is that there are quite a few in the online market, for. which is not too hard to get. Personally, if I had to buy one, I would try to find an offer with 2 lenses. Why? Because compared to the previous cameras on the list it is much cheaper. You can get it by investing the same with a pair of lenses.
The only problem this camera usually has is that for some reason the speed dial loosens up and comes off, so pay attention to that detail if you get a chance to look at it closely.
Price with the 75mm 2.8 AF: $500-800
Plaubel Makina 67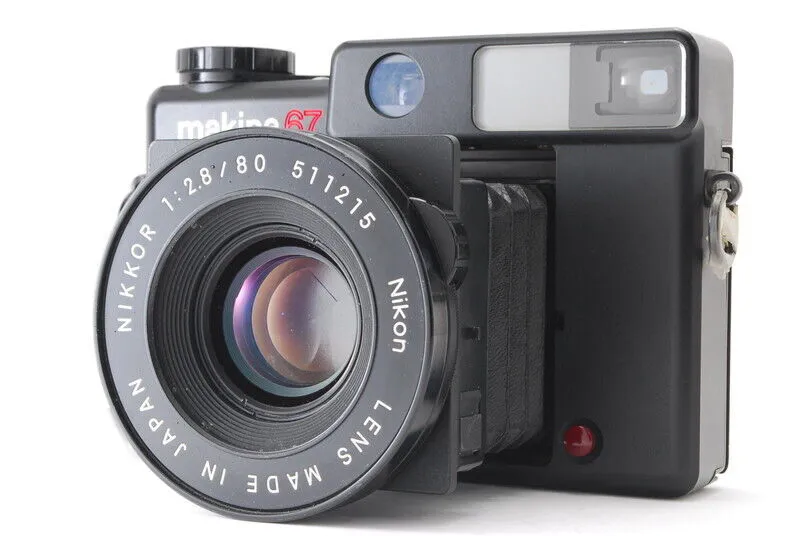 The Plaubel Makina 67 is a camera with a peculiar history, although not extraordinary. It went from being a family business in Germany in the first half of the 20th century to being bought by Kimio Doi, a Japanese businessman with the ability to invest in the brand to give the company a better course.
The Plaubel Makina 67 is a bellows rangefinder medium format camera, with the philosophy of being a simple, mechanical camera but of the best possible quality. It was manufactured at first by Konica and later by Mamiya in Japan. It has an optic manufactured by Nikon, a high-quality 80mm f/2.8 Nikkor, how could it be otherwise.
It is not a camera for you if you are looking for a configurable camera with advanced functions. It is a simple one, which aims to be practical to carry and reliable if you know how to value the quality of its mechanics.
Makina 67 Basic specs
| | |
| --- | --- |
| Camera system: | Rangefinder |
| Film type: | 120, 220 film |
| Shutter: | Mechanical leaf shutter |
| Aspect ratio: | 6×6 |
| Shutter Speeds: | 1sec to 1/500sec, B |
| Fixed lens: | 80mm f/2.8 Nikkor |
Makina 67 Main features
The most outstanding feature of this camera is the fact that it has a folding lens, it fits in any bag or backpack, and although it still has a considerable weight (1.3kg) it remains the standard of its type and its portability is worth it.
Being completely mechanical and easy to transport is something that a photographer who travels or is in constant movement appreciates, that is why it is not for everyone.
Makina 67 Price and buying guide
The Makina 67 is a camera highly appreciated by a specific niche of photographers, especially street photographers, travel photographers or photojournalists. For many it is an excessively priced camera, many prefer to go for a Pentax 67 for that reason. In general, they do not usually give mechanical problems, so it is not difficult to find one for sale online that satisfies beyond the price they have.
Approximate price: $1700-2200
Mamiya 7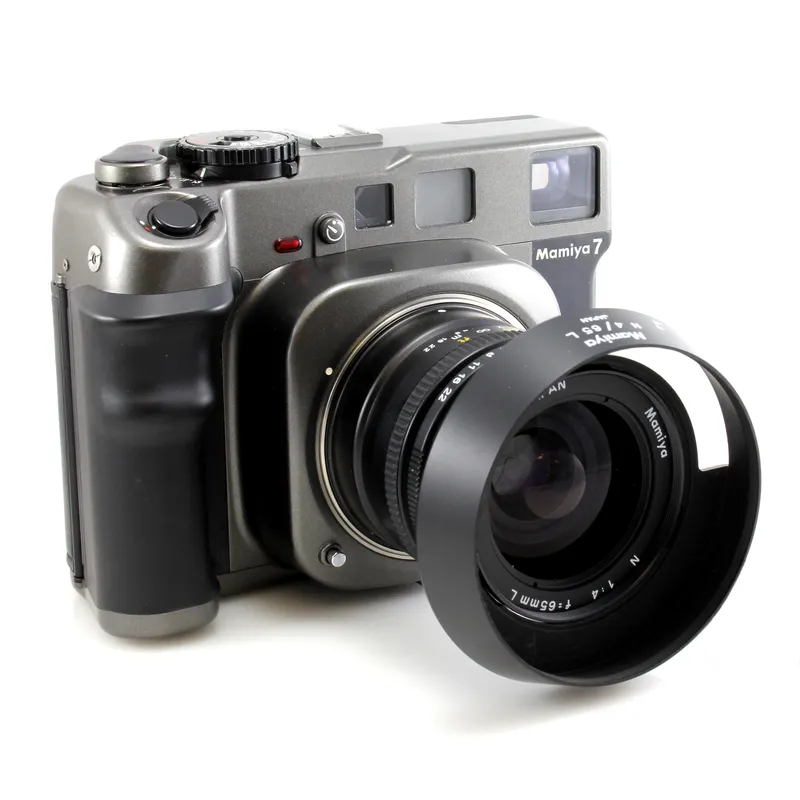 The Mamiya 7 is a medium format rangefinder camera with interchangeable lenses aimed at the most demanding professionals, it has the best of the mechanical and electronic world. It is a very versatile camera that appeals to photographers of various kinds, such as fashion photographers, street photographers, wedding photographers or amateurs who are immersing in medium format more seriously.
There are a half dozen lenses for this camera, highlighting the 43mm f/4.5, the 65mm f/4 and the 80mm f/4. As we can see, none of them go below an aperture of f/4, and yet the result it produces is of such good quality that there is no fault.
I leave this video where Corey Wolfenbarger makes a comparison of some lenses and especially testing the 43mm on the Mamiya 7.
Mamiya 7 Basic specs
| | |
| --- | --- |
| Camera system: | Rangefinder |
| Film type: | 120, 220 film |
| Shutter: | Leaf shutter |
| Aspect ratio: | 6×7 |
| Shutter Speeds: | 4sec to 1/500sec, B |
| Preferred lens: | 80mm f/4 |
Mamiya 7 Main features
It is difficult to say which is the greatest strength of this camera, because it shines in everyone, and it is that we are facing one of the best cameras that have been produced (if not the best), but we will highlight three main characteristics.
The first is the lenses, which as we said before are of the best possible quality, covering everything that is expected of a good lens, distortion correction, chromatic aberration and excellent contrast.
The second feature in which it stands out is in its super silent shutter. A mosquito hitting a window makes more noise (this is a worthy exaggeration). And it is that, something that medium format cameras usually sin is not having a good solution for the noise produced by their shutter, this does not happen here.
The last not least important advantage of this camera is the speed flash synchronization, with the amazing speed of 1/500sec, it is the fastest film camera that exists in the use of flash, this gives us an idea of how exquisite it is it's your shutter.
Mamiya 7 Price and buying guide
As you can guess, this is possibly the most expensive camera on the list, except for the special editions that some might have. There are various offers on the internet, my only recommendation to spend a small fortune is to choose one that is in an intermediate price range, look at the usual, that does not have scratches or bumps, and it is best to buy it with a lens, unless that for some reason you already have one. Don't skimp too much or get too picky, it is what it is.
Body only: $1700-2200
Body and 80mm: $2,500-3,000
Like new: $4,000-4,500
Honorable mentions
Pentax 67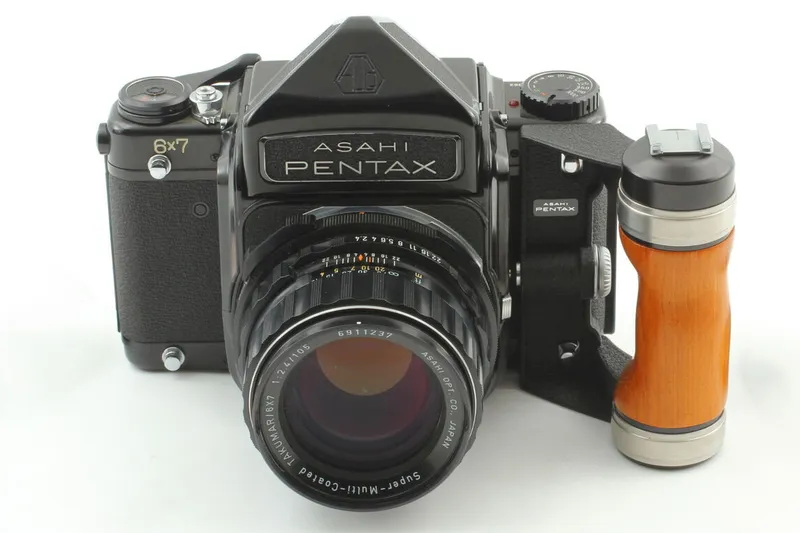 The Pentax 67 certainly deserves a special mention, it is among the most popular medium format cameras. It is a balanced and all-terrain camera, it has a good number of lenses available and although for many it may be a bit rough, it is quite reliable and a viable option if you are starting out in medium format.
It is usually the option that many start with, and being an SLR with a very "35mm" design, it is very familiar to make the transition. In addition to everything, it is very affordable (although in recent years it has increased in value), you can get one for less than $1,000.
Bronica ETRS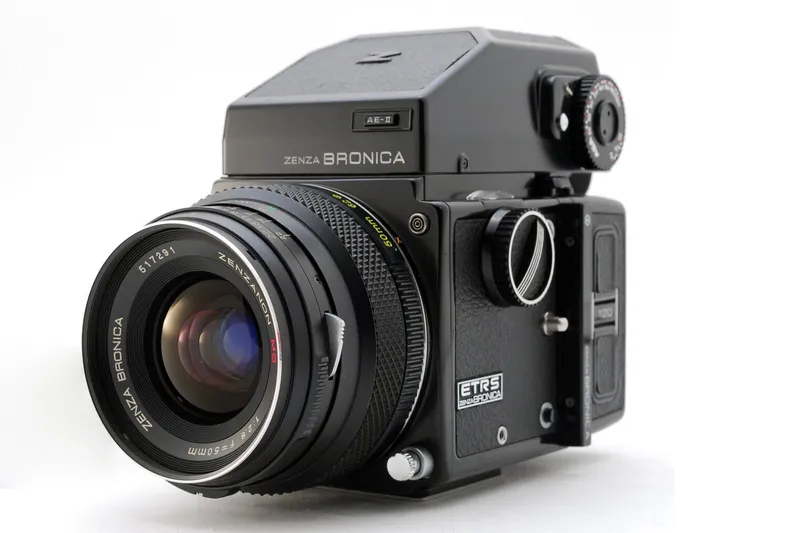 A very interesting option to mention without a doubt is the Bronica ETRS, another medium format camera very frequented in internet searches, it is built electronically in a robust plastic and metal body. It has all the qualities and functionalities of a good medium format camera. It has interchangeable viewfinders, lenses and grips, a very good option that can be found like the Pentax 67, under $1000 along with a good 80mm (or another).
Conclusion
In this review of the best medium format film cameras we have seen many similarities in terms of features in various types of cameras, SLRs, TLRs and rangefinders. Also variety prices and availability in the online market. Standards are usually 1/500sec shutter speed, 80mm lens (35mm equivalent of 50) and a robust body of the highest quality. Whichever camera you choose from this list, you'll be on the safe side.