Mamiya 7 Review: Is this the best camera ever made?
Last Updated on August 7, 2023

In this review we will analyze the most striking points of the Mamiya 7 and why many professionals attribute to it the honor of being considered the best film camera ever made.
Although there are very strong words that are said about this camera, it has certainly earned it at least one place in our top list of the best medium format cameras.
How does it stand out from other cameras of the same type? Is it really the best medium format camera as its fans argue? Let's start first by looking at its features.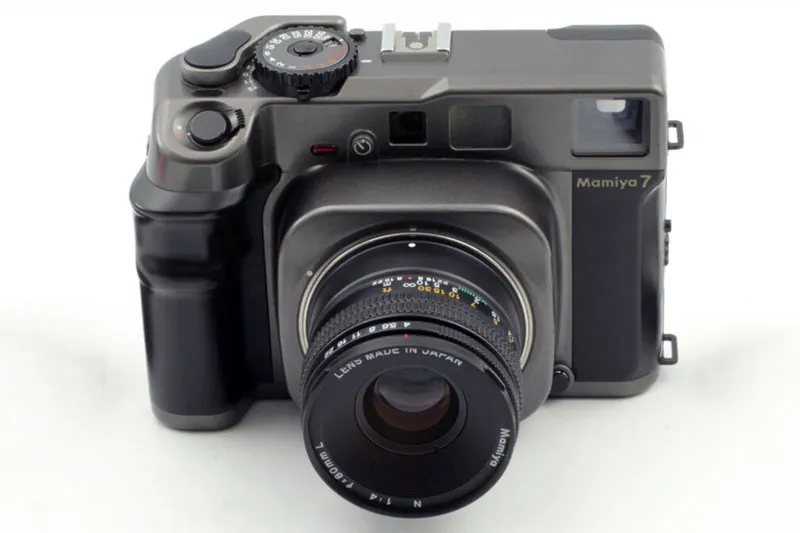 Mamiya 7 Specs
| | |
| --- | --- |
| Year Release: | 1995 (manufactured until 2014) |
| Camera type: | Rangefinder |
| Film format: | 120, 220 format |
| Frame ratio: | 6×7 |
| Shutter: | In lens leaf-shutter |
| Shutter speed: | 4 sec – 1/500 sec, bulb |
| Self timer: | 10 sec |
| ISO Range: | 25 to 1600 ISO/ASA |
| Main lens: | N 80mm f/4 L |
| Mettering: | +2 to -2EV, in 1/3EV steps. |
| Battery: | 4SR44 or 2CR1/3 |
| Flash sync: | All speed range |
| Weight: | 1.2 kg w/lens |
| Dimensions: | 159 x 112 x 123mm |
The Body
In the body of the Mamiya 7 we can find most of its functions, that is, the exposure speed dial, the sensitivity selector, the hot shoe for the external flash/viewfinder, focusing adjustment, the timer, pc socket, the battery compartment and the dial to close/open the light shield.
The shutter release button is located above the grip, following modern ergonomic standards. The button is flat and smooth, and around it is the on/off dial, again same as modern SLRs.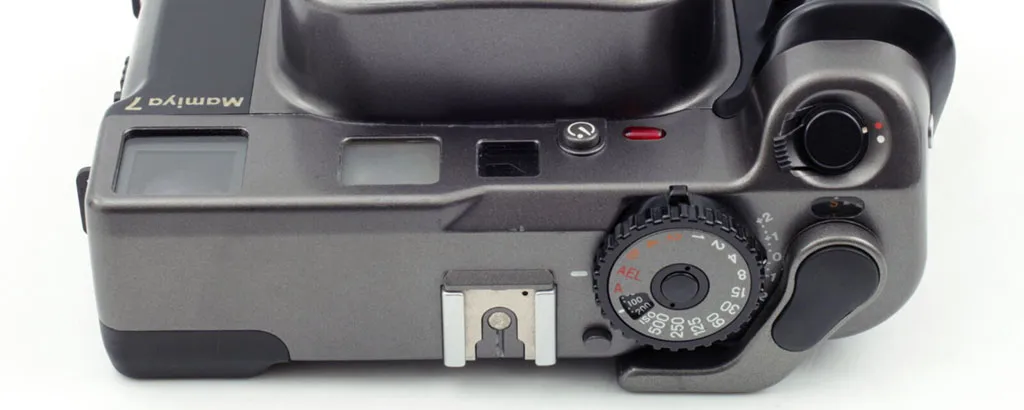 The speed dial and ISO selector are located on the top right, smooth and comfortable to maneuver. The same for the film advance lever, very comfortable and smooth, and very addictive I have to say…
If you are used to loading film in a 135 format camera, it will be simple and intuitive for you, since loading a Mamiya 7 is more similar to loading any 35mm SLR than to loading a Hasselblad or a Rollei.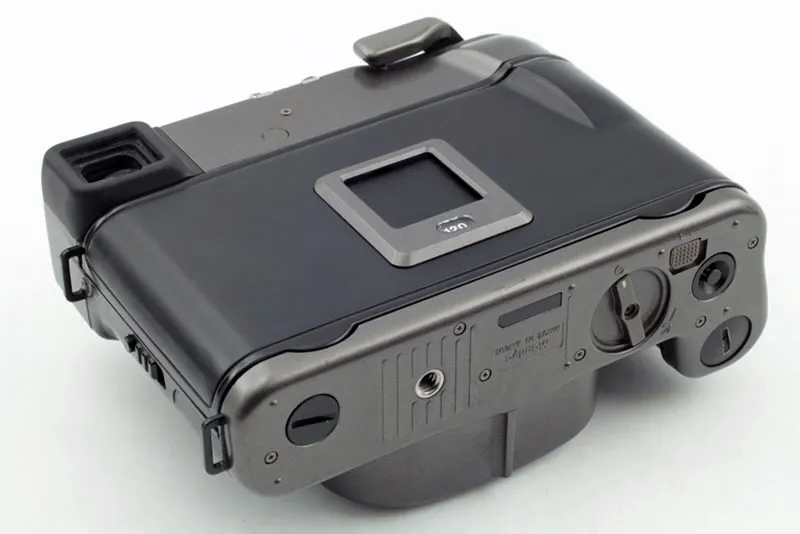 Another similar detail happens with the film memo/reminder, which is located just behind the back. The Plaubel Makina 67 also has this function, but it has located in the lens (what?)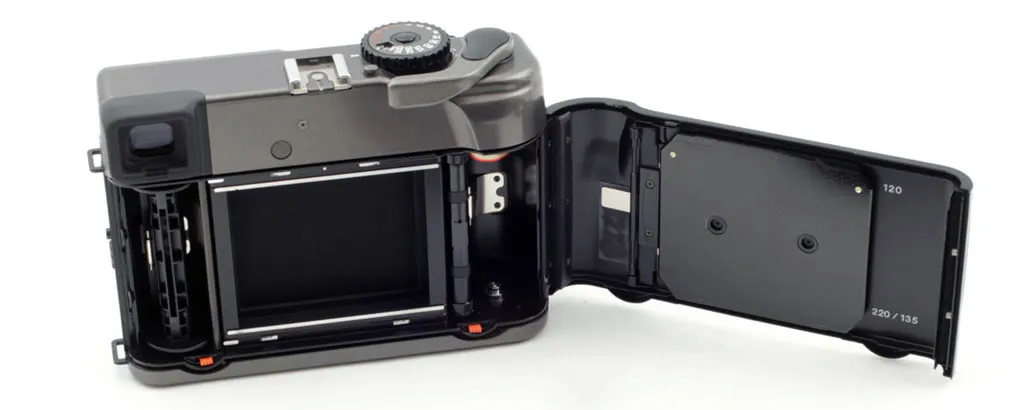 As we can see, the functions of the Mamiya are more intuitive to understand than any other rangefinder and even more so than other medium format cameras. The Pentax 67 would be the only one that resembles it in this regard, and it is probably one of the ones that inspired the Mamiya 7.
That is why it is common to see users go from the Pentax 67 to a Mamiya 7, since it is more familiar to them.
Lenses
The Mamiya 7 usually comes with an 80mm f/4 lens made of 8 elements in 5 groups. This distance is equivalent to the 50mm that all 35mm usually offer (although in reality an 80mm is equivalent to approximately 43mm). In any case, this 80mm is one of the best in its class, it has minimal distortion and is on a par with the best modern lenses.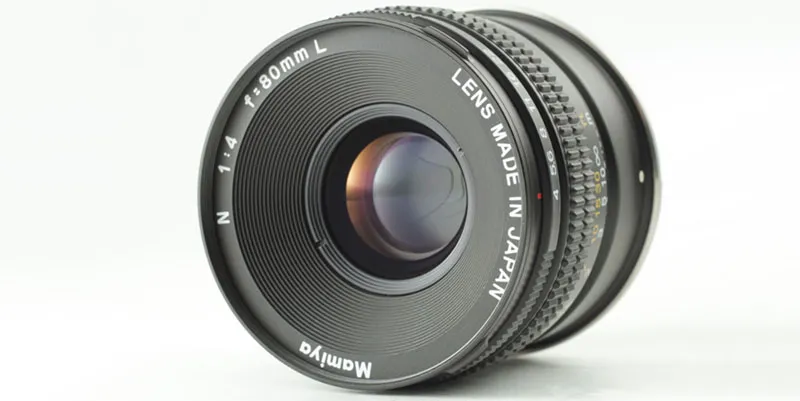 The line of lenses available for this camera is a total of 6, which cover the wide range of requirements that a professional photographer may have. The complete line of lenses is as follows:
43mm f/4.5L or N 43mm: It is made with 10 elements in 6 groups. It corresponds to the wide angle par excellence of this camera. It is for many the favorite for this camera. It has incredible distortion correction and is perfectly built. Equivalent to a 22mm in 35mm format.
50mm f/4.5: Like the 43mm, the 50mm is the second wide angle option for the Mamiya 7, also built with 10 elements in 6 groups and equivalent to a 28mm in 35mm format.
65mm f/4L or N 65mm: Built with 8 elements in 5 groups, it is equivalent to a 36mm in 35mm.
80mm f/4L or N 80mm: Built with 6 elements in 4 groups, it is equivalent to a 43mm in 35mm, as we said.
150mm f/4.5L or N 150mm: Built with 6 elements in 5 groups, it is equivalent to a 68mm in 35mm.
210mm f/8: Built with 7 elements in 5 groups, it is equivalent to a 95mm in 35mm.
As we can see, practically the entire range of focal lengths is covered, with extraordinary options such as 43mm, which is personally my favorite. It should be mentioned that to use this lens an external viewfinder is required, something that is usually a normal requirement in wide angle lenses for rangefinder cameras.
Something that the Mamiya 7 lacks in its range of lenses is undoubtedly the possibility of taking macro photos, since practically all of them have a minimum focusing distance of 1m.
The truth is that we are not in front of a camera that is ideal for macro photography. Not even the available close-focus adapter can offer a decent result, so forget it. The proper thing is to look for a medium format SLR for this purpose.
Another downside to the Mamiya's lens is that there is no lens faster than f/4, so many people who want to use this camera for portraiture might want to look elsewhere. Besides the fact that focusing at short distances is not the strong point of this camera.
The Shutter
The camera shutter as such does not exist inside the camera, but like any leaf shutter it is located in the lens. The shutter at the same time works as a diaphragm, so one of the advantages of the leaf shutter is that it is very quiet, unlike any other system such as focal plane or curtains shutters.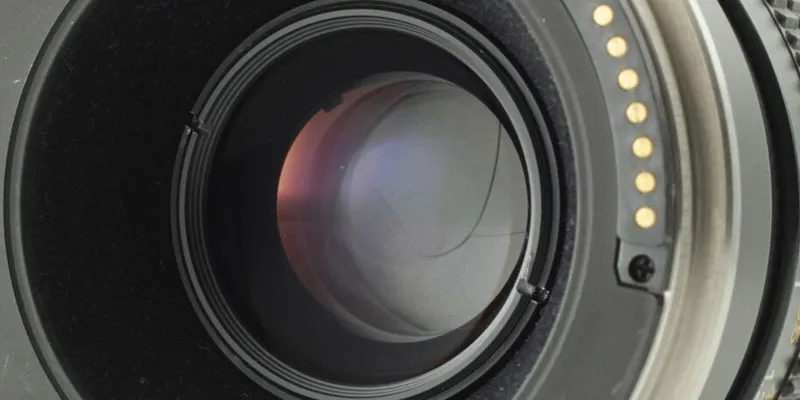 This is undoubtedly a feature that manufacturers wanted to rescue from more traditional cameras such as the Hasselblad or the Rolleiflex. Cameras that despite their size are characterized by having a silent shutter. Something that a good professional values, in addition to the absence of trepidation when shooting. Something that, for example, cameras like the Pentax 67 are guilty of having.
The Mamiya 7 on the other hand has a light shield that prevents light from entering the film when changing lenses. That's why every time you change lenses you have to close this curtain so you can be able to change the lens (also having the film advanced and the shutter loaded). This mechanism is located at the bottom of the camera in the form of a crank.
Viewfinder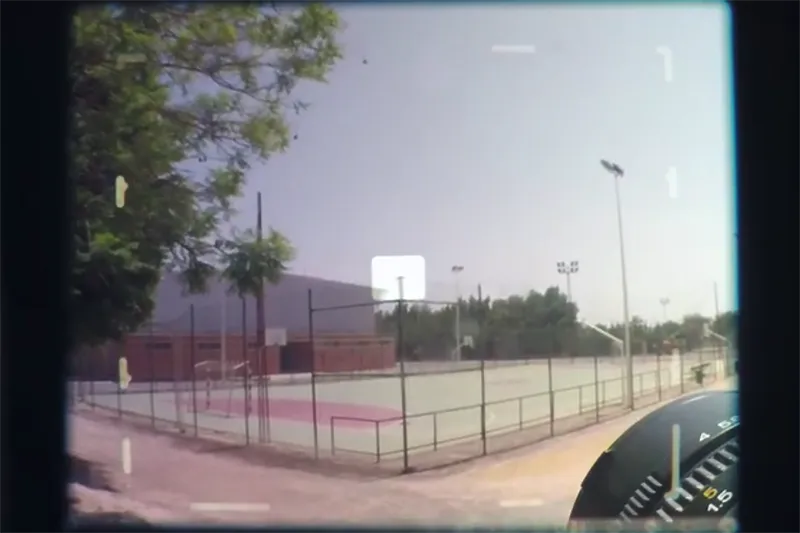 The Mamiya 7's viefinder, being like any other rangefinder, has the same drawbacks. Although we said that those who want to move on from the Pentax 67 will find it easier to understand this camera. It will not happen precisely with the viewfinder, since the focus will be from another world.
Like any rangefinder when looking through the viewfinder to focus, we will have to align the small parallax image, centered in the middle of the viewfinder, until we see how the lines of the image coincide and we can say that the image is already in focus.
In a reflex it is much easier since we see what we are focusing on all the time. That is why when deciding on a Mamiya or a reflex, we will have to assess what is more important to us, a fast and simple focus or a compact body with a silent shutter.
Metering
The Mamiya 7 is basically a camera that has aperture priority based metering in its auto mode. It incorporates an SPD (Silicon Photo Diode) light meter that is a very sensitive photoreceptor that works in harmony between the viewfinder and the lens.
Basically it is a centerweighted measurement, quite reliable and one of its best features. But of course, nothing will prevent it from working well if you choose a complex light situation with a lot of shadow and a lot of light. You will have to do a more conscientious measurement on those occasions.
In general, it is a photometer that does not disappoint, it is well implemented and the good thing is that it does not drain your battery so easily thanks to its SPD system.
Battery
The Mamiya 7 uses 4SR44 or 2CR1/3 batteries, which are basically used for the camera's light-meter and shutter. Through contacts located at the base of the lens and on the camera mount, the camera supplies power to the shutter located on the lens to perform the action.
Although the battery is required to power these functions, it does not really require much power to accomplish them. So with one or two refills you could have the whole year covered.
The Price
For many, price can certainly play a role in deciding what kind of camera it is, what it offers versus what it costs, and whether it's worth it. The Mamaiya 7 can cost between $2,700 and $5,000 depending on its condition (with lens). And the Mamiya 7 II can cost 50% more than this. Check prices at KEH Camera.
We have not mentioned the Mamiya 7 II so far, and the differences are very vague compared to the first original. Basically the changes are more at an aesthetic level than a technical level, so for me they do not deserve to be discussed in this post.
Shots samples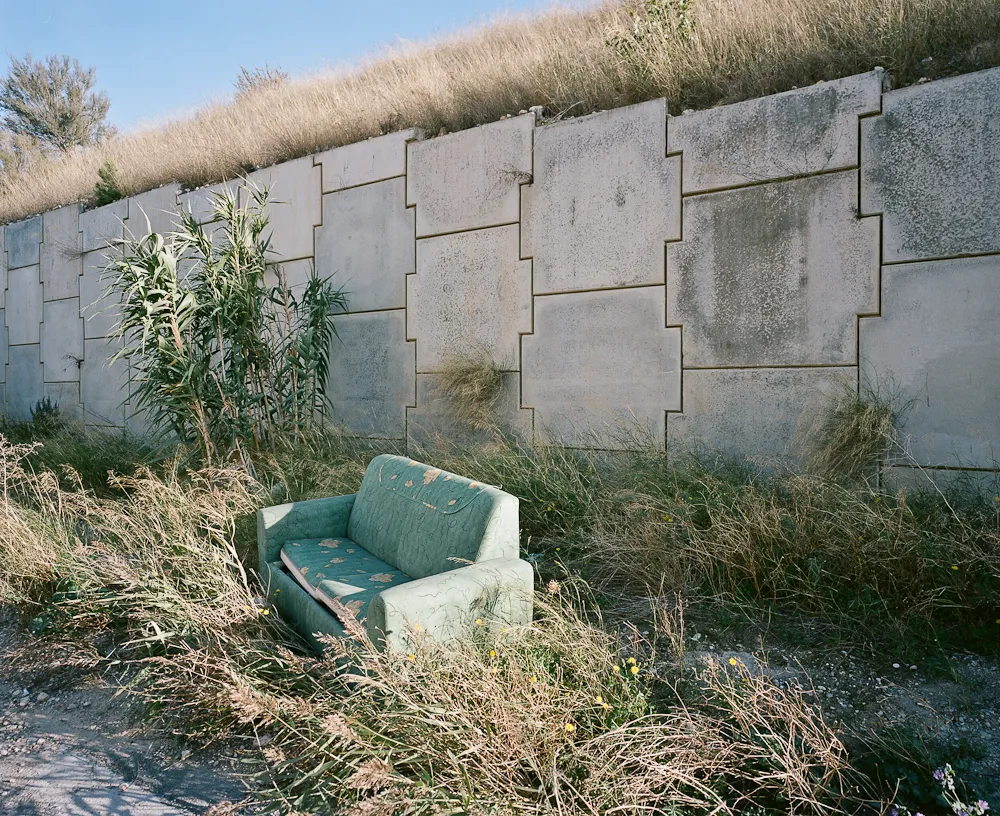 Conclusion
To conclude with this review of the Mamiya 7 I will try to answer the initial question of this post. Is the Mamiya 7 the best camera in the world as many say? The truth is that it doesn't, and not because it doesn't have the technical characteristics to be one (which it doesn't have either haha) but rather it will depend on the type of professional behind it.
But let's get serious about this conclusion. I think that without a doubt we are facing one of the best cameras that have ever been manufactured, it is a professional camera aimed at professionals. He has a good balance between what a professional demands and what he is willing to sacrifice, and I think that is where his potential lies.
If you get used to it you will not be disappointed, the result that this camera gives you is phenomenal, images are always well exposed and exceptional sharpness. That is why many, seeing this noticeable difference compared to a 35mm camera, for example, are tempted to say that it is the best camera in the world. But that is an emotional deduction rather than a technical one.
In short, this camera is and can be the best camera in the world, for those who, for example, mainly take landscape photos, urban photos and even street photos. But most probably not for wedding or portrait photographers (unless it's a second camera). And don't say it can't be! Because it may be the case that ISO is not more important to you than portability, and you may sacrifice a bit.
This could go on and on, but we'll wrap up this review, thanks for stopping by.