Mamiya RZ67 Review: Exploring Medium Format's Lasting Significance
Last Updated on August 23, 2023

Back in the 1970s, there existed a camera that made significant contributions to professional medium format photography. However, it's not about that camera that we'll discuss on this occasion, but rather its successor, the RZ67. In this Mamiya RZ67 review, we will cover all aspects of the camera without delving too deeply into the details, which are quite extensive considering all the modules it comes with.
The RZ67 remains, to this day, a standard choice for professional use, being the favorite of many photographers whose work fills the pages of numerous magazines and billboards around the world. It's an incredibly versatile camera that can transition effortlessly from commercial to amateur settings, performing exceptionally well in landscapes and street photography, to name a few applications.
To begin addressing the camera's aspects, let's take a snapshot of its features and history.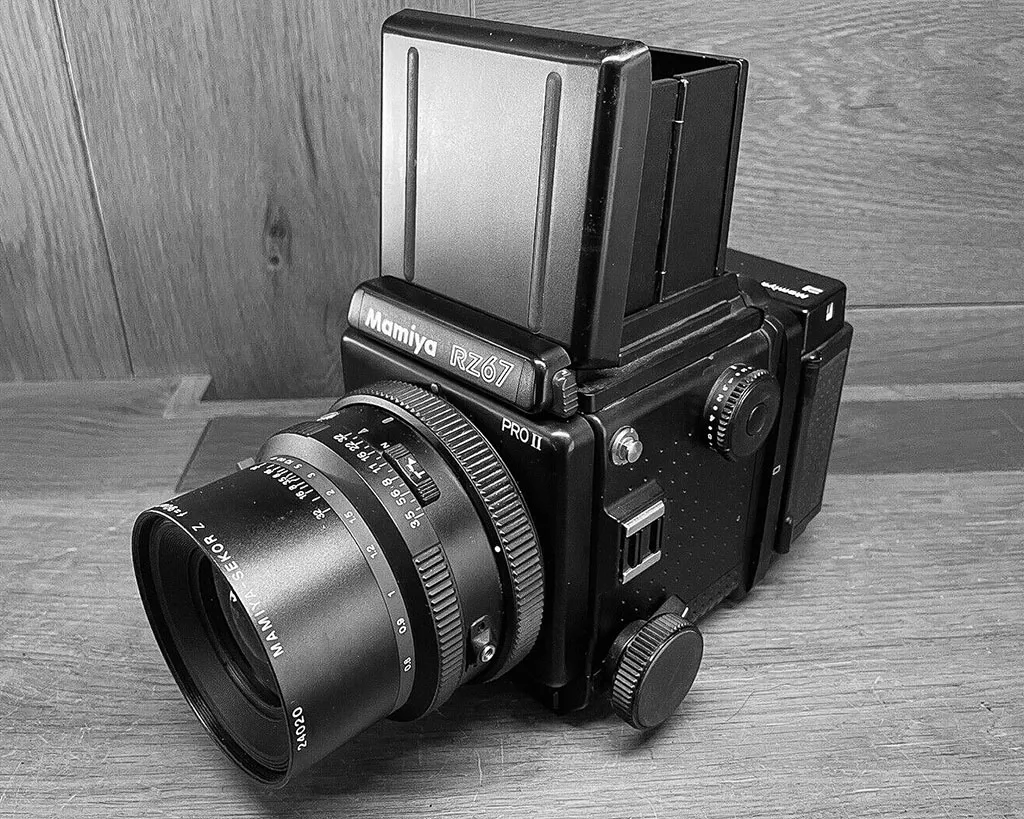 Mamiya RZ67 Specs
| | |
| --- | --- |
| Release | 1982 |
| Manufacturer | Mamiya |
| Manufactured in | Japan |
| Camera Type | Single-lens medium format film camera |
| Models | RZ67 Professional (1982), RZ67 Professional II (1993), RZ67 Professional IID (2004) |
| Lens Mount | Custom Mamiya shutter-lock bayonet mount |
| ISO | 25 to 6400 |
| Focus type | Manual |
| Exposure | Manual, aperture priority with AE prism |
| Flash | Flash shoe, PC socket |
| Shutter Speed Range | 8s to 1/400s, bulb, timer |
| Film Magazines | Accepts 6 × 7, 6 × 6, and 6 × 4.5, 120 and 220 film backs, Polaroid, and Quadra 72 4 × 5 sheet film backs |
| Flange Distance | 105 mm |
| Back Versions | Model I and Model II, latter with a second film counter |
| Focusing | Bellows focusing on the camera body |
| Lens Shutters | Integrated electronic leaf shutters, tensioned and triggered by the body |
| Exposure Modes | Manual (M mode) and AEF mode (automatic exposure) |
| AEF Mode | Automatic exposure through AE viewfinder, exposure information transmitted to the body |
| Frame Advancement | Hand-crank advancement, unchanged |
| Additional Features | Mirror-up function, LEDs in the viewfinder provide camera status information |
| Battery | 4LR44 6V battery or 4 LR44 1.5V batteries |
| Weight | with 110mm f/2.8 lens, weight of about 2.4 kg (5.29 lbs) |
| Dimensions | 104 mm (width) × 133.5 mm (height) × 211.5 mm (length) |
History
The Mamiya RZ67 is a professional medium format single-lens reflex camera (SLR) manufactured by Mamiya. Throughout its evolution, there have been three consecutive models including the RZ67 Professional (released in 1982), the RZ67 Professional II (released in 1993), and the RZ67 Professional IID (released in 2004). This camera stands out for its modularity, allowing for interchangeable lenses, viewfinders, focusing screens, film winders, and backs.
The name "RZ67" comes from its predecessor, the Mamiya RB67, where "RB" stands for "Revolving Back," introduced in 1970. This included the feature of being able to rotate the back where the film is located to switch the frame between vertical and horizontal, which is particularly beneficial for portrait photography in a studio setting, where focusing vertically with a waist-level viewfinder was impossible.
This feature made the RB67 the go-to camera for this type of photography. The RZ67 came to "replace" this model, with technological and usability improvements, as well as a new range of more advanced lenses and additional features.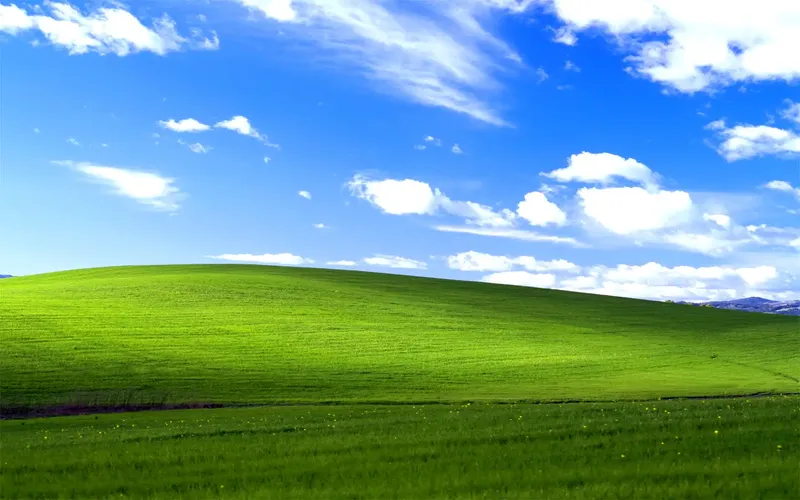 The most iconic photo captured with the RZ67 was undoubtedly the one used as the Windows XP wallpaper at the end of 2001 taken by Charles O'Rear.
RB67 vs RZ67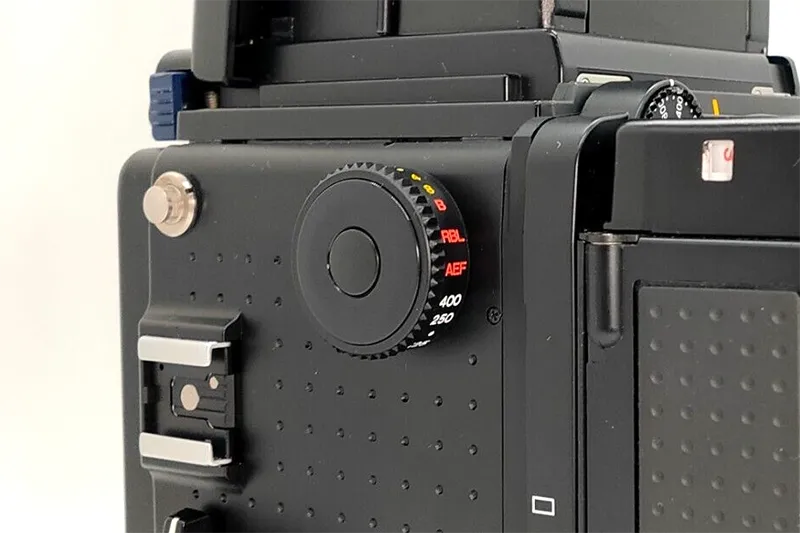 The RZ67 can operate in AEF mode with an AE viewfinder, transmitting exposure information directly to the camera body. In RBL compatibility mode, the RZ67 is compatible with RB67 lenses, with the main difference being that the RB67 is mechanical, while the RZ67 incorporates an electronic shutter and electronic couplings to transmit exposure information. The plastic outer body makes the RZ67 lighter compared to the RB67.
Design and Use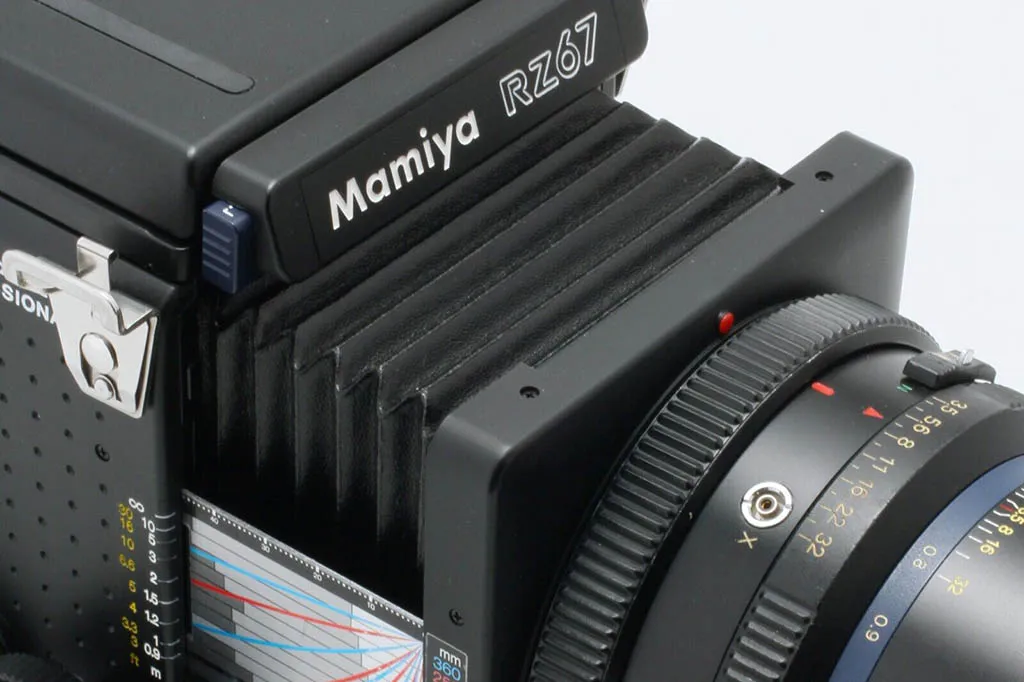 The Mamiya RZ67 is designed primarily for use in photographic studios but can also be adapted to outdoor situations. Its Sekor lenses feature integrated electronic shutters, and focusing is achieved through a bellows in the body rather than in the lenses.
The camera accepts various film configurations, including 6×7, 6×6, and 6×4.5 magazines, as well as 120 and 220 film. It also supports Polaroid film backs and 4×5 film backs through a G adapter.
Body
The Mamiya RZ67 body has a flash shoe, a remote trigger connector, and a plug for an electronic trigger. Its dimensions are approximately 104 mm (width) x 133.5 mm (height) x 211.5 mm (length) with a 110 mm f/2.8 lens, and it weighs around 2.4 kg. The flange distance is 105 mm.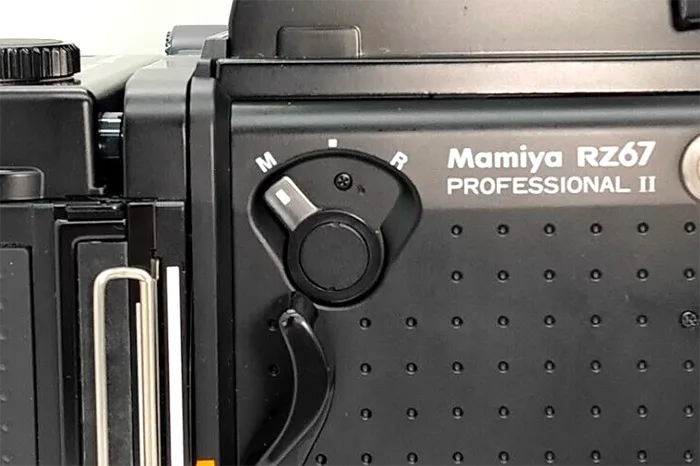 The camera operates with 6V 4SR44 batteries or 6V alkaline 4LR44 batteries, and it can also function mechanically in emergency mode with a fixed shutter speed of 1/400 sec. The "M" mode allows for multiple exposures, and mirror lock-up is supported for special situations.
Lenses
The Mamiya RZ67 has its own mount that offers a wide selection of available lenses. These lenses were renewed in each of the three versions of the lineup, gradually adding new models. Similar to other professional modular cameras like the Hasselblad 500C, it incorporates a leaf shutter system inside the lens.
A unique feature of Mamiya RZ67 lenses is that they have the flash sync port (X port) on the lens itself, unlike the usual placement on the camera body. Additionally, these lenses do not have a focusing ring; focusing requires manipulation of the camera body itself, achieved through bellows movement, similar to the Mamiya C330 system.
The standard lens for the RZ67 is the Mamiya-Sekor Z 110mm f/2.8 W, with an optical configuration of 6 elements arranged in 5 groups. This lens is equivalent to approximately 55mm in 35mm format, making it specialized for portrait photography. The performance of this lens is exceptional, capturing images with impressive sharpness, a pleasant bokeh, and very good contrast levels. It also has a sturdy and robust metal construction, indicating its well-built nature.
Mamiya RZ67 lenses are well-crafted pieces highly valued in the professional photography field. The system covers both RB67 and RZ67 lenses, with a focus on the latter. RZ67 lenses, available in two versions with half-step increments, are compatible with the unified mount of this camera.
The aperture ranges from f/2.8 to f/32 with intermediate steps, and the hyperfocal scale is useful for controlling depth of field. For long exposures, a cable release can be threaded in.
Some of the notable lenses for the RZ67 mount include:
Z 50mm f/4.5W: Wide-angle lens equivalent to around 24mm in 35mm format.
Z 110mm f/2.8 W: Standard lens mentioned earlier.
Z 180mm f/4.5W: Ideal telephoto lens for close-ups.
Z 350mm f/5.6 APO: Telephoto lens for substantial close-ups, allowing separation of the subject from the background.
Abbreviations:
W: Lenses with a wide range of apertures, divided into half-stop increments.
APO: Designation for lenses that include chromatic aberration correction.
Buy RZ67 Lenses at KEH Camera store
Viewfinder

The standard viewfinder for the Mamiya RZ67 is the waist-level pop-up viewfinder, also known as the chimney viewfinder. This is highly recommended for studio portrait work due to the average height at which the camera can be positioned relative to the subject. There is the closed alternative with a magnifying glass at the top, which could be an ideal option for outdoors.
There are eye-level pentaprism viewfinders, which are more commonly used for outdoor or specific situations where mobility is crucial. Moreover, with these viewfinders, the natural left-to-right vision is maintained, which is inverted in the previous two types.
In addition to this, there's a magnifying hood viewfinder, useful for maintaining a lower eye level (for the eye-level pentaprism finder) but more comfortable for standing use compared to the previous option.
Viewfinders, like lenses, are accessories that can be shared with the previous system, that is, with the RB67.
Focusing Screens
In addition to the viewfinder, there are focusing screens available, which serve as aids/guides for focusing. For the RZ67, there are 8 types of screens, each offering different ways to achieve focus. The most commonly used types are Type A and Type A1:
Type A: Matte screen with a Fresnel lens in the center, providing a simple focusing aid where the area becomes clearer when something is in focus.
Type A1: Similar to the previous type but with an additional split-image rangefinder aid vertically centered within the Fresnel, allowing focus alignment by matching the horizontal lines of the image.
The rest of the screen types are variations of these two types, some splitting the rangefinder horizontally or into four parts, or adding microprisms to the Fresnel in different ways, etc.
Using the Viewfinder and User Experience
The viewfinder is the crucial part where the image capture is conceived, and it's worth noting that the RZ67 offers an excellent experience in this aspect. The scene brightness in the frame is excellent, displaying exposure and aperture-related information, auxiliary elements like vertical and horizontal lines to gauge camera orientation with the horizon and subject.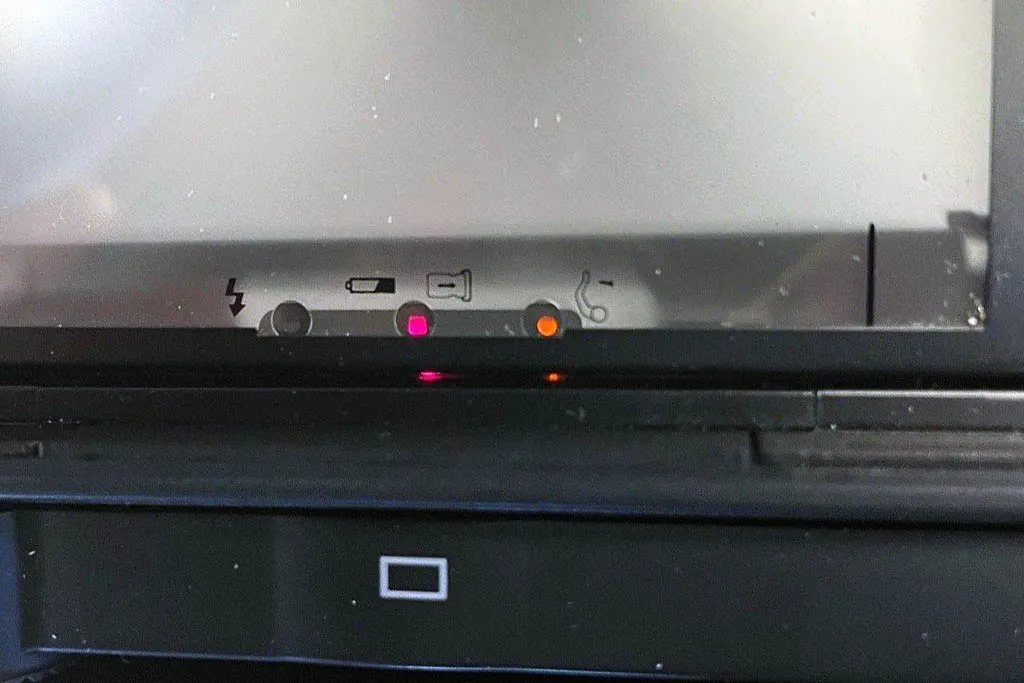 Additionally, LEDs are included to indicate the camera's status, whether it's ready to shoot or
if additional light is needed to compensate. As mentioned earlier, all necessary and useful aspects for managing settings are shown in the viewfinder.
Speed and Shutter Dial
The shutter speed dial, located on one side of the camera, provides control over shutter speeds ranging from 8 seconds to 1/400s. It includes the option to choose between "AEF," which is the native support for lenses created for this camera, and the "RBL" mode mentioned earlier, which supports lenses created for the Mamiya RB67.
Of course, there's also a Bulb mode for long exposures. In fact, when in Bulb mode, the dial locks to prevent accidental changes.
Backs
The most distinctive concept of this camera, inherited from its predecessor, the RB67, is the ability to rotate the back to capture both vertical and horizontal photographs without needing to physically rotate the camera. This feature makes it arguably the best studio camera, in addition to all the aforementioned features. Simply place it on a tripod and start shooting.
The primary back for the RZ67 is the 6×7 120 Pro, which also has a second version, the 120 Pro II. Both versions can be used with any of the three RZ67 versions. This back supports only 120 format film and allows for 10 frames per roll. There's also the 220 Pro-SD back, which supports both 120 and 220 formats.
Additionally, as an option for shooting in 6×6, there's the Mamiya 6×6 120/220 film back. Other backs include the NPC Polaroid for instant films, along with a variety of adapters (like the 4×5) and sheets designed for use with the Mamiya RZ67.
Mamiya also introduced the Mamiya ZD back, which brought digital imaging capabilities to this camera. Equipped with a 21.3 MP digital CCD sensor, this back was introduced in 2005 and remains highly relevant to this day.
Beginner's Process of Using the Mamiya RZ67
The process from having the RZ67 in hand to capturing an image can be summarized in these six steps:
Check if the battery is installed.
Load film into the camera.
Power on the camera.
Adjust ISO, aperture, and shutter speed settings.
Focus as needed.
Frame the shot and capture the image.
Usage Recommendations
6V 4LR44 Battery
To operate the camera, a 6-volt 4LR44 battery is required. You can find this battery online at stores like Amazon. It's important to note that while the camera relies on this battery for certain functions, you can still use a shutter speed of 1/400 seconds without battery power.
Loading Film
Loading film is a straightforward process. Simply lift the knobs on the back of the camera. Once loaded, turn the knob until you feel resistance to advance the film to the first frame.
Dark Slide
The Dark Slide serves a crucial safety function, preventing the shutter from releasing accidentally. This protective feature ensures that each shot is deliberate and meaningful.
Exposure Modes: M, A, R
The Mamiya RZ67 offers a range of exposure modes to adapt to different situations. "M" is for single exposures, while "A" is perfect for multiple exposures. The "R" setting allows for easy switching between horizontal and vertical frame orientations, i.e., portrait or landscape mode.
Precise Focusing
To achieve precise focus, there's a focusing button on both sides of the camera. Moreover, thanks to the built-in bellows, close-up photography is made easy. A locking lever ensures focus stability. Focal length scales are invaluable tools for specific projects.
Pros and Cons
Pros
Numerous manual functions
Wide variety of accessories
Rotating back for portrait and landscape mode
Cons
Price and Buying guide
The main characteristic of a good professional camera lies in its versatility, in its ability to be used for various purposes. The RZ67, of course, possesses these attributes, as it can be adapted for different purposes through its interchangeable accessories and lenses.
That's why when considering the purchase of an RZ67, you should take into account each of its components: the body, the viewfinder, the back, and the lens. An operational RZ67 can cost around $1700, give or take, which includes a complete kit with desired accessories. From there, the cost can increase based on the budget available, allowing for expansions in lenses and types of viewfinders.
The Mamiya RZ67 body might be around $400, and if acquired with a viewfinder, which is recommended, it could reach approximately $600. There are numerous combinations, so these prices serve as a reference.
Check prices at KEH Camera store
Mamiya RZ67 Photos
Some shots taken with the RZ67.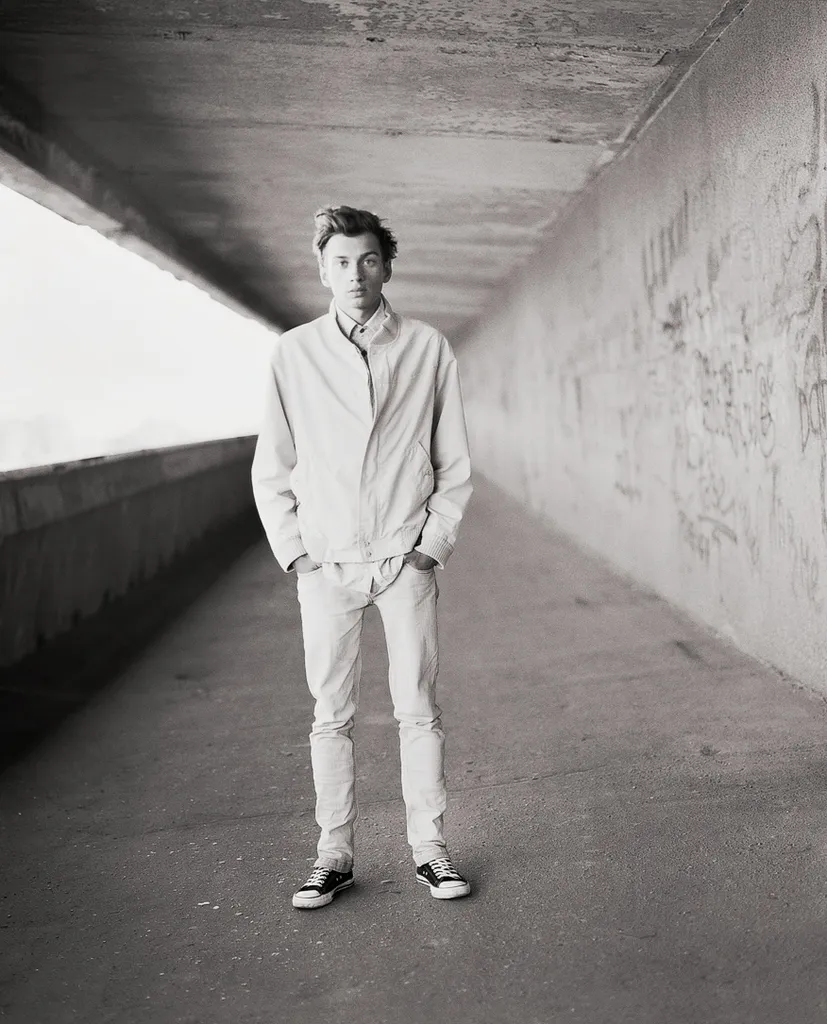 Conclusion
Although the Mamiya RZ67 might seem overwhelming at first, it becomes an intuitive tool in the hands of an experienced photographer over time. Its exceptional features, including versatile film format, interchangeable lens system, and various exposure modes, make it a perfect choice for studio portrait, urban, or landscape photography.
The contribution to medium format photography through its rotating back system is undoubtedly one of the features that sets this camera apart from the rest, making it one of the most relevant cameras even today.
References and links