3 Essential Accessories For Analog Photographers
Last Updated on September 6, 2022
Analog photographers are a strange bunch. You are choosing technology that is outdated by today's standards, when it could be so much easier to take photos digitally. They struggle with old, hard-to-repair cameras, but despite that, or perhaps because of it, it's a lot of fun.
In the following article I want to present 4 tools that are important to me as an analogue photographer.
Filters
Filters are an essential accessory for any photographer. But they are even more important, especially when shooting analog. There are many types of filters, some useful, some not so useful. I want to present the filter types that I use myself and consider useful.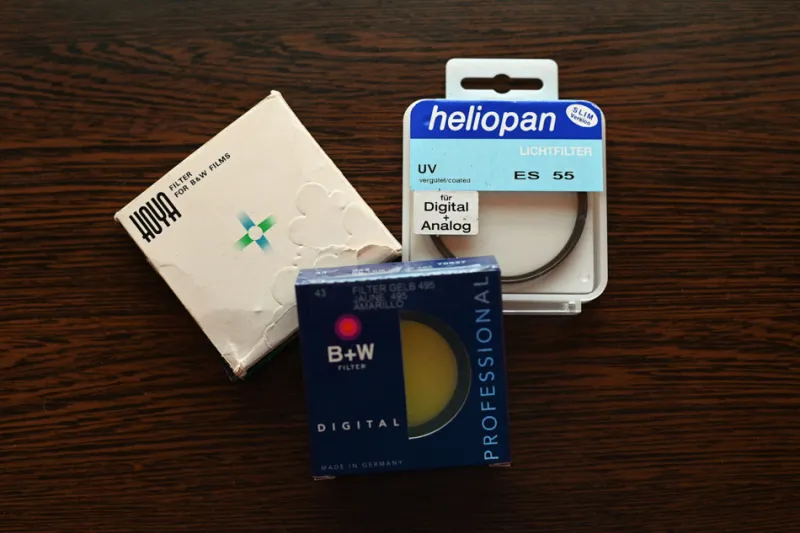 Color filters
They are an essential accessory for anyone using black and white film. Color filters* are available in many different versions. From yellow-green to red or blue.
Different colors are used for different applications. The yellow* and orange* filters are probably the most frequently used. Since I'm out and about in nature a lot, I often use a yellow-green filter.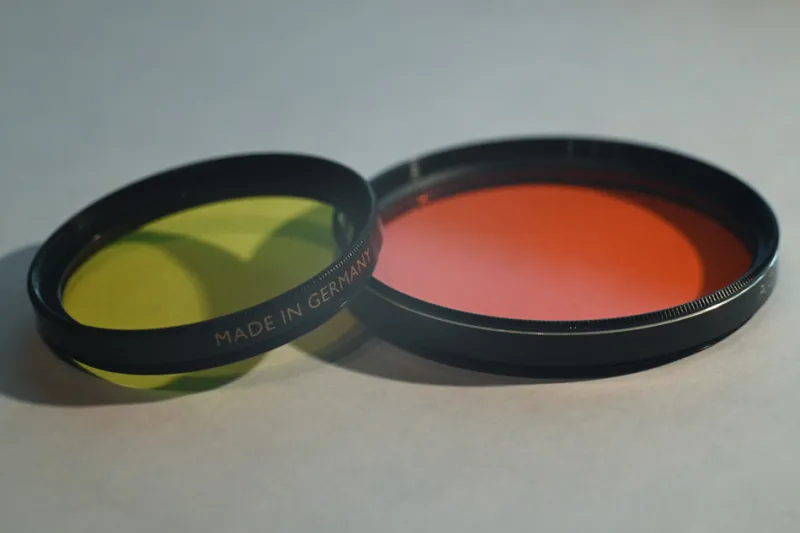 Orange or red filters* are often worthwhile for portrait photographers, as they represent the skin in a very balanced way. For example, skin imperfections are concealed by an orange or red filter. They are used in landscape photography when e.g. B. dramatic skies are to be recorded.
ND-Filters
ND filters* are used to increase the exposure time or to increase the aperture with the same exposure time.
This can have different applications. A typical application would be, for example, long-term recordings. These long-term recordings are often not possible in daylight, so the incident light has to be reduced artificially.
ND filters come in different strengths. Depending on what you intend to do with it, stronger or weaker ND filters are used. They often already have the lengthening factor in their name. ND2 means a doubling of the exposure time, ND8 an eightfold increase.
ND filters* can also be stacked to bundle their effects. For starters, a small set of several strengths might be advisable, e.g. B. ND2, ND4 and ND8.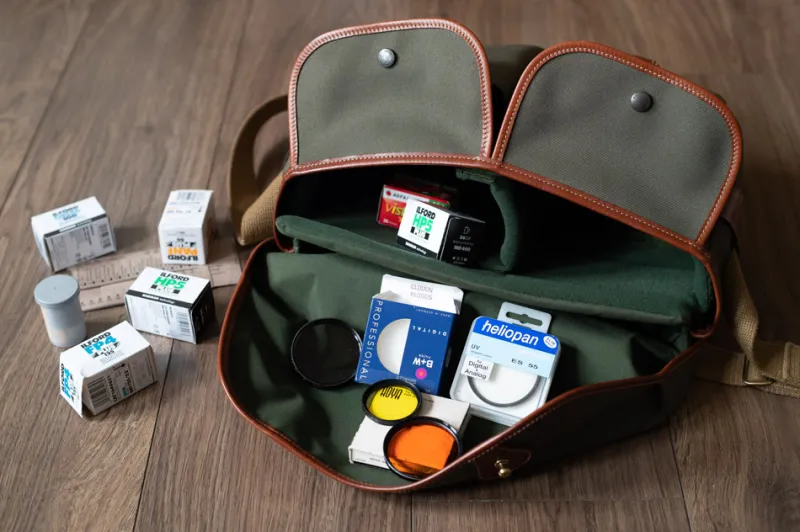 Exposure Meter / Lightmeter
Our old sweethearts often have a defect, they lack a light meter. Therefore, it makes sense as a photographer, especially when shooting with film, to use an external exposure meter. In the following I would like to present three external exposure meters, there should be something for every taste.
Gossen Digisix 2 – The affordable handheld exposure meter
Handheld exposure meters are a dime a dozen. The Gossen Digisix 2 is a very reliable candidate and a handheld exposure meter that is absolutely sufficient for basic things.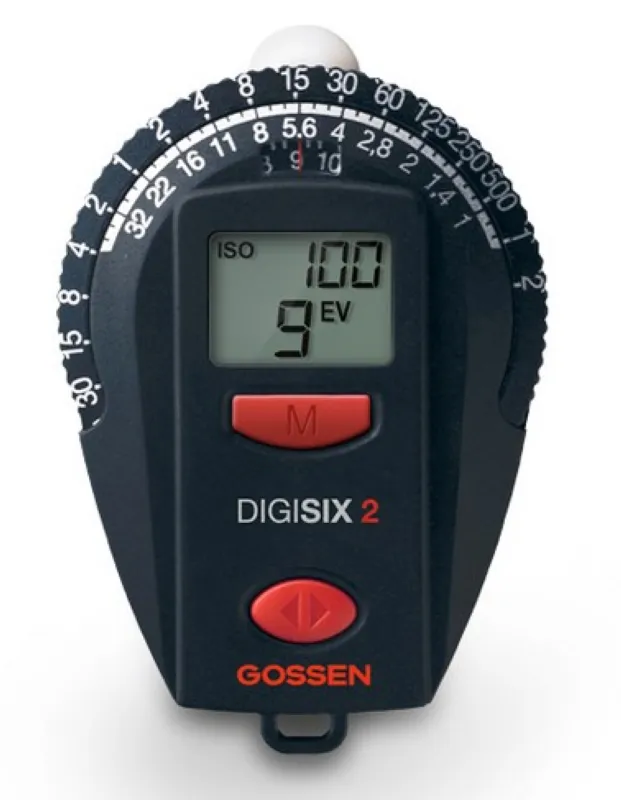 It enables both light and object measurement. Its large LCD display makes reading very easy. A rotary wheel is used for setting and after the measurement, the corresponding settings appear on the Gossen Digisix 2 display.
Sekonic Litemaster Pro 478D – The all-in-one exposure meter
A few steps above the Gossen Digisix 2 we find an exposure meter that has a very nice touch screen.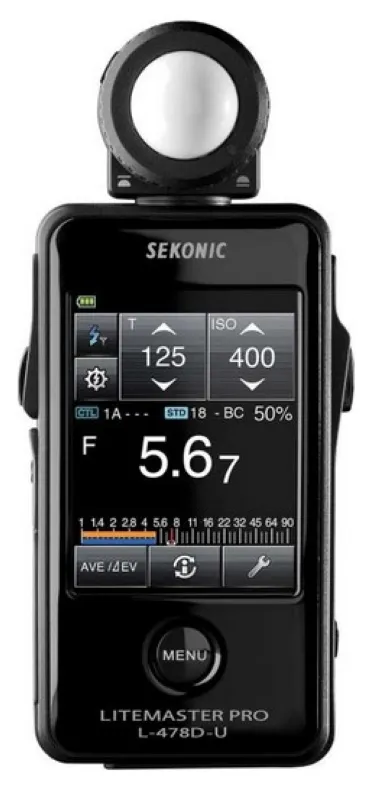 The Sekonic Litemaster Pro 478D. In addition to the basic functions, it can also be used to measure flash light. It also has a spot light meter with 5°. There is also a larger version if someone is looking for something waterproof or with a high-speed sync function. But for most users, the Sekonic Litemaster Pro 478D is perfect and more than adequate.
KEKS EM-01 – The exposure meter for the hot shoe
Despite its name and size, you shouldn't eat it: the KEKS EM-01.
It's a really tiny light meter that you slide onto the hot shoe.
The KEKS EM-01 offers aperture or time preselection as well as a 30° field of view. It has a beautiful OLED display and is controlled via four buttons on the top.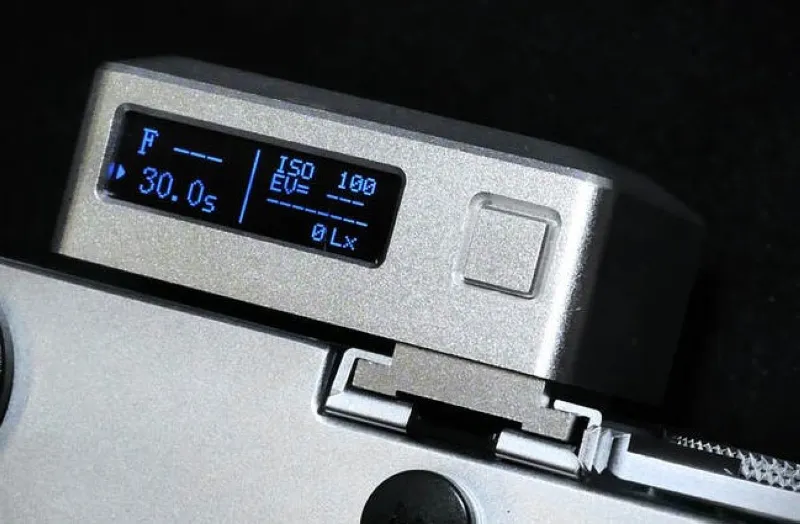 The underside is constructed in such a way that it can be mounted on flash shoes with different positions. To do this, the hot shoe mount is adjusted so that the KEKS EM-01 sits on the left, middle or right of the hot shoe.
It charges via USB-C and is available in both silver and black.
The free solution – Exposure template
I always have a manual exposure template with me as an emergency reserve. It works by aligning the lighting conditions and the ASA of the film. An aperture-time combination can now be read.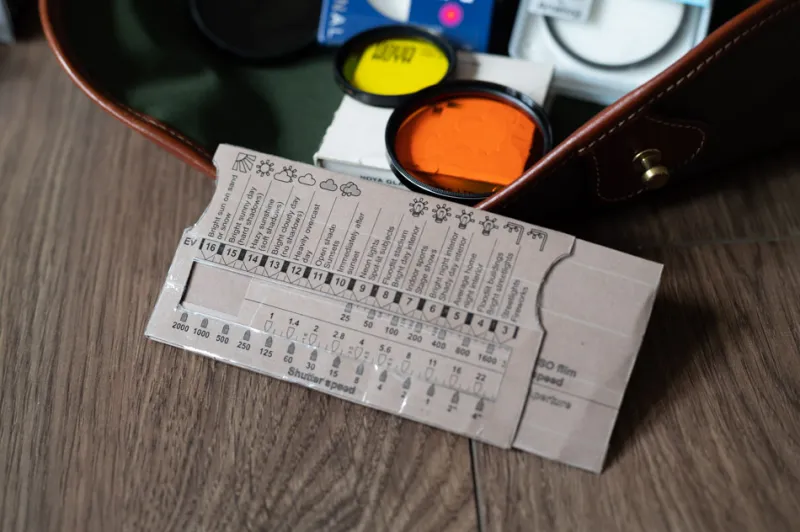 Guaranteed to work without batteries. My recommendation: take a little thicker paper and additionally laminate it, then it is also partially waterproof.
The template is available here: http://www.squit.co.uk/photo/files/ExposureCalculatorMini.pdf
Camera bag
What would a photographer be without his camera bag? I'm a friend of the bag and not the shoulder strap.
Most of the time I also take a few accessories with me and then I need a bag in which I can transport everything. I personally bet on a Billingham Hadley small. It has a large, individually adjustable main compartment and two front compartments in which you can store films, exposure meters or filters.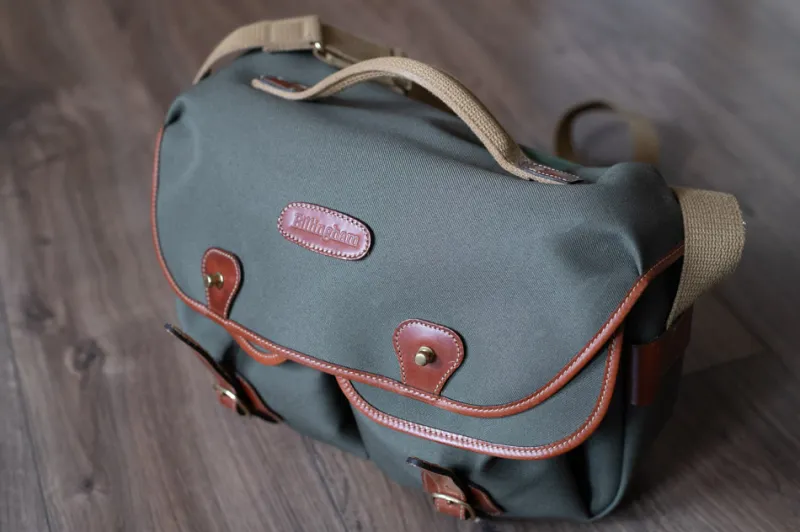 I also like that it doesn't use Velcro to open it. Because the Velcro often scratches lenses or the camera.
The Billingham Hadley small has two buttons with leather straps and can also be opened very easily with one hand.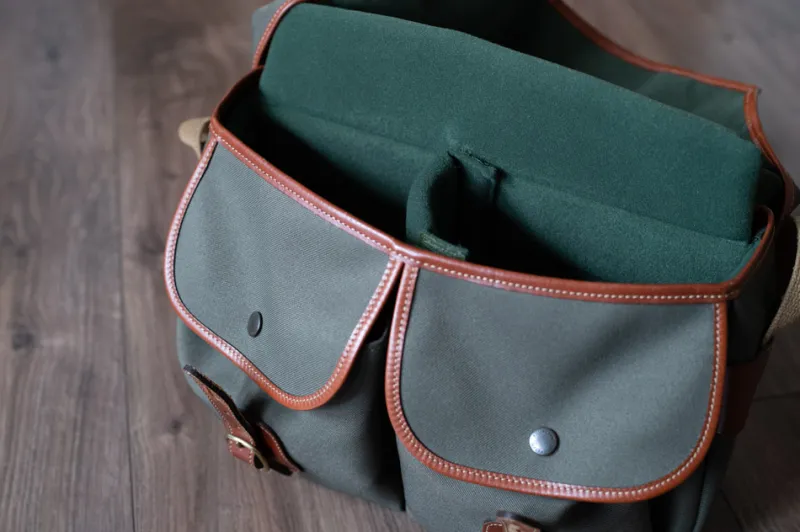 You can buy it on Amazon.
In addition, it has a spacious rear compartment, in which something flat, such as a B. a notebook or a tray can be stowed away. The workmanship is also first class and the fabric is waterproof. Even if tastes differ, the Billingham Hadley small has already given me a few compliments.
Alternatively, I can also recommend the bags from Ona. They are a bit more expensive, but maybe those who prefer leather will find something more suitable there.