Ilford launches a portable Darkroom for 2022
Last Updated on September 6, 2022
Ilford is launching a portable darkroom for fans of analog photography called the Pop-Up Darkroom.
Ilford Photo has announced a new portable darkroom that gives analog photographers the opportunity to develop their prints in the comfort of their own homes, without sacrificing physical space at the same cost as a conventional field tent (lol).
Ilford is the mythical British chemical products manufacturer, charged with being one of the leading producers of photographic paper and film today.
The Pop-Up Darkroom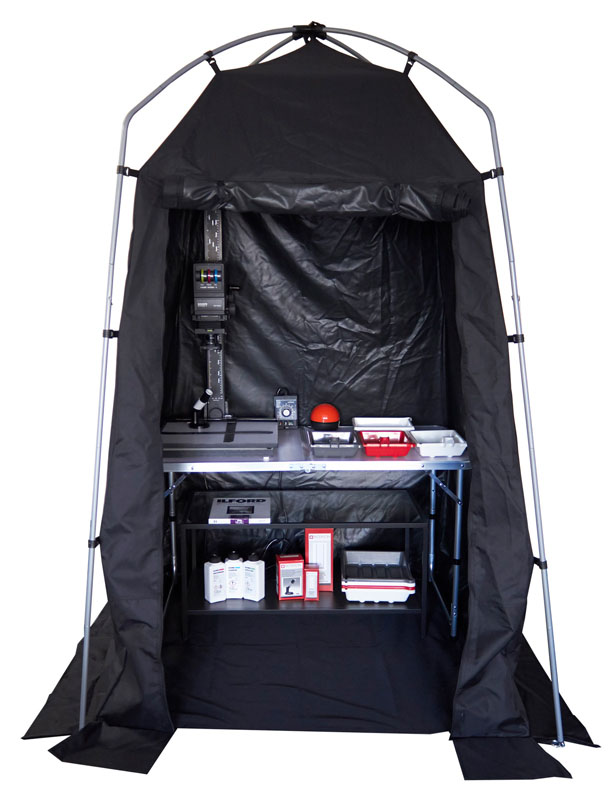 Ilford's latest product piques our curiosity. It goes by the name of Pop-Up Darkroom, and it's basically a dark room that we can set up almost anywhere.
This gives us the possibility to develop, enlarge and print our black and white copies in a practical way.
It is undoubtedly focused on the new wave of photography enthusiasts who want to start experimenting in the classic way of this photographic medium.
Once assembled the Pop-Up Darkroom measures approximately 7.2-2.2 m, or 7.2 ft. In height and 1.3 × 1.3 m in width, which allows for comfortable standing or sitting while "cooking" :P.
It has a cavity dedicated to ventilation, in which it becomes ideal to place a small fan, since yes, it can suffer a lot of heat if you stay there for long minutes.
The darkroom packaging is simple, as if we were carrying a tent or it can even remind us of the bags where we carry our tripods or pedestals.
The Ilford Pop-Up Darkroom price will be between $200 and $300 USD, nothing is confirmed yet, but it is the estimate that we have.