A New Color Single Use Camera By Ilford Is Announced
Last Updated on September 6, 2022
A new color single use camera by Ilford has announced that it will be released under the name Ilfocolor Rapid Retro Edition. In the images of this new product you can see the striking use of CMYK colors that give a retro air to the branding.
This new campaign also pays tribute to Ilford's classic Ilfocolor films, which in pre-digital times were part of the Ilford line with which they competed in the C-41 color process market.
It is important to note that today Ilford as a brand comes from the hand of two aspects that as such are two different companies, in the case to which we refer corresponds to Ilford Imaging, which is not the same as Ilford Photo owned by the mythical Harman, which also has its own line of disposable cameras, but which is focused on black and white films.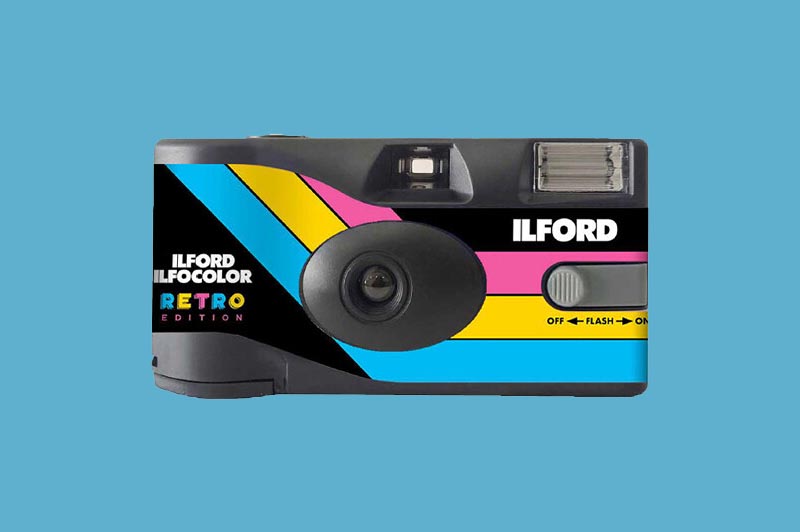 Like any conventional disposable camera, the Ilfocolor Rapid Retro will have 27 exposures on ISO 400 color film. It will also be equipped with a fixed 31mm lens made of plastic, with f / 11 aperture, and a single shutter speed of 1/125 sec.
Ilfocolor Rapid Retro Edition
The Ilfocolor Rapid Retro Edition will also feature a built-in flash powered by three AAA batteries. It is also worth mentioning that the recycling of the flash will be 15 seconds per photo.
As we know historically, Ilford has not been a brand that spread the color process too much in its range of films, since as we all know Ilford has been a company that was mainly focused on black and white films, being one of the leading companies in this field.
It is true that although it is not a release of a color film that can be purchased separately from the camera, it is curious that the emphasis placed on the production of this film is more focused on competing in the field of film cameras.
But we think it can be an interesting move to revitalize the brand a bit and that it can compete with other stories like Kodak and FujiFilm that already have these well established products.
Nothing prevents us from thinking that in the future Ilford will prepare to produce and distribute the Ilfocolor separately if the demand for products related to analog photography continues to rise.
It is very positive that renowned companies arise that carry a glorious past in the world of film, that today are encouraged to relaunch products that were dead for decades.
Price
Currently the Ilford Rapid Retro Edition disposable camera is prepared to be launched initially for the Australian market in the first instance, and then gradually other markets in the northern hemisphere will be incorporated. What Ilford could anticipate for us, the cost of the camera in Australian dollars will be AUD 18.90.
In the American market the price will be similar or close to US $15, a price that is in the same range of the competition, which could be the Kodak FunSaver and the FujiFilm QuickSnap.
Last year we already had an important announcement regarding a camera also from Ilford, the Sprite 35 II, which differs from this if it is reusable AND has a slightly more elaborate manufacturing. Currently this camera is available in the so-called "toy cameras" market and, like this new Ilford product that we refer to in this post, is aimed at captivating new users who venture into the film.
We expect great news for this 2021, we are witnessing how the film in photography is gaining more and more momentum with the emergence of new products and new brands, as well as classic companies that want to rejoin the market and that offer us interesting options that without a doubt they encourage us to continue shooting on film!