Nishika N8000 Review and History: From Scam to Gold
Last Updated on December 13, 2022


3D without glasses, bankruptcy, telemarketer scams and the Federal Trade Commission. This is probably the most interesting story, the most complex 3D camera in the history of photography.
Before talking about the most famous quadrascopic stereo 3D lenticular camera, we will explore its most curious historical data, and we will see how a "beast" becomes a "prince".
History
In 1989, the Nishika company produced the Nishika N8000 camera. It allowed to take photos with the visible 3D effect without glasses. It was simple as 1, 2, 3… 1, 5, 2, 100, 15 to 22 and 10 to 14. Don't you understand? It's trivial!
The history of the Nishika N8000 camera began in 1980. It was then that the Nimslo company created a different camera, the most interesting novelty of which was the use of up to four lenses.
Each of his lenses looked from a slightly different perspective and angle and they all took a picture at the same time. One photo takes two frames of film, so up to 18 photos could be taken on a 36-frame roll. It is not very cheap, but it is in 3D. Images taken with the Nimslo camera show a noticeable three-dimensional appearance to the naked eye.
The idea was interesting and in many ways ahead of its time. However, it was not sold. As in the 21st century, many of us were not convinced by the autostereoscopic screens of the Nintendo 3DS console or smartphones like the LG Optimus 3D, in the 80s the Nimslo project went to the bottom… almost.
Nine years after the camera's premiere, Nimslo was already bankrupt. It was partially bought by another producer, Nishika. Under his banner, two 3D cameras were created: the Nishika N8000 and the scaled-down version of the Nishika N9000.
Both cameras had similar functions. Fixed shutter speeds of 1/60 and three manual aperture settings (two on the N9000). They were powered by two AA batteries (thick fingers) and had built-in flash lamps. Unfortunately, these designs also became outdated very quickly.
Partly because of the poor quality of the photo and partly because of the producer's confusing or even illegal promotional practices. On page 86 of the 1995 US Federal Trade Commission report, you can read about Nishki telemarketers being used to deceive customers. They took up to $700 from them, promising prizes in the form of cars or cash. Instead, the victims of the scam received products of lesser value.
The technological nail in the coffin of these 3D cameras was the fact that they were difficult to use. In the "Easy as 1-2-3" commercial, actor Vincent Price ("The House on the Cursed Hill", "Raven", "Edward Scissorhands" and others) explains that using the Nishika N8000 is as simple as 1, 2 , 3. Problem is, after a while, it adds more numbers to it: 2 batteries, 35mm from IS0 100, 15 to 22ft (distance to subject), 6ft (distance to foreground subject) and many others. See for yourself.
After some entertainment let's talk seriously about what the Nishika N8000 really is in our hands.
Nishika N8000 Specs
| | |
| --- | --- |
| Manufacturer | Nishika |
| Year release | 1989 |
| Camera type | Stereo camera |
| Film type | 135 (35mm) |
| Lens | Four fixed 30mm plastic lenses |
| Shutter speed | Single speed of 1/60 sec. |
| Aperture | f/19, f/11 and f/8 |
| ISO | from ISO 100 onwards |
| Battery | 2 AA batteries |
| Dimensions | 7 x 3 x 8 inches |
| Weight | 916 gr |
Nishika N8000 Lenses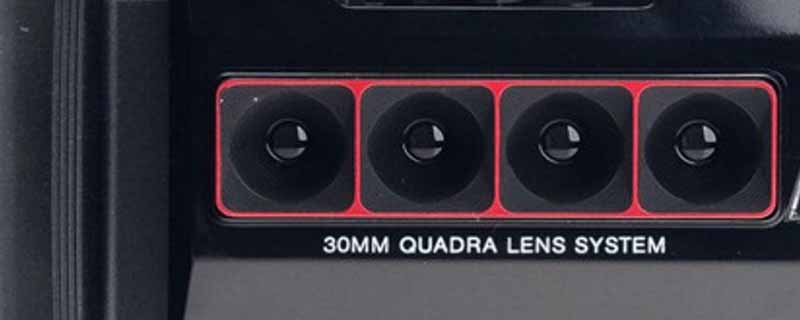 The Nishika N8000 comes with 4 simultaneous acting 30mm plastic lenses that together occupy 2 frames of the negative roll (or half a frame per lens). The apertures of each lens are f/19, f/11 and f/8, which are distinguished for "sunny", "partly cloudy" or "shade" modes.
Viewfinder and Metering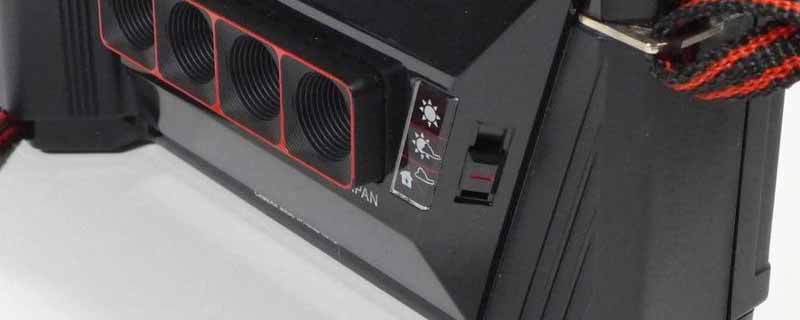 At first glance, a "pentaprism" shape stands out from the camera at the top, but it really isn't, it's just decorative. It's a marketing touch that makes it look like an SLR. The viewfinder is from the N8000 is just a very basic plastic one.
Through the viewfinder you can check the battery level of the camera (2 AA batteries). So there is no light meter as such, since the single shutter speed that the camera handles and its 3 openings, its existence would not make much sense.
It requires a good sense of humor to love this camera, right?
3d animation and instagram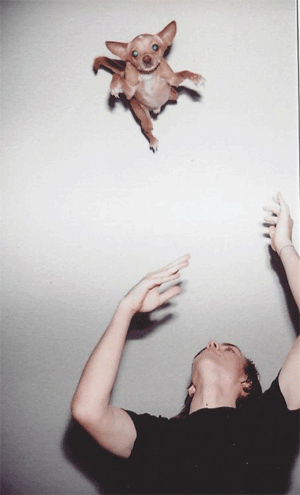 You may have noticed the growing trend on Instagram for animations created with the Nishika and other similar stereo cameras. And being honest, Instagram boomerangs are boring, who wouldn't want to take them to the next level of making them three-dimensional and without having to use 3d glasses to appreciate it. Pretty cool right?
The truth is that the hipster trend has made the Nishika from being a beast before, now it is a prince, and if you are lucky, you will not pay the outrageous sum of money for which its prices are around on eBay or Amazon. > See on Amazon.
Before the hype, a couple of years ago, you could buy it for a couple of dollars (or cents), now prices are over $200.
Cheap Nishika alternatives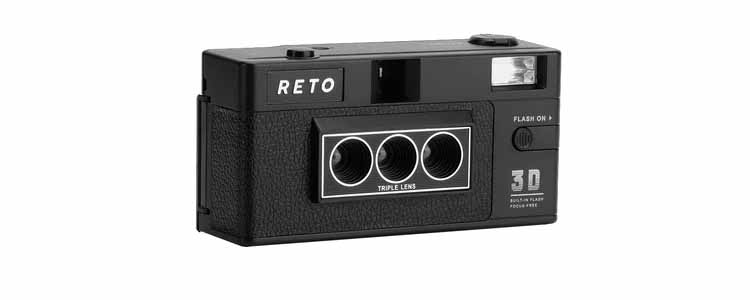 After the boom of stereo cameras on the internet, a couple of brands emerged from the Asian giant that want to do a bit of competition to this "classic" camera… not to say that they want to take advantage of the trend.
One of them is RETO, a 3d camera that reminds us more of the Nimslo, the precursor model of the N8000 before it passed into the hands of Nishika. We can buy this camera for around 100 bucks. (Deep inside us we know that heap of plastic is still overpriced). Put in perspective is a reasonable option and it does the job even with only 3 lenses.
Another cheap way to get a Nishika is to search for another Nishika away from the internet; in a local store, garage or basement of some distant relative that we do not visit very often. There are a lot of people bragging about it, so with a bit of luck it might happen to you too.
Nishika vs Nimslo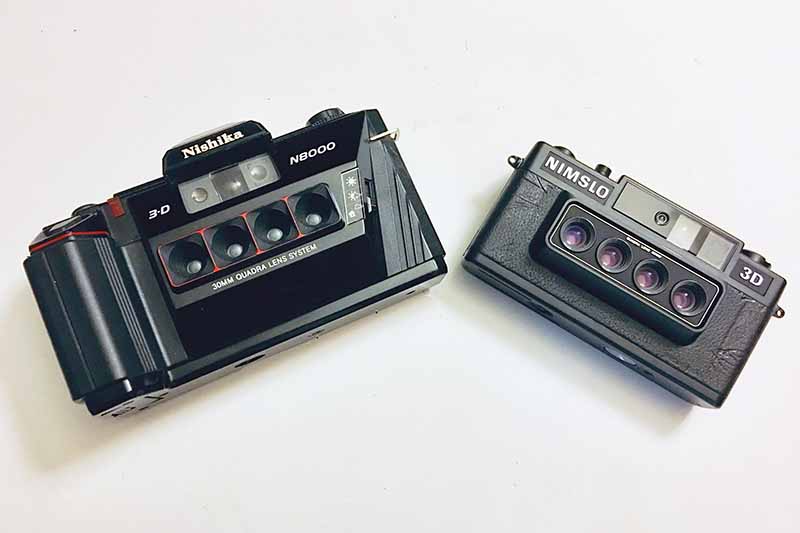 The main difference between the Nishika N8000 and the Nimslo lies mainly in the fact that the Nimslo has glass in both the lenses and the viewfinder, something that many do not see much difference in the result, but that undoubtedly speaks a little better about the Nimslo in terms of quality. ("quality" in quotes).
Another difference is the size, the Nishika is bulkier than the Nimslo, although it is true that the N9000 model has a size and design that is almost a copy of the Nimslo.
"Hack Your Nishika"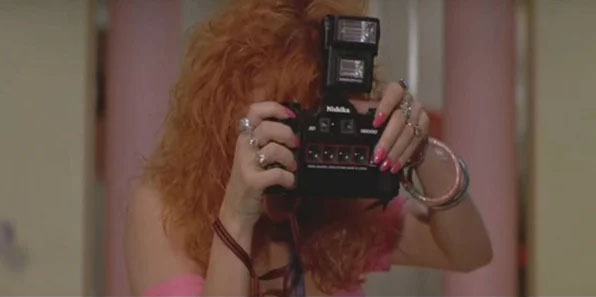 One of the limitations of the Nishika (of the many) is that it does not have the possibility of shooting in Bulb mode, which is a burden since with this we would have incredible potential with this camera. Think about it for a second and imagine what you could do.
In the famous page of instructions and amateur guides "Instructables" someone called "Nano_Burger" has written a detailed article with which we can achieve the first mentioned with an extra. That is, getting the camera to shoot in Bulb and also be able to make double exposures, which is undoubtedly appreciated. Here the article with the instructions.
Nishika N8000 Sample photos
Examples of what raw photos look like.

Nishika animated 3D gif
Once animated, the result has nothing to do with a simple image that seems to be repeated 4 times.
Conclusions
There is no doubt that beyond whether or not it is a camera where its quality is questioned, or that it may even seem like a toy camera. The Nishika N8000 is a very cool camera, its magic is probably in its shortcomings. And it is a unique camera of its kind!
That's why we can't question the reputation it has earned, it has created a subculture around it. And the truth is that with this impulse that grows over time, Nishika inspires and promotes the entire culture of analog photography. Let's toast to the grain that leaves us in its wake.