Canon AE-1 Review: The camera that made everything right
Last Updated on January 28, 2023
Launched back in 1976, the Canon AE-1 broke new ground for 35mm SLR cameras by being the first camera to feature a central processing unit (CPU).
Together with a massive advertising campaign featuring renowned golfers and tennis players, the AE-1 was a huge success for Canon, selling over a million units in its eight years of operation.


The AE-1 was also a turning point for Canon. Prior to the advent of the AE-1, Canon's line of SLR cameras appealed primarily to amateur photographers, but the advent of the AE-1 and its electronically internals meant that Canon could offer more advanced features that were not available at this price point before.
Specs
| | |
| --- | --- |
| Production: | from 1976 to 1984 |
| Exposure control: | Manual, shutter priority |
| Lens mount: | Canon FD mount |
| Shutter speed: | Mechanical 1/1000 to 2 seconds, plus bulb |
| Exposure metering: | Center weighted |
| Battery: | 4SR44 / 4LR44 6V batteries |
| Dimensions: | 141 x 87 x 47.5 mm |
| Weight: | 590 g |
Key Feature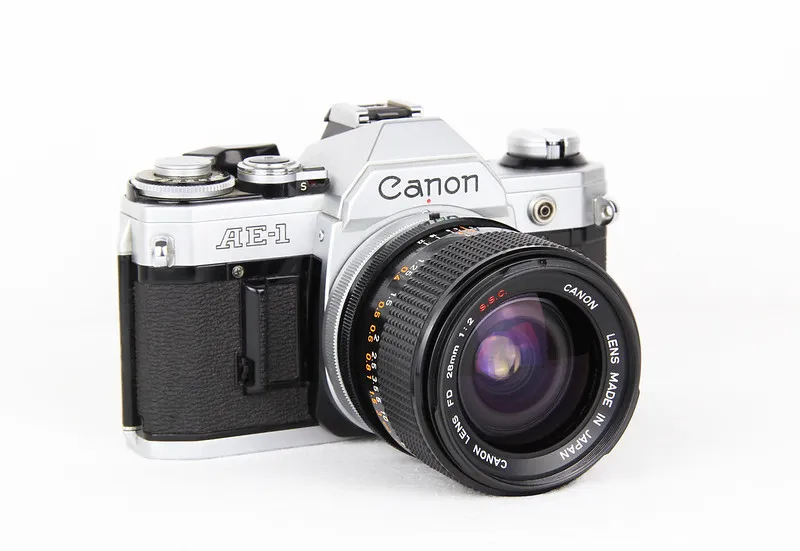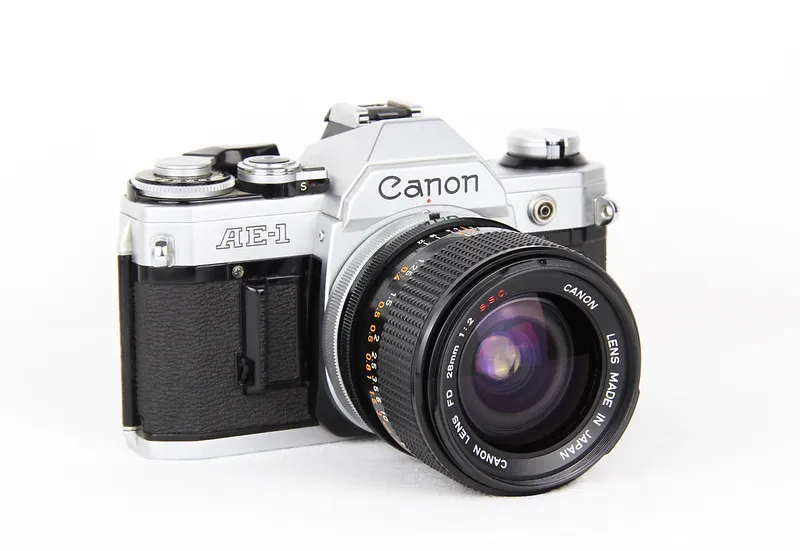 The Canon AE-1 is not only the first camera with a CPU, but also the world's first 35mm SLR to feature a shutter-priority exposure mode (AE stands for automatic exposure control).
Many competing brands offered an aperture-priority exposure mode on their high-end SLRs, but due to the lack of information available in the viewfinder, there was invariably the risk of the camera choosing a shutter speed lower than desired, often resulting in a waste of time. film frame because it was too blurry.
AE-1 Modes
However, the AE-1 shutter priority mode was a huge advantage for more beginner photographers, as you always knew how long your shutter speed would be while the camera was adjusting aperture.
Canon went even further with the launch of the AE-1 program in 1981. The successor to the AE-1, the AE-1 program, had a program auto exposure mode in which the camera set both aperture and shutter speed.
The maximum shutter speed on the AE-1 was a little disappointing, with a maximum shutter speed of 1/1000th of a second, although the optional Canon Winder A provided motorized frame-by-frame advance to a dizzying 2fps.
Lens Mount
The AE-1 used a Canon FD lens mount, suitable for both FD lenses and the New FD mount (often referred to as FDn). Earlier FD lenses have a chrome-plated swivel ring on the bayonet, while the FDn lens is fully inserted into the camera and then rotated to lock it in place.
The 50mm kit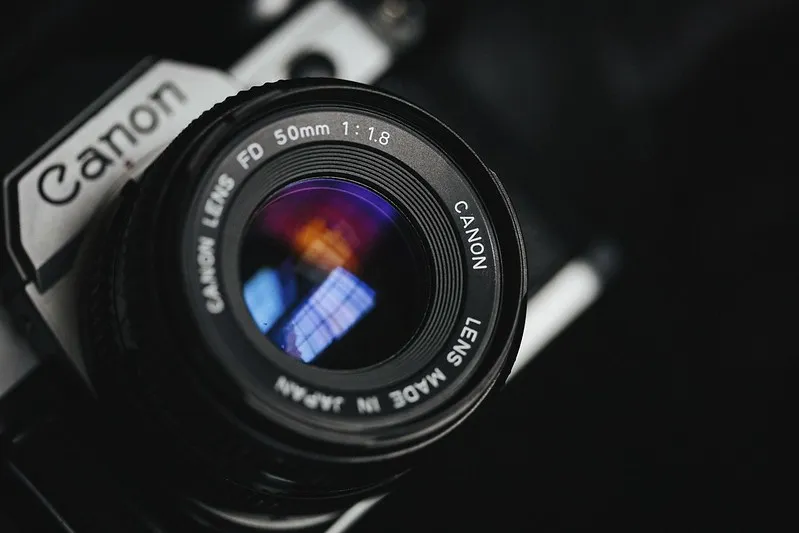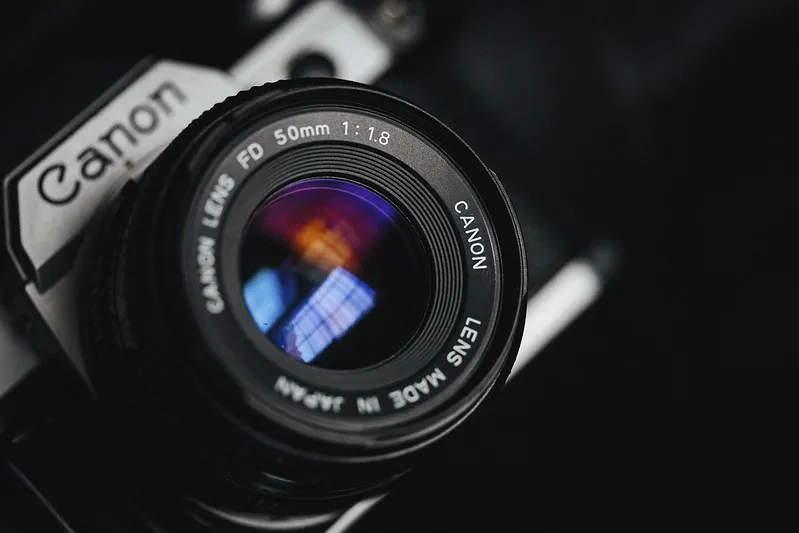 The kit lens it came with was nothing less than the 50mm f/1.8, an all-terrain lens with which Canon achieved a standard for cameras in that range.
It was decently built mostly of metal, years later canon would change the build materials of their entry 50mm, increasingly replacing metal with plastic.
Today these canon lenses have managed to maintain a certain cult following among fans, especially the world of cinema.
You should see this great report on canon FD lenses:
The introduction of the CPU
With the introduction of the CPU, Canon took the opportunity to break the rule book and design the AE-1 from scratch. Thus, the AE-1 consisted of five main and twenty-five secondary nodes, which allowed Canon to fully automate the entire production process.
With the introduction of the CPU, Canon took the opportunity to break the rule book and design the AE-1 from scratch.
The body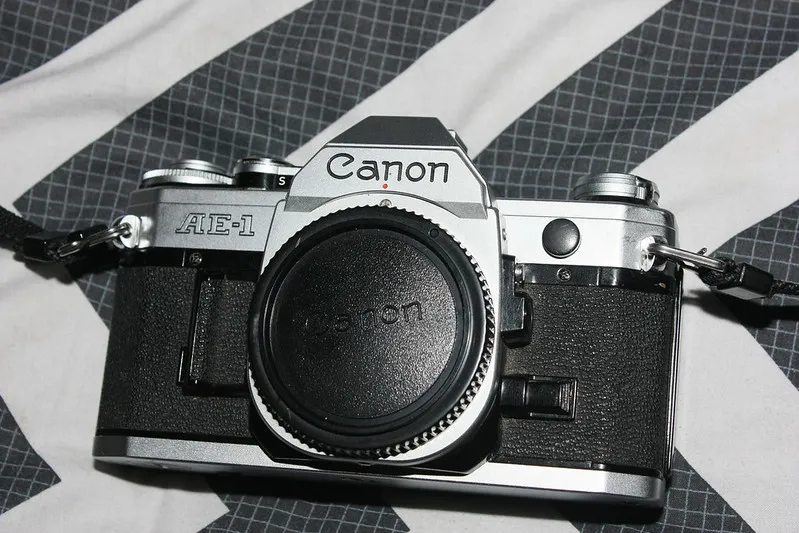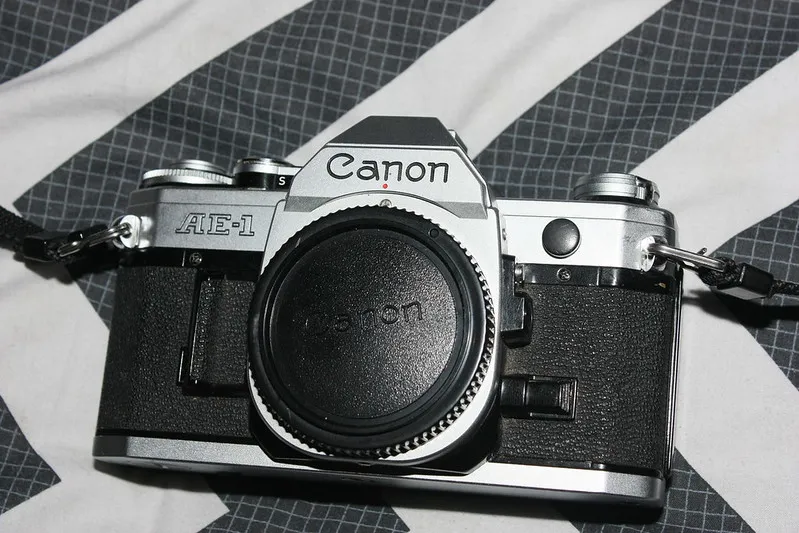 Looks can be a bit deceiving, however, and while the AE-1 appears to be based on an all-metal chassis, Canon has opted to use a decent amount of structural plastic in its further movement to keep costs down.
While the top plate may look like metal, for example, it is actually an injection-molded thermoplastic polymer finished in either satin chrome or black enamel.
Don't let this be a big deal, as the viewfinder is nice and big – it will definitely make many optical viewfinders in modern DSLRs appear tunnel-like.
AE-1 battery
Canon AE-1 cameras, and the Program versions, are designed to be powered by either 4LR44 or 4SR44 6V batteries. Energizer's A544 6 volt battery is one of the most popular choices, while Duracell's offering is known as a 4A76 6V battery.
Conclusion
Since the AE-1 has proven incredibly popular before you jump onto eBay, it might be worth asking relatives if they have it – you never know what might be hidden in a shoe box in the back of a closet. Otherwise, the best place to start tracking is eBay.
The good news is that nobody breaks the bank – a good condition AE-1 with 50mm f/1.8 shouldn't set you back more than $150. Just be aware that a few issues can arise if not taken care of, namely poor light barriers and slow return of the reflex mirror resulting in a loud squeak.
The AE-1 may seem a little primitive now, but it helped open up more advanced features to a much wider audience. Relatively risk-free for the price, the Canon AE-1 is still a very capable SLR.
Canon AE-1 Sample shots