QuickScan Plus vs VueScan: The Best for Scanning Film?
Last Updated on April 17, 2023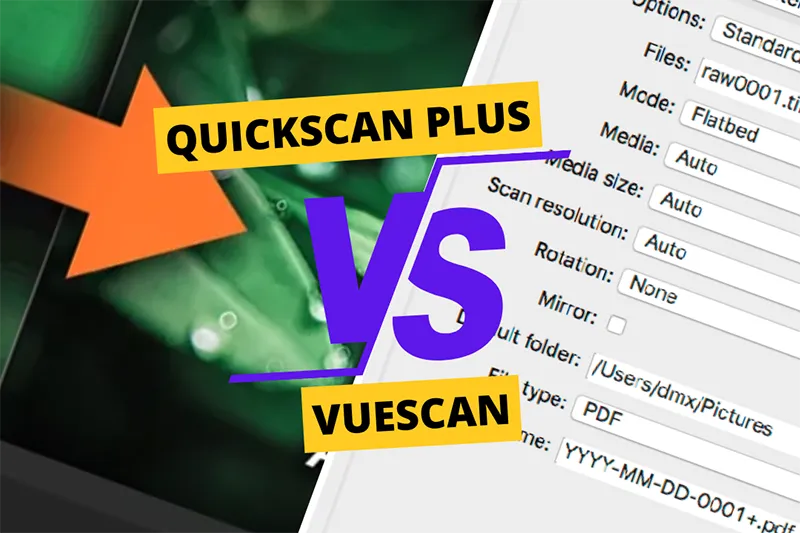 QuickScan Plus and VueScan are two software solutions that many film photographers use to digitize their photos using their preferred photo scanner.
Although both programs are capable of offering the "same" in general terms, there are many differences between them that can make one software better than the other depending on your workflow or the equipment you use.
On the other hand, you may also be in a situation where you already use one of them and want to know what the other software offers that your current one does not have.
VueScan Software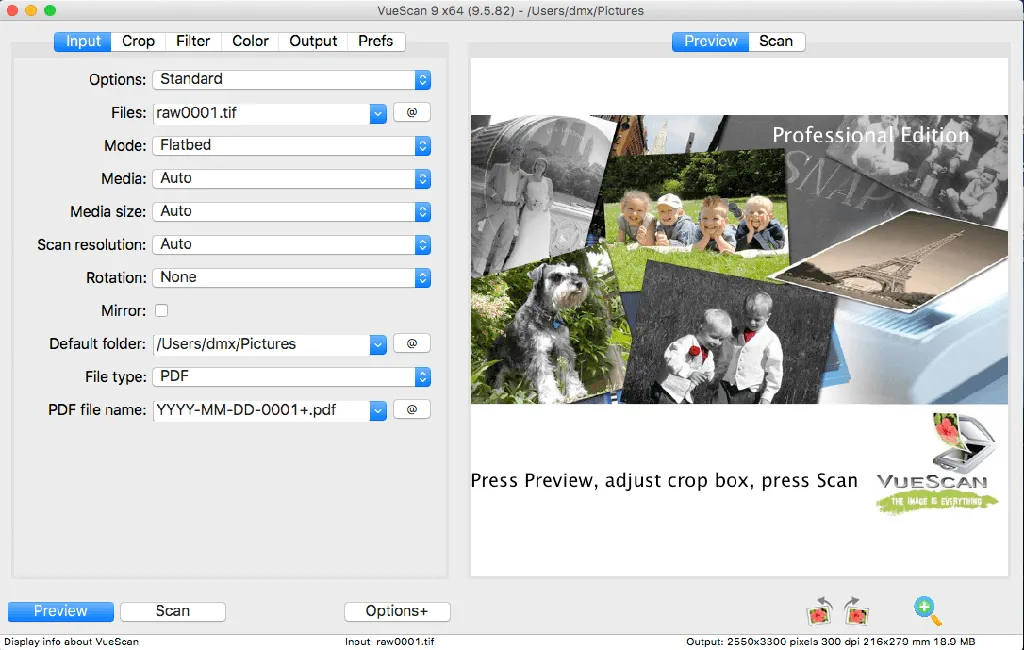 VueScan is a software developed by Ed Hamrick as a practical and simple option for digitizing photographs of different formats, whether they are 35mm negatives (or slides), 120 film or paper photographs.
VueScan has been on the market for many years, since its first appearance in 1998, where Ed Hamrick practically introduces it after years of development, where he adapts and customizes the program's functions based on his own use.
The idea behind VueScan is to provide basic tools for scanning negatives, along with more advanced ones, but maintaining the principle of offering compatibility with most scanners available on the market.
VueScan includes functions such as exposure adjustment, dust and scratch removal, and the ability to save images in multiple formats, including JPEG, TIFF, and PDF.
Pros and Cons
Pros
Compatible with multiple scanners.
Offers advanced editing and adjustment tools.
Dust and scratch removal works very well.
Intuitive user experience.
Cons
The price may be high, considering that each scanner offers a "free" software.
Scanning will be slightly slower than with the scanner manufacturer's software.
Although it offers compatibility with many scanners, some older scanners are not supported.
Recommended scanner for use with VueScan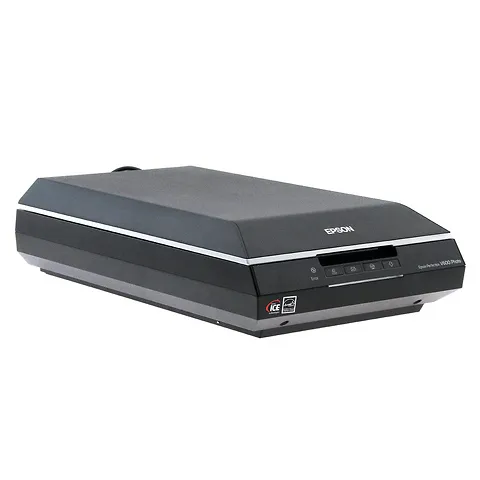 The Epson Perfection v600 is an example, among other scanners, that works great with VueScan. In general, the entire range of "Perfection" scanners are very compatible. But since this scanner has the best value for money when it comes to scanning 35mm and 120 negatives (or positives), it is the most recommended.
QuickScan Plus Software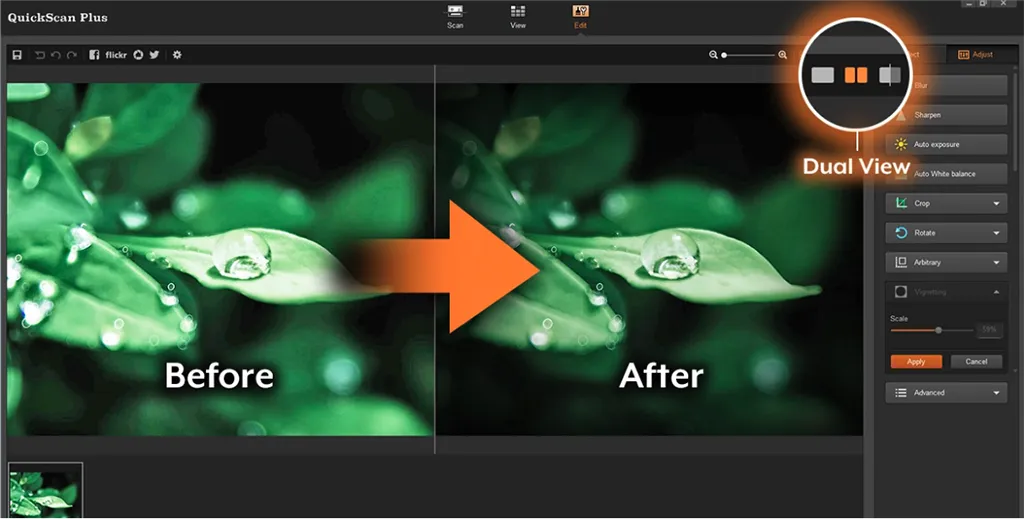 QuickScan Plus is a software developed by Plustek, the manufacturer of dedicated scanners for 35mm films. This software comes with the new Plustek "OpticFilm" series, which replaces the legendary SilverFast that used to come with it. This software covers most aspects of the scanning process in a very minimalist and simple way, without advanced settings, although it is capable of scanning at 48 bits and supports export in JPEG, TIFF, PENG, and BMP formats.
Its menu is simple, where you can choose 3 modes, "Negative", "Positive", and a mode for manual scanning adjustment. If you choose either of the first two, you will have a more standard configuration for the film type, which is very well balanced and saves you a lot of time in the process.
Let's not forget that we already spend quite some time manually placing each group of frames inside the scanner. So having software that works quickly is very practical for many occasions.
Pros and Cons
Pros
It's fast and efficient.
Intuitive setup functions.
Allows exporting in TIFF and BMP formats.
It's free (if you have a Plustek scanner).
Cons
It's only available for Plustek scanners.
Lacks professional features.
Only works with 35mm.
Recommended scanner for use with QuickScan Plus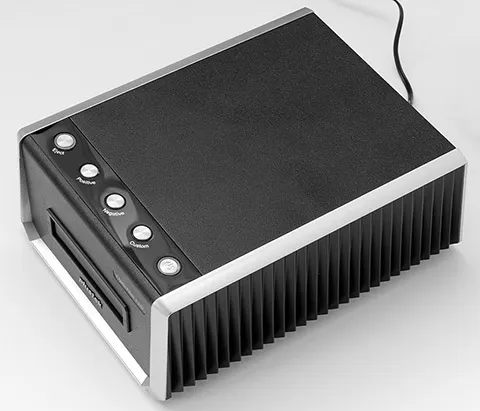 QuickScan Plus is the software that comes with the Plustek OpticFilm 135i, a dedicated scanner for 35mm films. Since it's not a flatbed scanner, it offers slightly better image quality than a V600, for example, with the disadvantage that you can't scan 120 film (while the V600 can).
Comparison Table
| Feature | VueScan | QuickScan Plus |
| --- | --- | --- |
| Developer | Ed Hamrick | Plustek |
| Year of release | 1998 | 2017 |
| Last version | 9.7.99 | 1.2 |
| Compatible with multiple scanners | Yes | No, only Plustek scanners |
| Operating systems | Windows, Mac OS and Linux | Windows and Mac OS |
| Advanced editing and adjustment tools | Yes | No, only basic tools |
| Dust and scratch removal | Yes | Yes |
| Save images in multiple formats | Yes (JPEG, TIFF, PDF) | Yes (JPEG, TIFF, PENG, BMP) |
| Price | Standart edition: $39.95 | Free (for Plustek scanner users) |
| Scanning speed | Slightly slower than scanner manufacturer's software | Fast and efficient |
| Supported film formats | 35mm, 120 film, and prints | Only 35mm |
| Professional features | Yes | No |
Read more about negative digitization: How to digitize photos for Instagram.
Conclusions
QuickScan Plus and VueScan are excellent options for scanning negative films, both share some similarities for an average user, especially those who have a focus on the 35mm format. However, for advanced users, VueScan is probably a better option. Additionally, QuickScan Plus is only available for Plustek users.
However, if you are a Plustek user, QuickScan Plus can be a tool that improves your efficiency and performance in your workflow, as its tools practically do all the work for you.