Olympus Ace E Review: A 35mm Rangefinder with Legacy
Last Updated on August 8, 2023
The Olympus Ace-E stands out as a 35mm camera with interchangeable rangefinder lenses, one of the many cameras that emerged from Japan in the 1950s and 1960s. In this Olympus Ace E review, we will thoroughly explore its features and performance to discover why it has captured the attention of many beginners in recent years and what history has to say about whether it is suitable for today's times.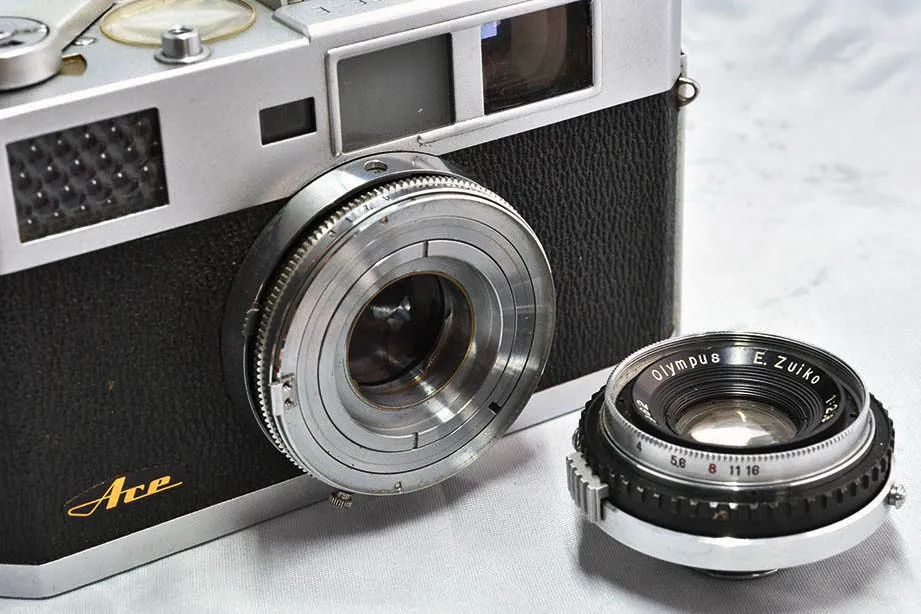 Let's start by looking at its general features, followed by a brief history of its origin, and then delve into each of its technical aspects and user experience.
Olympus Ace E Specs
| | |
| --- | --- |
| Year release | 1959 |
| Camera type | Rangefinder film camera |
| Film type | 35mm |
| Camera Model | Olympus Ace E |
| Standard Lens | E Zuiko 45mm f/2.8 |
| Shutter Speed | 1″ to 1/500th of a second |
| Shutter type | Leaf shutter, Seikosha SLV |
| ISO | 6 to 800 ASA |
| Meter | Selenium type, non-coupled |
| Battery | none |
| Weight | 585g |
| Dimensions | 130 x 79 x 46mm |
History
The Olympus Ace E is a rangefinder camera with interchangeable lenses, launched in Japan in 1959 by Olympus. It is essentially an option based on the original model (Olympus Ace) with the addition of a non-coupled selenium light meter. This model was released just a couple of months after the original (towards the end of that year), making it essentially the same camera with subtle changes in the design lines influenced by the new light meter.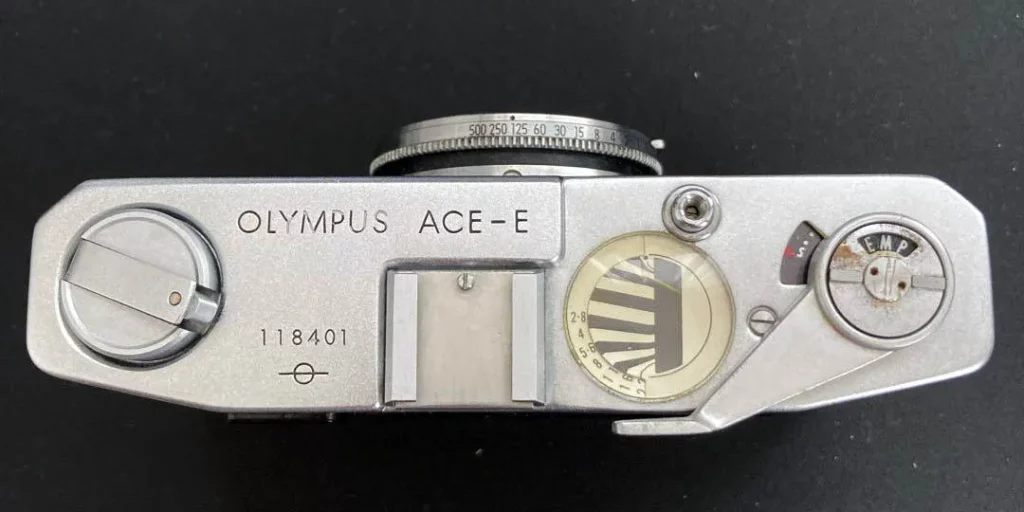 For the American market, "Sears, Roebuck and Co." was responsible for bringing this model under the name "Tower 19." It is essentially the same camera but rebranded, with only the body being different, as the Zuiko lenses would be imported as they were. Moreover, it was not common to sell this version with a lens other than the standard 45mm f/2.8.
Design
The Olympus Ace E features the classic design of rangefinder cameras from that era, and with the redesign from the first model, the lines forming the top part of the camera show a clear inspiration from the Nikon S2, a camera that was a reference point of that time, especially in Japan.
Unlike the legendary cameras mentioned earlier, the Ace E was not planned to be a full-fledged "professional" camera. In reality, one of its goals was to create a more economical camera capable of offering competent features for any type of use. This is evident in its simple design, with more streamlined functions, which is also reflected in its size.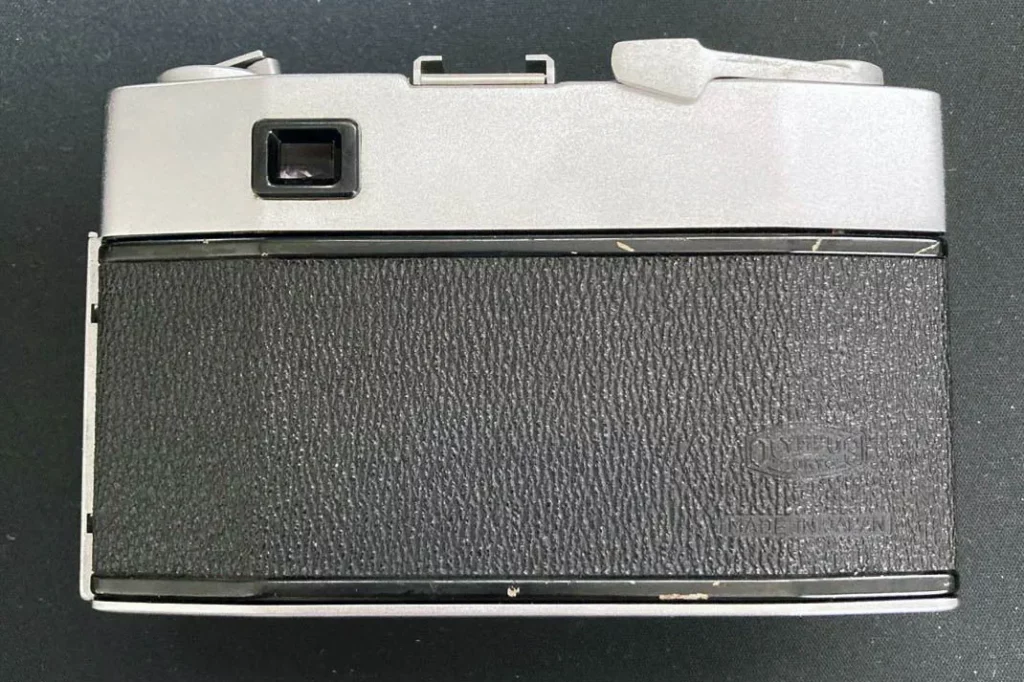 However, let's not be fooled; one of the main philosophies that has always characterized Olympus is to offer small bodies with great features. That's why, when comparing it to other more amateur cameras of the time, such as the Voigtlander Vito, we can truly consider it as a serious camera in its sector.
Apart from the chrome design, there is also a very rare black version, which some debate whether it is a later modification or was released by Olympus.
Film Advance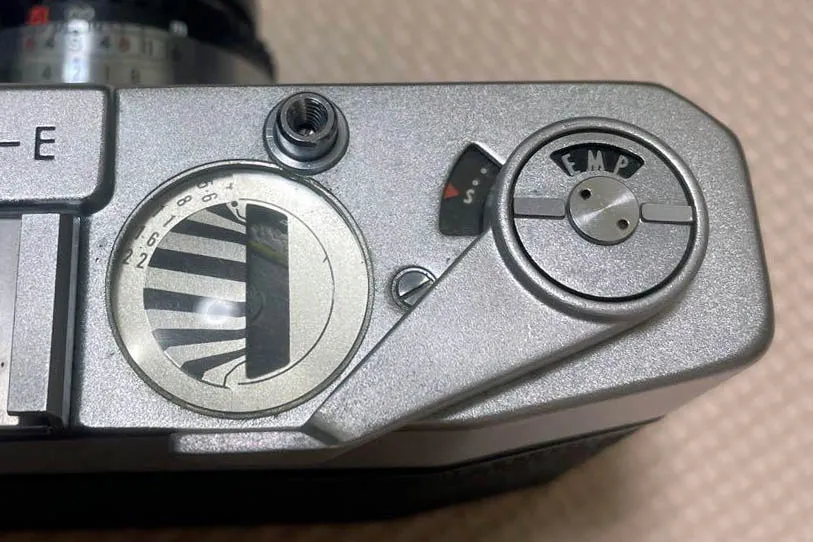 An interesting feature of the Olympus Ace E is its single-stroke film advance lever with a short travel. Along with the Seikosha leaf shutter, it offers a pleasant handling experience, making film loading and silent shooting enjoyable.
Although the film advance is effective and enjoyable, the Ace E is not exempt from issues in this area. Depending on the camera's condition, it may present problems with film advance. Some users have reported frame overlapping (randomly), especially in cameras where lubrication of the mechanism is the issue (which has not been my case). In such situations, it would be advisable to take it to a specialized place for lubrication to resolve this potential problem.
Viewfinder
Another well-implemented feature is the marking in the viewfinder of the frame lines for 35mm, 45mm, and 80mm focal lengths. It displays the complete range of lenses it offers. It's worth noting that the viewfinder is quite bright and of a considerable size, adding extra points to the user experience in this aspect.
Optics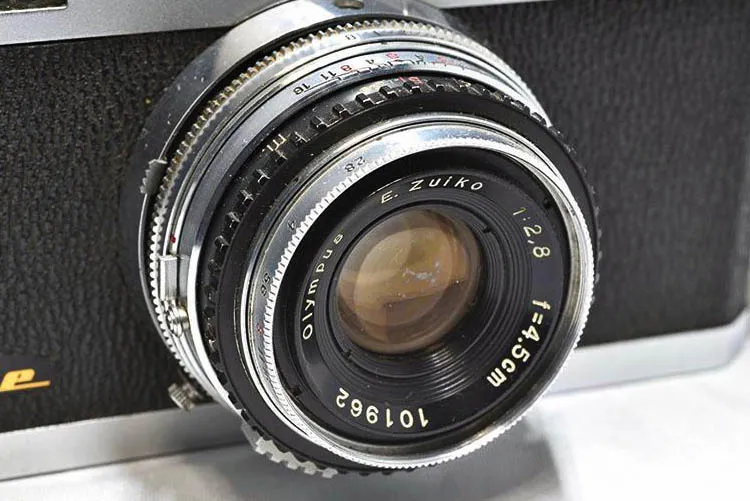 The standard lens for the Olympus Ace E is the E Zuiko 45mm f/2.8, a lens with very good sharpness that already had quality back in the pre-SLR era. Olympus has also been known for manufacturing very good optics throughout its history, always under the name Zuiko. In the same year, they also released the Olympus Pen-D with a similar lens but in smaller proportions, adapted to the half-frame format.
This lens is not highly contrasted, and it's essential to consider this because depending on its condition, it may have too much "haze" if not well preserved. Therefore, in addition to that, using a contrasted film like Kodak Portra 400 or Kodak Ektar 100 would be ideal for this camera.
The complete range of three lenses that are part of the repertoire for this camera incorporates the Seikosha shutter within the lens. They also had automatic rangefinder coupling, which was almost a standard at that time. This simply means that when focusing, due to this coupling, you can adjust for parallax to achieve proper focus from the viewfinder.
The lens shutter speed ranges from 1s to 1/500s, an optimal and standard range for that time.
Lens Selection
As mentioned earlier, there were three lenses available for the Olympus Ace E and the original Ace, and only one of them underwent a later update. However, one change that the lenses for the Ace E had compared to the Ace was the shift from the Copal SV to the Seikosha SLV shutter. In practice, this change is not very noticeable.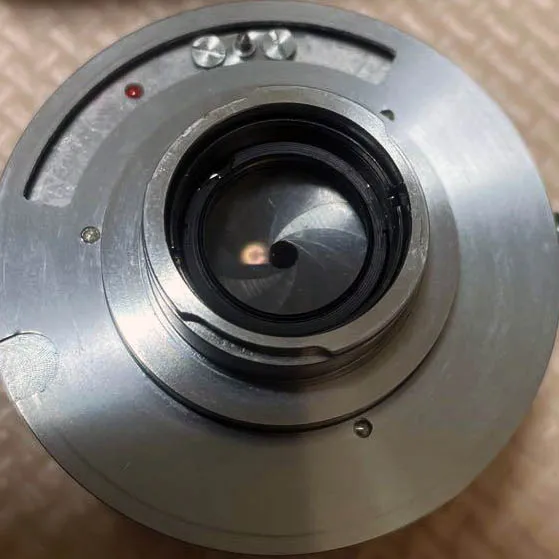 The lenses available for the Olympus Ace-E are as follows:
E Zuiko 45mm f/2.8: The standard lens.
E Zuiko 35mm f/2.8: Wide-angle lens.
E Zuiko 80mm f/5.6: Telephoto lens, later updated to E Zuiko 80mm f/4.
Recommendations and Accessories
Here are some recommendations that can be useful both when acquiring an Olympus Ace E and when using it:
If you want to buy an Olympus Ace E, it is recommended to look for one that suggests it has been stored properly. Check for any signs of mold or humidity in the lens. See if it comes with the original leather case; this may suggest that the light meter could be in good condition (if you are interested in using it, of course).
Using a hood for both the standard lens and the wide-angle lens is also advisable; this can help prevent the lens from losing contrast in bright light situations. The best hoods are the old metal screw-on ones, but if you find a modern one that fits, it works too.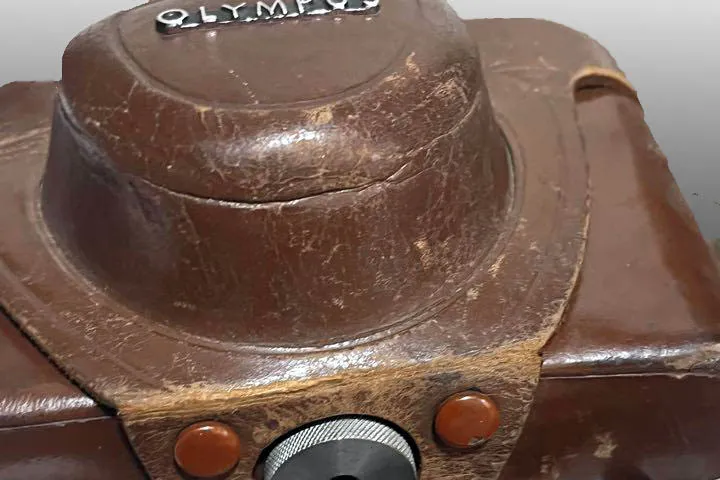 These are some recommendations to enhance the user experience with this great camera, but each model is unique, so take these recommendations as just that—recommendations.
Pros and Cons of the Olympus Ace E
Pros
Classic design.
Quality Zuiko lenses.
Bright viewfinder with frame lines for different focal lengths.
Silent shutter.
Cons
Frame overlapping in cameras that have not been well preserved.
Due to age, the lens may have a loss of contrast.
Olympus Ace E Sample Shots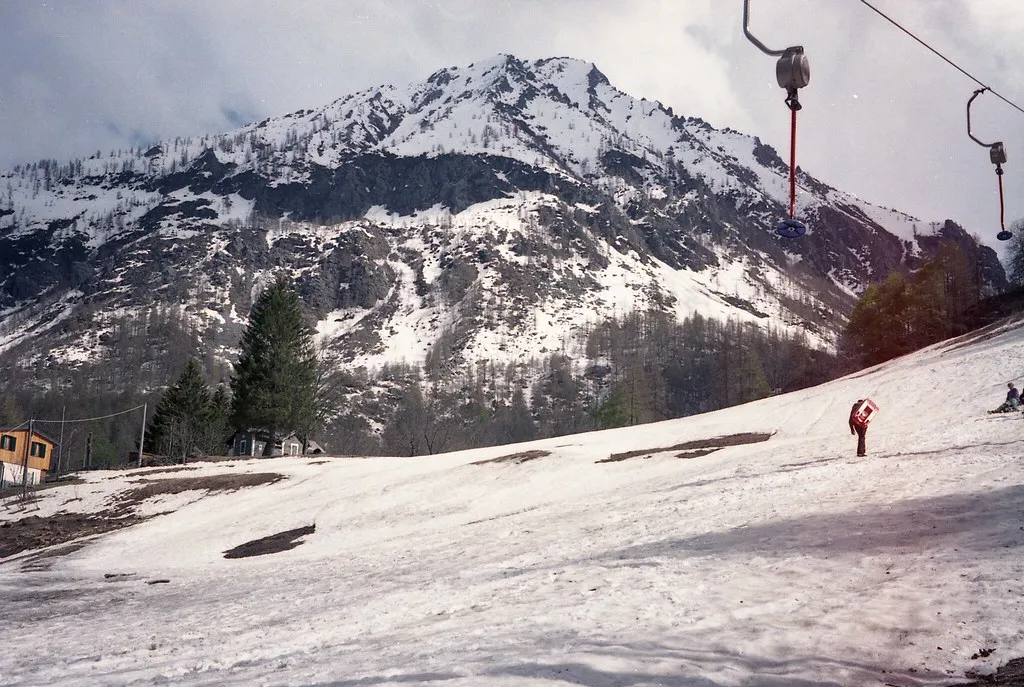 Conclusions
The Ace E is another great camera manufactured by Olympus, which I personally consider myself a big fan of. It continues the philosophy of designing high-quality cameras in a small format, a concept that Olympus would continue to develop in subsequent models like the "Pen" series.
While it requires some luck to find a well-preserved Ace E model to have a complete user experience, it is worth acquiring one. Its compact design, focusing capabilities, and the right range of lenses make it a capable camera for modern times. I hope this Olympus Ace E review has been useful. Happy shooting!
Links and References:
User Manual: https://esif.world-traveller.org/om-sif/camhistory/manuals/olympusacee.pdf
Description of the Original Olympus Ace: http://www.biofos.com/cornucop/ace.html