Olympus Infinity Stylus Review: The Original "mju"
Last Updated on April 8, 2023

The Olympus Infinity Stylus marks the beginning of a line of point-and-shoot cameras created by Olympus for the brand's compact camera sector, focusing their efforts on offering a compact camera with more demanding performance, which other brands like Yashica were already leading.
It was a very popular camera in its time and still is today almost 30 years after its release. Although it wasn't until the second generation with the Olympus Stylus Epic that its relevance and renown became more important among the most demanding users, this small camera continues to be an important reference for 35mm point-and-shoot cameras.
In this review, we will start by giving an overview of its features and history, and then delve into the important details of the camera.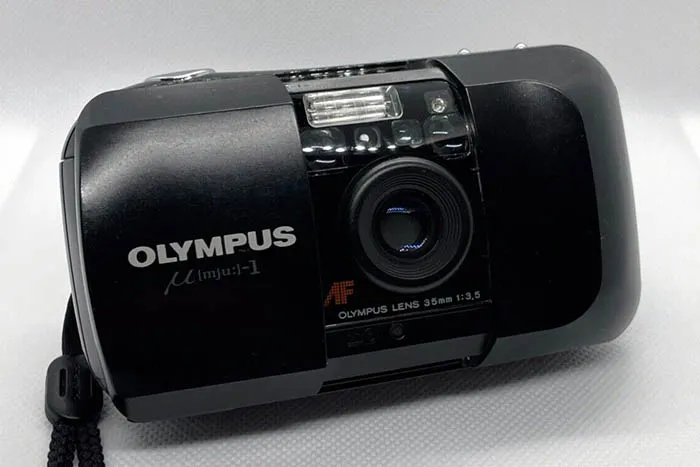 Specs
| | |
| --- | --- |
| Year release | 1991 |
| Camera type | Point and shoot film camera |
| Film type | 35mm |
| Lens | AF 35mm f/3.5 lens |
| Minimum focus distance | 0.35m |
| Shutter speed | 1/15 to 1/500s |
| ISO | 50-3200, DX code reading |
| Metering | Center weighted |
| Modes | Auto flash, Aperture priority (flash off), Self timer (10s) |
| Battery | x1 CR123A Lithium battery |
| Size | 12x6x4cm (4.7×2.3×1.5 in) |
| Weight | 170g |
History
The Olympus Infinity Stylus, also known as [mju], was introduced in 1991 and produced until 2004, selling over 20 million units worldwide. Initially manufactured entirely in Japan, later batches were assembled in China using Japanese-made parts.
Infinity Stylus was the name chosen by Olympus for the American market, with "Stylus" being the name that would encompass this line of cameras, which would also include the Olympus Stylus Zoom in this and two more generations.
The Infinity Stylus was highly popular due to its compact size, ease of use, and great image quality for a point and shoot camera of its time. Its enduring appeal can be attributed to these factors, as well as its sleek design and reliable performance.
Features
Although the Olympus Infinity Stylus is characterized by being a very simple camera in its operation, each aspect that composes it affects its performance and use in different ways. Let's take a look at each section.
Design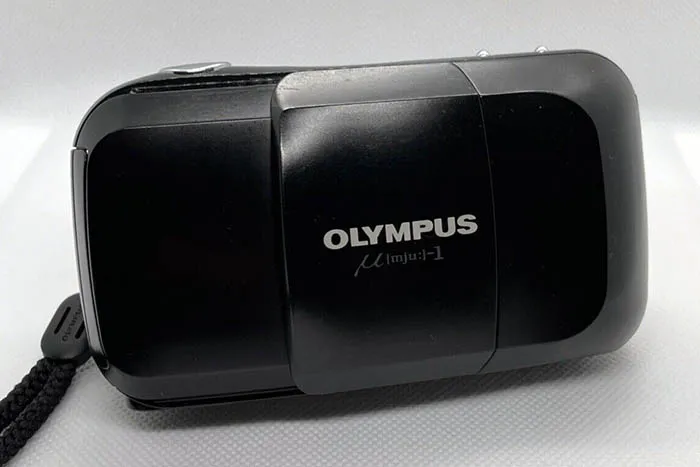 The Olympus Infinity Stylus is made of plastic and has a design with rounded corners that gives the impression of being a more sporty type of camera. It has a thumb grip that comfortably fits in the hand.
One of Olympus' premises was to maintain the philosophy of making a very portable camera with reduced dimensions (even in their classic SLRs, this has always been the main characteristic in their design line). Therefore, the Infinity Stylus weighs in at 170g and has dimensions of 4.7×2.3×1.5″ (12x6x4cm).
Olympus with the Stylus line decides to do the opposite of what other brands like Contax with the Contax T2 or Konica with the Konica Big Mini were doing, which were characterized by the "square" shape with an aluminum finish that gives a more premium look to their cameras.
But it is true that by coming in two finishes, black and champagne silver, they still maintain the possibility of maintaining both design postures, albeit with plastic in their construction.
Black became the most popular option for the Infinity Stylus, and it wasn't until the Olympus Stylus Epic (mju-ii) that the champagne color had a greater prominence.
Lens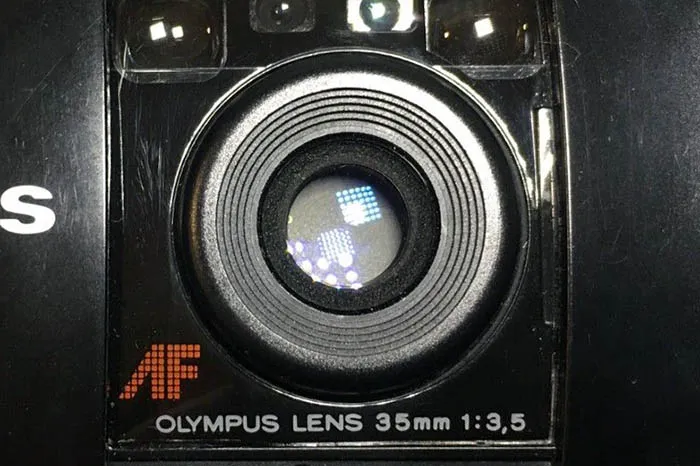 One of the areas where the Olympus Infinity Stylus stands out the most is in the quality of its optics. With a 35mm f/3.5 lens manufactured by themselves, it is capable of offering images of excellent sharpness for the type of camera it represents.
It is true that its aperture is not that of a "premium" camera; however, it performs very well both to generate good bokeh (since the minimum focus distance is 0.35m) and to create sharp images from corner to corner without any lack of contrast typical of cheap cameras.
In any case, I would always opt to use ISO 400 film for casual photos that work for any occasion. Since in flash lock mode, on certain occasions the aperture will fall short.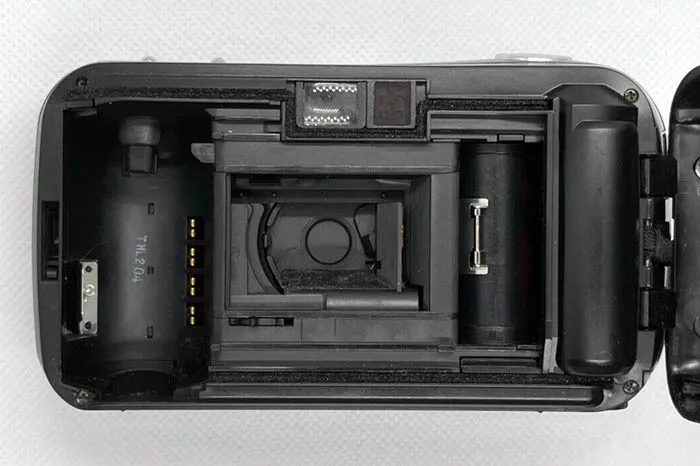 The Infinity Stylus has a shutter speed range of 1/15 to 1/500s and a DX code reading capability, for rolls of ISO 50 to 3200. These are good numbers for a compact camera and for what can be achieved with it.
Operation and modes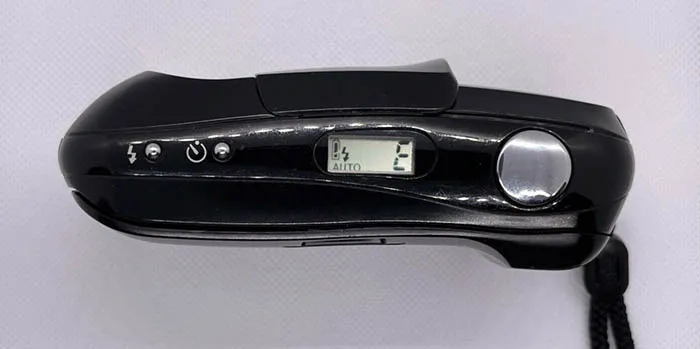 The Olympus Infinity Stylus is very minimalist in its configuration layout, with only two buttons on the top where you can control both flash shooting modes and the timer. In addition to these buttons, you can also find a rewind button located under the lens for special occasions.
The camera's use consists of 4 steps:
Insert the film roll into the camera, aligning the negative leader to the red mark.
Close the back cover of the film container.
Wait for the camera to rewind the roll until it displays 1 on the top LCD screen.
Turn on the camera by sliding the front cover that covers the camera lens
Start shooting.
Performance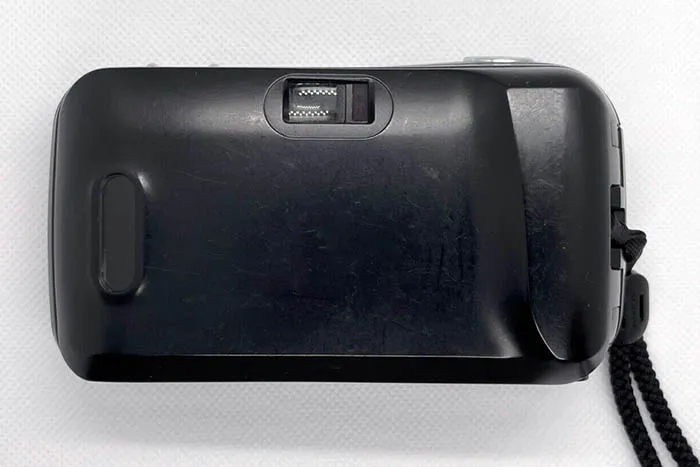 The metering on this camera works correctly and doesn't usually lose control in complex lighting situations, such as backlighting. It also doesn't have a special tendency to underexpose or overexpose, so it works well and in a balanced way despite having center-weighted metering.
Regarding the viewfinder, it may seem uncomfortable to frame accurately since it's very small and doesn't allow for precise framing. However, the Infinity Stylus viewfinder isn't much worse than the Yashica T4, for example, or even the same mju-ii. Most point-and-shoot camera viewfinders are deficient. The only camera with a viewfinder that can be considered pleasant is the Contax T2 (which isn't perfect either).
The autofocus system performs very well since it has an aperture of f/3.5, allowing it to focus quickly without difficulty. The response is almost instantaneous, making it a reasonably fast camera to shoot with, and focusing isn't a problem.
Pros and Cons
Pros:
Good lens, offers sharp images
Portable size, easy to carry around
Simple handling, intuitive functions
Cons:
Small maximum aperture (f/3.5), requires the use of flash
Small viewfinder, difficult to frame shots
Price and buying guide
A couple of years ago, during what I call the darkest stage of analog photography (2005-2015), you could find an Olympus Infinity Stylus for just a few dollars in second-hand stores, as its unremarkable design made it look like any other family camera.
Today, in the midst of the hype surrounding analog photography, the mju has become very valuable and can cost anywhere between $150 and $250 in the online market. And probably less if you find one second-hand in a physical store.
The Olympus Infinity Stylus is a camera that has aged well, so if you happen to come across one, it's likely to work without any issues. But of course, if you have the opportunity to test it beforehand, even better.
Sample photos
Here are some shots taken with the Olympus Stylus Infinity.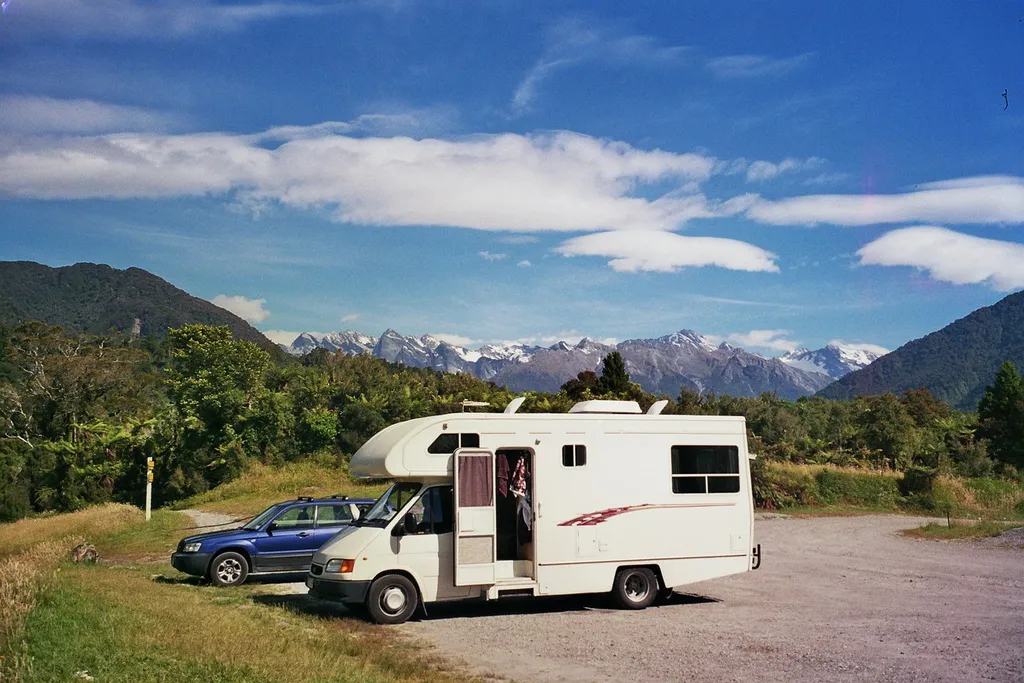 FAQs
What are the differences between the mju-I and the mju-II?
The mju-I is a few millimeters larger than the mju-II, both in length and height.
The mju-I has a more square and less "aerodynamic" design than the mju-II.
The mju-I has an aperture of f/3.5 while the mju-II has one of f/2.8.
The mju-II has splash protection, while the mju-I does not.
The mju-II has a "panoramic" mode (which is actually useless), while the mju-I does not have that mode.
Take a more detailed comparison look in the mju-ii review.
Is it worth investing in an Olympus Stylus Infinity camera?
Due to its compact size, fast autofocus, and quality lens, yes, it's worth it. However, only if the price is fair, otherwise it's probably more worthwhile to go for the second version, the mju-II.
How to use an Olympus stylus infinity?
What better than a video to see how an mju works?
Final thoughts
The original mju is a camera that I really like. It's small and portable, so I can take it with me wherever I go. I like to use it with the flash, especially for film photos that are well-focused and have that "flash" style.
This camera isn't ideal for achieving a great bokeh effect, but it's still decent in that regard. If you're looking for something with a better bokeh, it's better to get an SLR. If you still want to try for that effect with this camera, I suggest blocking the flash and getting up close to your subject.
Overall, I'm happy with this camera. I know its strengths and limitations, and if you want to get the most out of it, you should too.