Konica Big Mini F Review: A Bigger Camera Than You Think
Last Updated on August 13, 2023
The Konica Big Mini F isn't usually among the first options that come to mind when we think of point and shoot film cameras, but luckily for those of us who love these cameras, there are true gems to be discovered.
The BM-F is no stranger, as the Big Mini line has been on the market for almost as long as the Contax T, for example (nowadays, of course, second-hand). But in general, its popularity has always been somewhat less than the typical three brands that we will be mentioning constantly in this review.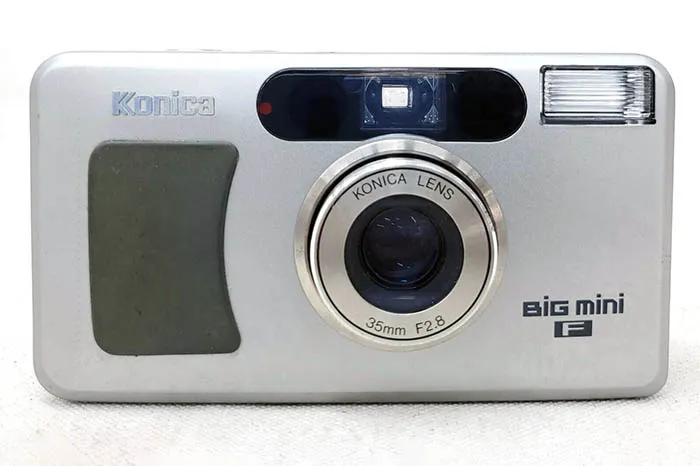 To begin, let's take a look at all of its features.
Big Mini F Specs
| | |
| --- | --- |
| Year Release | 1997 |
| Camera type | Point and shoot film camera |
| Film Type | 35mm |
| Finish | Silver and Titanium black |
| Shutter speed | 4″ to 1/450 sec. |
| Lens | Konica 35mm f/2.8, 3 elements in 4 group |
| Min. Focus Distance | 35 cm |
| Auto mode | Shutter priority AE |
| Metering | Active infrared AF, Exposure compensation +/-1.5 EV |
| ISO | 25-3200 |
| Flash | Built-in, On/Off capability |
| Self timer | 10 sec. delay |
| Battery | 1x CR123 lithium battery |
| Viewfinder | Framing lines, no info display |
| Dimentions | 115 x 63 x 34.5mm |
| Weight | 180 g (without bat.) 197 g (with bat.) |
History
The Konica Big Mini F is probably the best model released for Konica's Big Mini line, and the last one with a fixed lens. In parallel, there were famous models with zoom lenses like the Big Mini BM-310Z or BM-610Z, which were never favorites among enthusiasts. These cameras were more intended for the consumer market.
The first model in the BM line was the Big Mini BM-201, which was the most popular model in the United States and still remains the most popular model. However, prior to this, there was another model that truly preceded the Big Mini line, the Konica A4.
And it's not actually that it precedes, since immediately after being launched it was renamed simply Big Mini. It's worth noting that this model does have a lens cover! (to never again).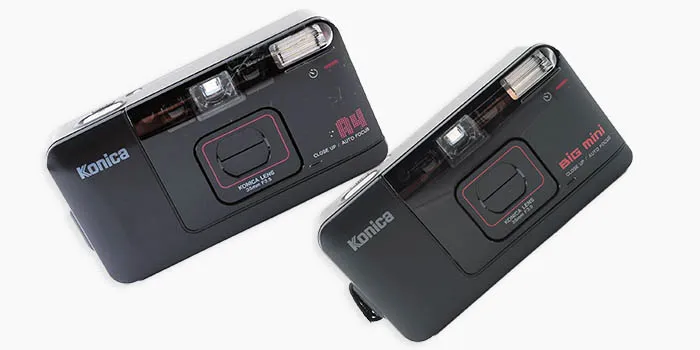 It was practically a BM-201 but in black. The only differences were minor details such as a maximum exposure of "only" 3 seconds instead of 8 seconds, and a minimum ISO of 50 instead of 25 like in the BM-201.
A year before the release of the Big Mini F in 1996, Minolta launched the Minolta TC-1. A camera that wanted to enter the market to compete with the "big" point and shoot cameras like the Contax T2 or the Yashica T4, which, although they had already been launched for a few years, were still the most sought-after cameras among enthusiasts.
In the end, the production of the Big Mini line would culminate with the merger of Konica with Minolta. And it would be its "half-sister", the Minolta TC-1, that would last a little longer. In 2006, Konica Minolta (camera business) would finally be bought by Sony, and with this purchase, the end of the production of analog cameras would come.
Overview
The Big Mini F is a 35mm point and shoot camera launched in 1997, and it was the only model in Konica's BM series to feature a lens with an aperture of f/2.8, as it had previously always been f/3.5.
In addition to this change, they also decided to switch the plastic front to an aluminum one, giving it a more premium finish. And it can be said that they succeeded, as when holding it, you can feel its solidity, and it does not give the impression of being a cheap camera (which it is not).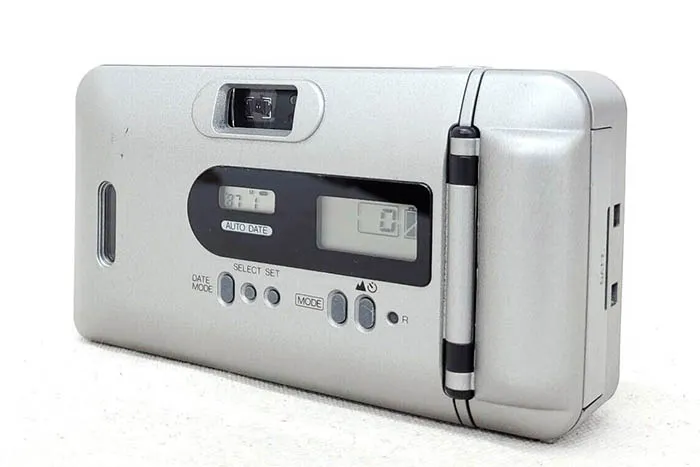 It has a good range of shutter speeds ranging from 4 seconds to 1/450th, making it a camera prepared for almost any occasion (interesting for night photography).
The BM-F is completely automatic, and a small adjustment is required to unlock the camera to function at all its speeds. Which is to block the flash from firing.
Viewfinder
The viewfinder of the Big Mini F is quite simple, it is a window-type viewfinder that only displays framing lines indicating the margins of the photo frame, which serve to frame the subject.
There is no information regarding specific exposure or aperture settings. However, right next to the viewfinder, there are two LEDs.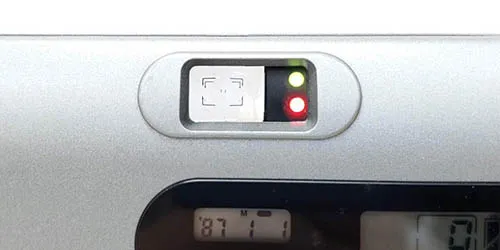 The top LED lights up in green to indicate that the shot is in focus and ready to be fully pressed to take the photo. The second LED lights up in red indicating that the shot will not be adequately lit without the flash. Therefore, the flash will fire if the light is on.
These two pieces of information are useful, especially the second one, as it gives us the option to decide whether we want to let the flash fire or if we want to force the camera to use low shutter speeds (by adjusting the settings).
We should also take precautions when shooting with low shutter speeds, such as using a tripod.
Metering
The measurement in the Big Mini F is centre weighted, which means that there is no type of averaging based on high and low lights. The resulting exposure may be optimal or slightly underexposed.
Other point and shoot cameras such as the Yashica T4 are said to be much more efficient at exposing backlit subjects because they tend to compensate by overexposing, which is ideal. There's nothing written on that aspect, it's based on my experience.
The reality is that when a camera is designed to automatically fire the flash, like the Big Mini, the image often ends up being dark because the flash doesn't quite reach the final object. This camera is not perfect at anticipating this situation, but you are 😉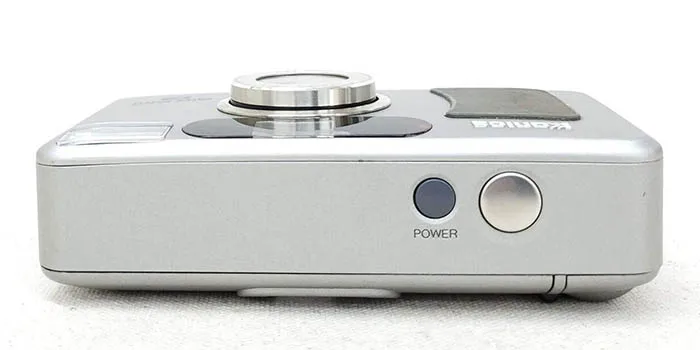 That's why it's appreciated that it has a built-in exposure compensation system. Because for complex lighting situations, we can make that adjustment, ideally compensating once to the positive side, meaning overexposing (at +1.5EV). This ensures that the shadows don't become opaque.
Another measure that supports this point is to turn off the flash, which as we mentioned, is another feature that this camera has. However, just like with the Olympus Stylus Epic, every time you turn off the camera, everything you have configured will return to the default settings (full auto).
Pros and Cons
This list of pros and cons is mainly focused on beginners, as for advanced users, many features may be rather subjectively valued.
Pros
Fast focus
Low/high shutter speed capability
Good quality lens
Expose/Focus check
Cons
No lens cover
A bit noisy motor
No memory for save settings
Tricky light measurement
Big Mini F vs BM-201
In general, the BM-201 and the BM-F are very similar, with slight variations in construction and features, which can be appreciated especially in this table.
| Feature | BM-201 | Big Mini F |
| --- | --- | --- |
| Lens aperture | f/3.5 | f/2.8 |
| Shutter speed range | 3.5″ to 1/500th | 4″ to 1/450th |
| ISO DX Reading | 25-3200 | 25-3200 |
| Construction | Full plastic | Aluminium front |
| Launch | 1990 | 1997 |
Big Mini F vs Contax T2

We are talking about cameras that are true options for point and shoot enthusiasts, and that are interesting to compare since both offer similar features, and there are many people interested in purchasing one and are not sure which one to choose.
To do so, let's examine this comparative table that can give us a general idea of their features.
| Feature | Contax T2 | Big Mini F |
| --- | --- | --- |
| Lens | Zeiss 38mm f/2.8 T* | Konica 35mm f/2.8 |
| Minimum focus distance | 1m | 0.35m |
| Shutter speed range | 1/8 to 1/500th | 4″ to 1/450th |
| Modes | Program, Aperture Priority AE | Program, Aperture Priority AE |
| Exposure compensation | +/- 2 EV | +/- 1.5 EV |
| ISO DX Reading | 25-5000 | 25-3200 |
| Construction | Aluminium front | Aluminium front |
| Finish color: | Champagne Silver, Titanium black | Silver, Titanium black |
| Launch | 1990 | 1997 |
| Weight | 250 g (without battery) | 180 g (without battery) |
| Size | 119 x 33 x 66mm | 115 x 34.5mm x 63 |
| Price | Close to $1000 | Close to $300 |
Price and Buying guide
As mentioned in the previous table, the BM-F's mid-range price is $300. However, you'll see that the price range is quite random. You can find them for anywhere between $150 and $700!.
What does the price depend on? Sometimes it depends on the cosmetic condition, other times on what it comes with, such as its original box, case, or any extra accessories. Other times it may simply depend on how the seller feels that day.
When the camera is very old or has been exposed to air for a long time, the outer ring that surrounds the lens may be heavily faded and yellowed. In that case, I would pass and look for another one.
We want a camera in good physical condition because it's one of the few things we can rely on in these types of cameras to determine how the interior is.
Big Mini F Sample Photos
Some pictures taken with the Konica Big Mini F.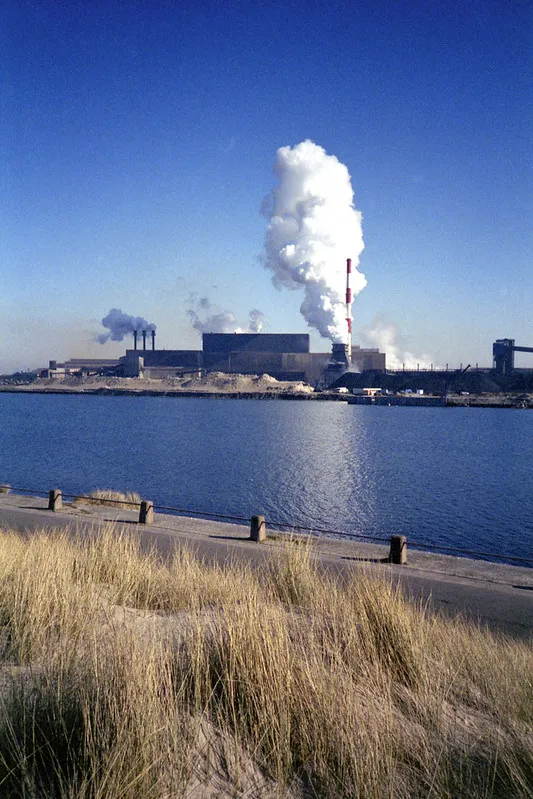 Big Mini F instructions manual
I haven't been able to find any instruction manual online specifically for the BM-F, however the BM-302 manual may work without any issues.
Conclusions
As we saw in this Konica Big Mini F review, we have a solid camera with features on par with the Contax T2 or Olympus Stylus Epic. It maintains its own personality and is capable of performing well in almost any situation.
One notable feature that you won't find in any other point and shoot is the minimum focusing distance of 35cm, which doesn't produce any strange or noticeable distortion. It's ideal for portraits or detailed shots in the style of Martin Parr.
In some circumstances, it may slightly underexpose, but only in very specific situations. To resolve this, you simply need to become accustomed to these circumstances and make a small adjustment in the exposure compensation.