Minolta TC-1 Review: The Long-Awaited Point and Shoot
Last Updated on August 23, 2023

In this Minolta TC-1 Review, we'll discuss one of the 35mm compact cameras manufactured in the mid-1990s, during the peak of point-and-shoot cameras. Cameras like the Olympus mju-II or the Contax T2 were popular choices among enthusiasts of "premium" compact cameras.
Choosing the TC-1 as your first camera will make you appreciate its ingenious functionality when compared to other models. The hard work and dedication invested in its development are evident. Despite incorporating the best of technology, it doesn't sell itself as a mere showcase of its features; its robust construction demonstrates a solid intention of not neglecting the user's perspective.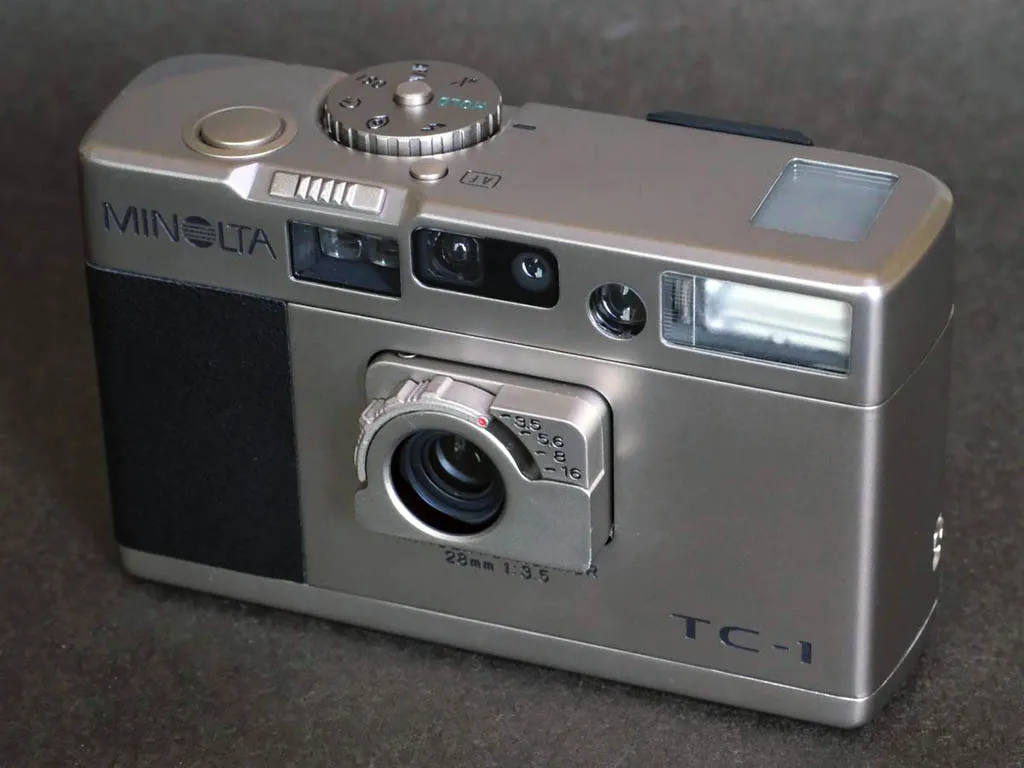 It's almost as if the engineers' passion is transmitted through the camera to the photographer. The same passion that could be seen in another camera manufactured in the past millennium, like the Konica Big Mini F, a camera it shares many similarities with.
TC-1 Specifications
| | |
| --- | --- |
| Release | 1996 |
| Production | 1996-2005 |
| Camera type | Point and shoot film camera |
| Film type | 35mm |
| Finish | Titanium chrome, black (dark gray) |
| Focusing | Passive external rangefinder auto-focus, Manual |
| Minimum Focus Distance | 0.45 meters |
| Focus Assist | LED assist in low light conditions (0.45m – 2.8m) |
| Internal Distance Indicator | Swing needle |
| Lens | Fixed, 28mm, f/3.5, G-Rokkor (5 elements in 5 groups) |
| Aspherical Elements | 2 aspherical elements (3 surfaces) |
| Shutter | 8 seconds ~ 1/750 seconds. 1/350 and above available only @ f/3.5 or f/5.6 |
| Metering System | 2-element external Silicon cell (SPC) |
| Exposure Modes | Aperture priority, Electronic automatic exposure |
| Metering Modes | Spot and center-weighted |
| Exposure Indicators | Top lights on camera / rangefinder warn of under/over exposure conditions |
| Exposure Range | EV 1.5 – 17 (at ISO 100) center-weighted; EV 2.5 – 17 (at ISO 100) spot |
| Apertures | f/3.5, f/5.6, f/8, f/16 circular aperture |
| Flash | Internal flash (GN7) |
| ISO | ASA 25 to 3200 auto DX; ASA 6 to 6400 manual |
| Battery Type | 1x CR123A lithium cell (with battery check feature) |
| Dimensions and Weight | 99 x 59 x 29.5 mm; 185 grams |
Compact Design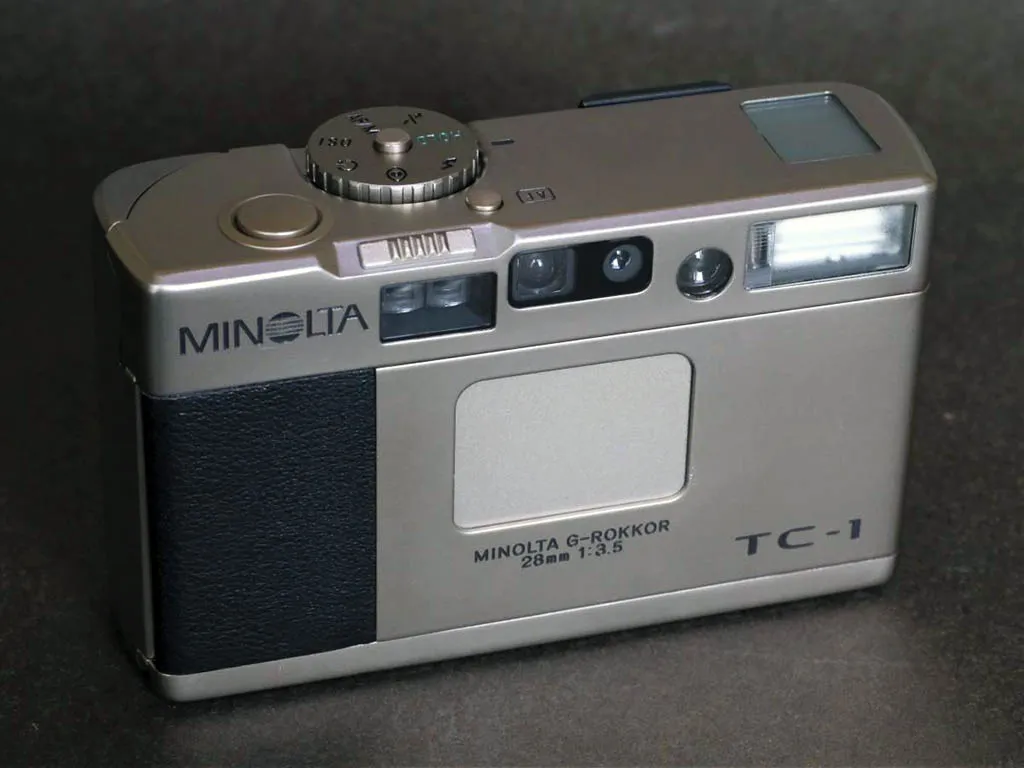 Despite its incredible image-capturing capability, the TC-1 is a compact camera that's also a miniature giant. Its appearance alone reflects the "premium" finish of its construction, and when you see its results, you realize that it truly is. On the other hand, it's quite lightweight, weighing only 185g.
Once you use it, you can feel how much effort Minolta's engineers put into its development. From the mechanical sound when turning it on to the handling of the elegant aperture ring. These details make the experience very satisfying in use.
It's ideal for capturing snapshots in the city, and its 28mm focal length offers a perspective similar to a casual glance around. Although it's a relatively wide-angle, it's suitable for describing scenes without being as wide as a 24mm.
The size of the TC-1 is simply small. Being one of the world's smallest compact cameras, it's the size of a business card. It's an exceptional camera for taking photos without drawing too much attention – you can carry it in your pocket and quickly take it out to snap a photo and then put it away again.
Focus
When purchasing the TC-1, one notable advantage is the ability to lock exposure (AE lock) with spot metering. This allows obtaining the desired exposure by the user and enables a more "manual" photographic expression. Additionally, with its autofocus feature, its performance is very good in this aspect overall.
Lens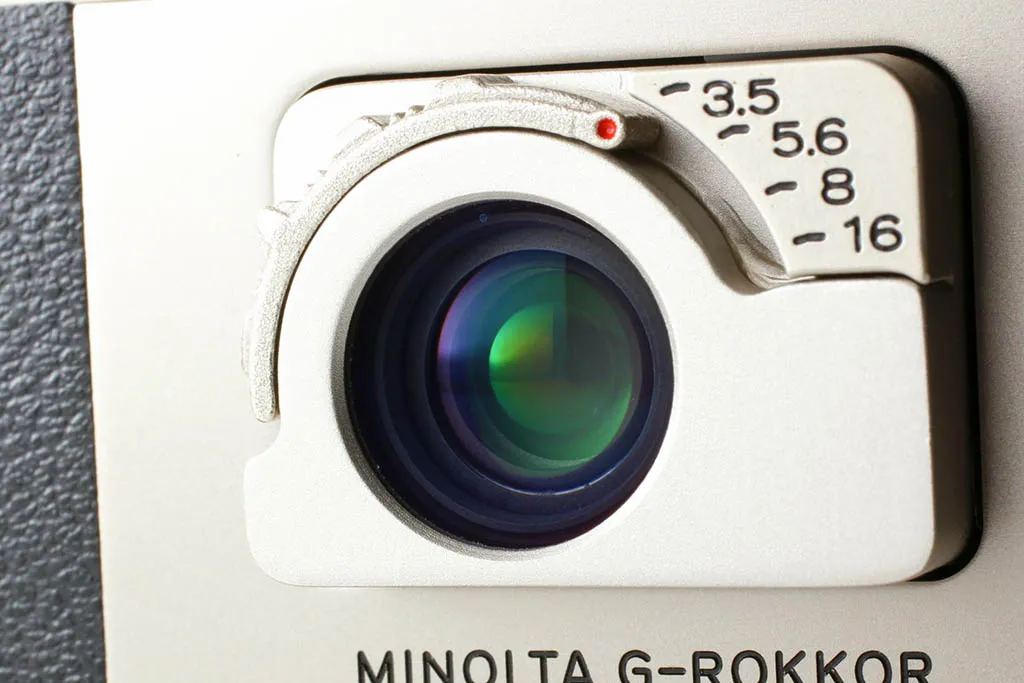 The G-Rokkor 28mm f/3.5 lens has a fully circular aperture. Changing the rear circular diaphragm for each aperture (f/3.5, f/5.6, f/8, f/16), this fixed-focus lens offers beautiful bokeh and excellent image quality at all apertures. Its rendering capability is truly impressive.
One of the standout points is the lens's ability to capture details. Moreover, it offers an additional spot metering function besides focusing, allowing for more intricate shots. Also, its size and weight are notable; it's a compact camera that won't limit you in any way. You can slip it in your pocket, take it wherever you go, and pull it out when you want to use it.
Exposure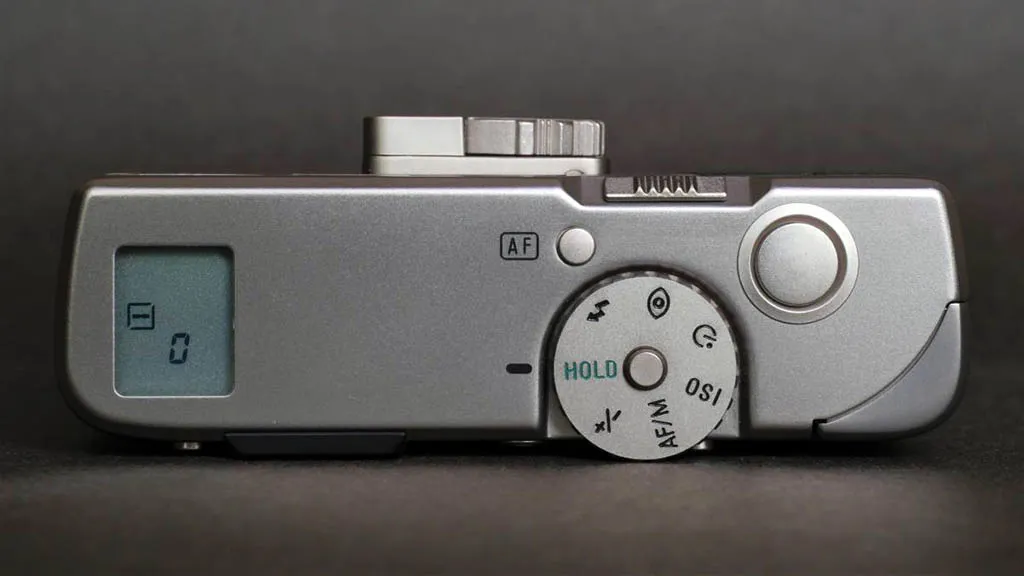 While its shutter speed is normally fast up to 1/350 seconds, with the ultra-fast exposure control function that activates only at apertures f/3.5 and f/5.6, you can use shutter speeds of up to 1/700 seconds, even if the shot is "overexposed".
This performance contributed to winning awards in the world of photography. The TC-1 was launched in 1996 and represented a successful decision by Minolta to add its high shutter speed mode that surpassed many competitors. This decision was particularly apt as Minolta had taken time to release a camera representing the brand in the point-and-shoot sector.
Viewfinder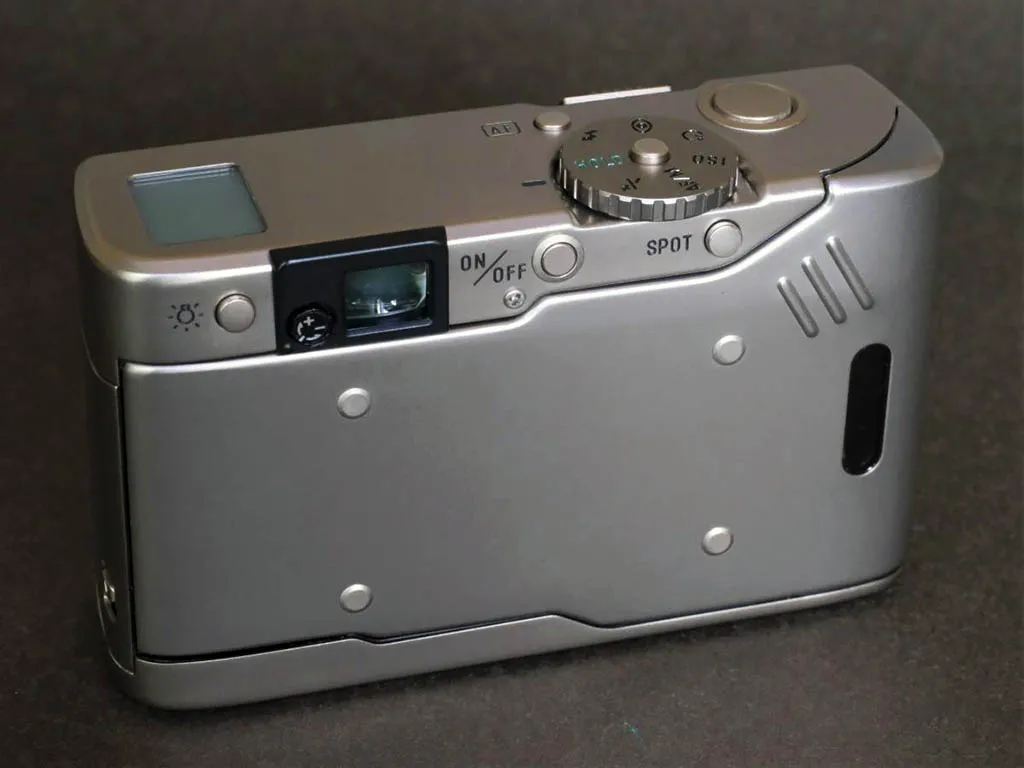 The interior design of the viewfinder allows users to instantly express desired compositions and apertures. You can start shooting with the desired aperture as soon as you turn on the camera, allowing you to inject your "thoughts" into the shots. The reliability of its performance and the feel of using it allow you to focus solely on capturing the moment before you.
While its viewfinder isn't as large as, for example, the Contax T2's, it's adequately sized to make good use of it. In other words, its performance in low-light situations might be somewhat limited, but considering that a point-and-shoot's viewfinder is primarily for framing, it serves its purpose well.
Beginner-Friendly
As vintage compact film cameras cease production, there has been a renewed interest in them. Nowadays, many magazines dedicated to analog photography are available in the market. Naturally, the TC-1 receives high ratings in these magazines. It's a widely recognized and appreciated camera.
Other models equally notable as the TC-1 include the Contax T2 and the Yashica T4. Due to their performance and distinctive character, these cameras remain highly sought after and are being sold at increasingly higher prices.
Price and Buying Guide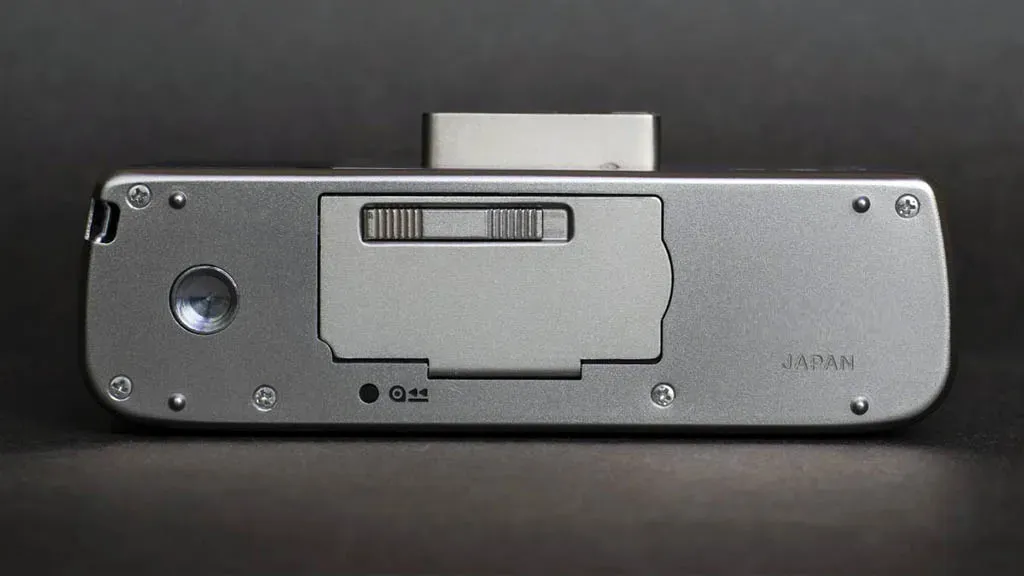 In my case, I purchased the Minolta TC-1 on Amazon because I wanted it to arrive quickly. When buying a second-hand camera, it's advisable to do so from a specialized place or at least where more detailed photos of the camera are shown; otherwise, you might end up buying blindly, which is the case on Amazon, where they don't have real photos. In any case, I was lucky and received a perfectly functional unit.
The price of a Minolta TC-1 is around $1000, give or take a few dollars (in most cases). But there are units that can go much higher, especially those that come with their original box and in "like-new" condition. It's also worth mentioning that the dark grey model costs 50% more, as fewer units were produced compared to the titanium color.
The price is high, and that's because we're talking about a premium camera among point-and-shoots; it had modest production compared to other brands.
Recommended Accessory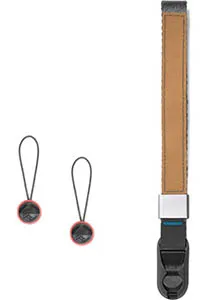 Interestingly, an important point to consider is the strap. Of course, the strap has a safety function to prevent drops and also helps reduce movement. Therefore, you'd want to use a reliable strap. It should also be convenient to use. Ease of storage without being cumbersome is also essential.
A wrist strap is ideal for this camera due to the hook arrangement located at the bottom of the camera. For this purpose, the Peak Design Cuff is more than sufficient to have it at hand when you're out and about.
Minolta TC-1 Sample photos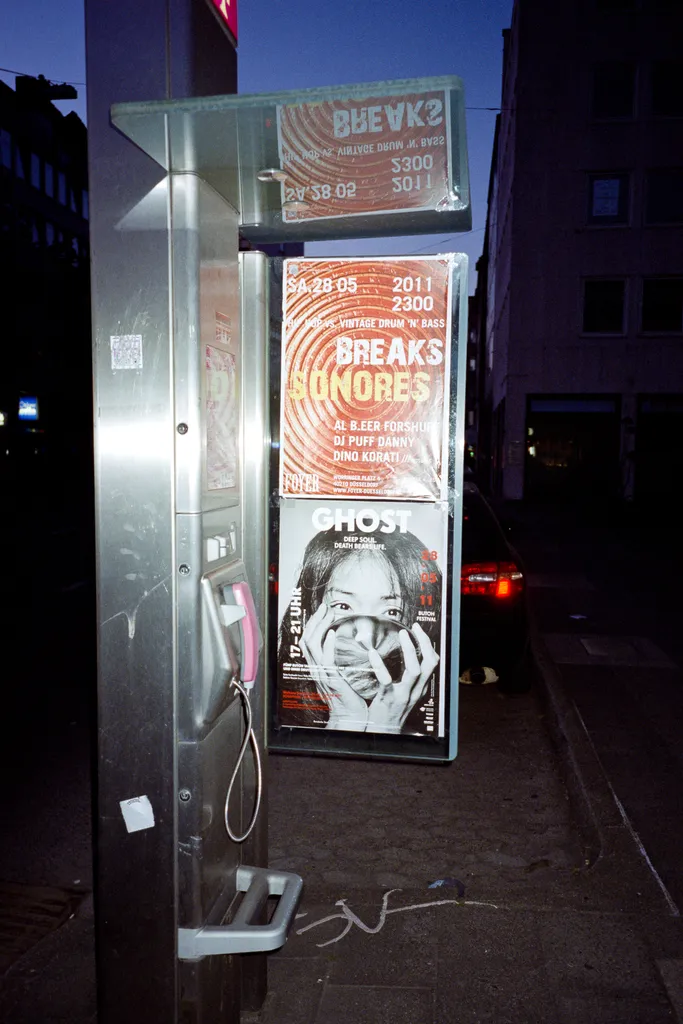 Conclusions
As I've mentioned many times on this site, Minolta is one of my favorite brands; they always manage to offer cameras with a certain distinction at a fair price. While it's true that their best cameras, in my opinion, are from the 1960s and 1970s, the TC-1 doesn't disappoint and leaves a good legacy as a now-extinct company (at least in photography). For this reason, and because of its features like focus, quality lens, and user-friendliness, it's a camera I recommend to any photography enthusiast.
Minolta TC-1 User Manual: TC-1 User Manual