5 Best Point And Shoot Film Cameras! in 2023
Last Updated on April 8, 2023


Every day a point and shoot freak is born, and there's no way to blame them, because what these little cameras do is amazing. That is why we have decided to make a list of the five best 35mm point and shoot film cameras of 2023.

Point and shoot cameras became fashionable since their appearance, back in the early 1980's.
Since then, the niche has grown and evolved, expanding not only for hobbyists or for domestic use, which was for whom it was originally intended. We will see high-end cameras also designed for professionals and more specific branches.
We will analyze each camera according to which user it is most recommended for, and we will evaluate its most relevant points and its weakest points.
1. Contax T3, T2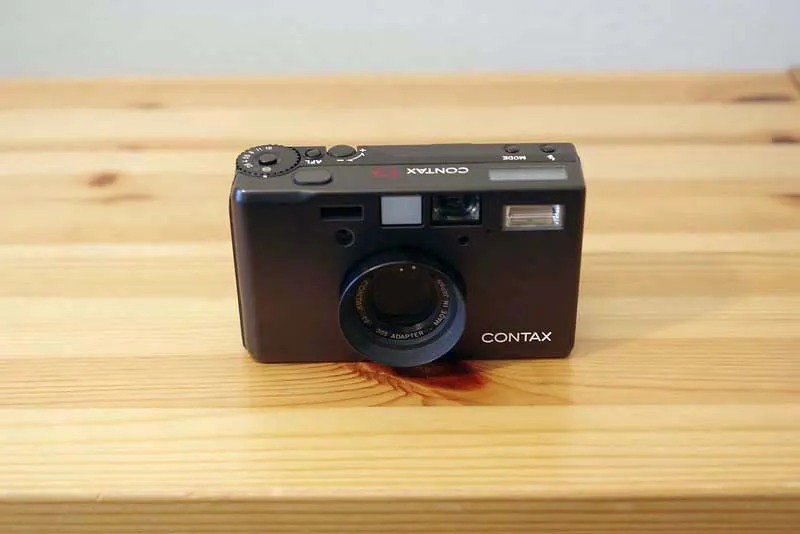 It would be unfair not to name the Contax T2 as the one that really left the legacy for the T3 to exist, in many ways it is superior to the T2, however, as this post is about talking about the best currently available, the classic T2 has to be her place to his younger bro, (or not). A legend among 35mm point and shoot cameras.
Differences and similarities between the Contax T2 and T3:
The Contax T3 was launched in 2001 while the T2 in 1990. On the other hand the T3 is considerably smaller than the T2. Regarding the lens, the T3 has a 35mm focal length, while the T2 has a 38mm one, both maintain the maximum aperture of f/2.8 in their Zeiss lens.
Contax T3, T2 specs
Another aspect that they reduced was the minimum focus distance, from 70cm to 35cm. Both have advanced functions such as aperture priority, exposure compensation, and manual focus adjustment. T2 exposure times range from 1sec to 1/ 500th/sec, while T3 can range from 1 to 1/1200th/sec.
The advantages of the T3 are given above all by their sizes, since both are made of titanium although the weight is not relevant in its class, the size does play a remarkable role, since having such advanced functions in a very small size, it is not difficult to be tempted to acquire one.
Another difference between the two is the price, not to mention that in itself we are talking about cameras with prices well above the cameras that we will see in this list.
Overview
| | |
| --- | --- |
| Values: | Durability, diversity in functions, quality of materials, compact |
| Weak point: | Price |
| Recommended for: | Someone who can afford it |
Price
The T3 can reach prices ranging from $2000 to 4000, while the T2 we can find it around between $1000-2000 depending on the use conditions.
2. Olympus Stylus Epic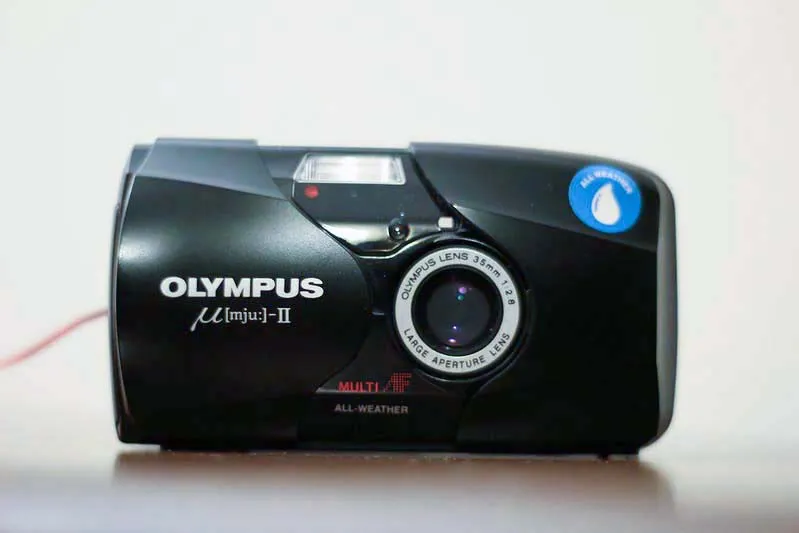 This Olympus Stylus Epic does not have much to envy the Contax T2 in terms of focus and light metering precision, in terms of design and construction materials it certainly falls short, since it is made mostly of plastic.
But it shines in the ability to measure light efficiently. And of having a size capable of entering any pocket to be used almost immediately. One of the most sought after 35mm point and shoot cameras on the internet.
The Olympus mju II (which is how it is known in Asia) was launched in 1997, selling about 4 million units in its two variants, white and silver. The appeal of this camera is in its fast 35mm f/2.8 lens.
Olympus Stylus Epic specs
It has a firing speed of 1sec to 1/1000th/sec. and in night scenes up to 4 seconds. It is programmed by default to fire the flash if light is needed, but this function can be disabled so that a lower speed can be chosen without using it. Although it has the problem that it has to be adjusted every time the camera is turned on, which can be tedious for some.
Overview
| | |
| --- | --- |
| Values: | Very compact, reliability, immediate reaction |
| Weak point: | Not very configurable |
| Recommended for: | Who wants to carry a cool camera in the pocket |
Price
The average price for the Olympus Styles Epic is between $100 – 500.
3. Yashica T4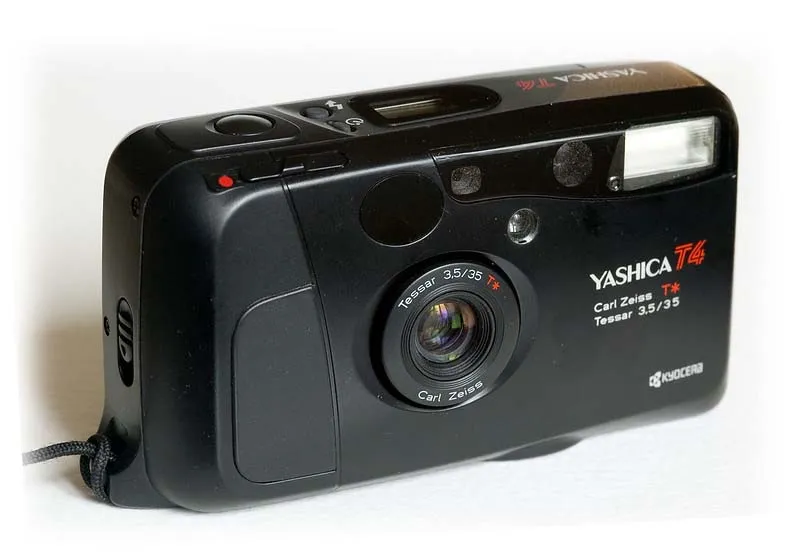 The Yashica T4 at first glance it may not seem like a very interesting camera, since the plastic body, how light it is and the overall design are not very obvious. Rather, not an ugly camera at all, it just looks like a common compact camera.
But then you read that it wears a Carl Zeiss lens and you pay more attention to it, a very high class lens for a compact camera.
We can say that it is a simple camera with a good lens and that it also has a powerful flash. However, it has become popular thanks to its simplicity and clarity, thanks to photographers like Terry Richardson who use it to express spontaneity with a wild tone.
Each camera has its own character and its own cultural niche, but let's talk a little about its characteristics, which although they are few.
Yashica T4 specs
It has a shutter speed that goes from 1sec to 1/700th/sec, Autofocus of 3 points and as we said before. A Carl Zeiss 35mm f/3.5 lens with 4 elements in 3 groups.
And it has a special feature is that it is waterproof, which indicates that it really is an all-terrain camera. Some use it for fashion photography and others for hiking in the mountains.
Overview
| | |
| --- | --- |
| Values: | Carl Zeiss lens, compact |
| Weak point: | Manufacturing materials |
| Recommended for: | Carefree people, who want a camera ready for action |
Price
You find a Yashica T4 between the price of $400-800 in the online market.
4. Nikon 35Ti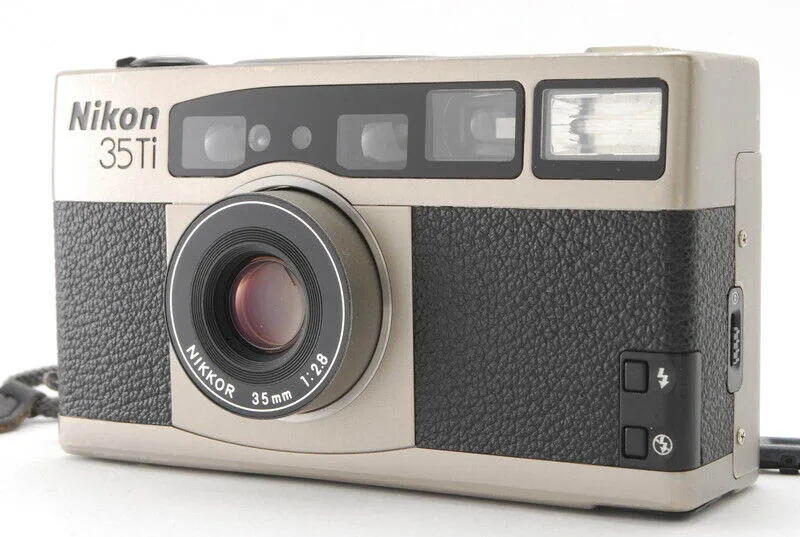 The Nikon 35Ti is one of the most feature-rich cameras on this list, it's made of titanium just like the Contax T* and arguably in direct competition with them. It has a 35mm f/2.8 lens made of 6 elements and 4 groups and is one of the strengths of this camera.
It has very advanced features for a point and shoot camera, almost like a rangefinder. The most interesting are undoubtedly being able to shoot in aperture priority mode and having 3D matrix metering.
It is similar to the Nikon 28Ti (which is a standalone model), with the small difference that the 35Ti produces virtually no edge vignetting. something the 28Ti does. But they are technical niceties.
35Ti specs
Super sharp 35mm f/2.8 lens, shutter speeds ranging from 2 sec to 1/500. Aperture priority, bulb, matrix metering, 2 dedicated buttons for flash activation, among many other very specific functions.
Overview
| | |
| --- | --- |
| Values: | Pro functions, Lens quality |
| Weak point: | Price, not very beginner friendly |
| Recommended for: | Advanced amateurs and Professionals |
Price
Currently de Nikon 35ti can be found at a price of around $700-1000.
5. Olympus XA2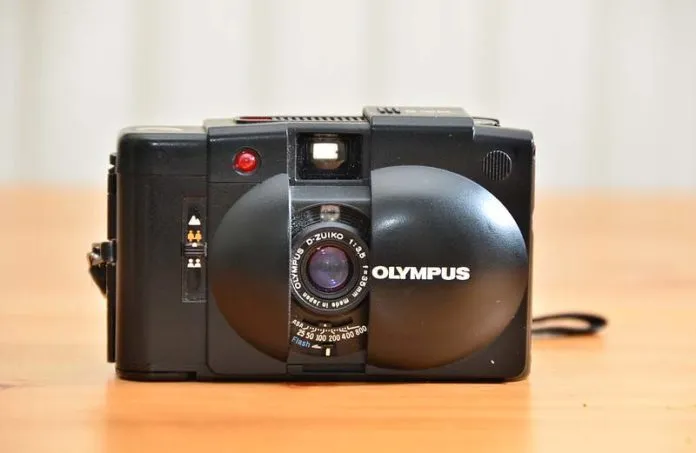 If we talk about the Olympus XA2, we will say that we are facing one of the most unique cameras in the world of point and shoot cameras, because before mentioning that it is point and shoot, it is compact, very compact. In addition, it is considered the smallest rangefinder camera that exists.
And while it doesn't have autofocus, since it's a camera released in 1980, long before point and shoot cameras became popular, it does have features that make it interesting.
For example, the fact that the type of focus is manual of 3 distances, portrait, medium distance and landscape. They make it ideal for street photography, since it can be used as a pre-focus camera, and adapt it to the condition of our subject to photograph.
Olympus XA2 specs
It has a 35mm f/3.5 lens that aims to act in conjunction with the focus distances, and especially to support the middle distance and ensure a focus as accurate as possible.
The shutter speed in this camera is between 2 min to 1/750th/sec, and it uses the classic LR44 batteries for this purpose.
Overview
| | |
| --- | --- |
| Values: | Compact, versatility |
| Weak point: | Limited focus (which can also be an advantage) |
| Recommended for: | For street photographers who want to experiment and have fun |
Price
The estimated price for a Olympus XA2 is $80-200 in the second-hand market.
Honorable mentions
In this list we will find cameras that in some cases have nothing to envy to the previous 5, but due to lack of accessibility in the market or because they do not have a balance in their features, they are not in the main list.
Minolta Big Mini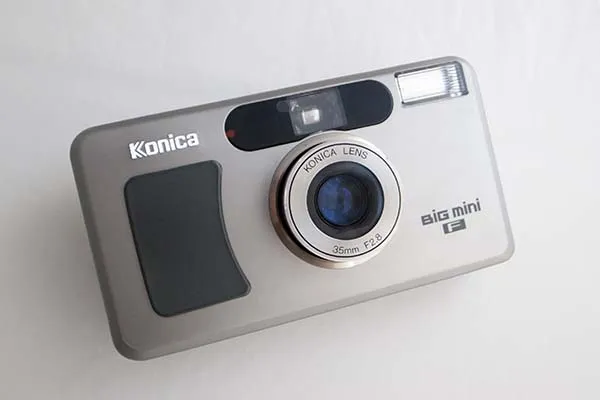 Launched in 1997, the Konica Big Mini F is one of the cameras that benefited little from the hype of point-and-shoot film cameras, and it's really worth keeping an eye on. It has a 35mm f/2.8 and a fairly sober and clean design for the time.
It also has a very portable size that makes it very attractive to carry in your pocket. Not everyone is looking for it and it is not that there are too many on the market, however it is not that difficult to find an eBay or Amazon at a good price.
Canon Sure Shot A1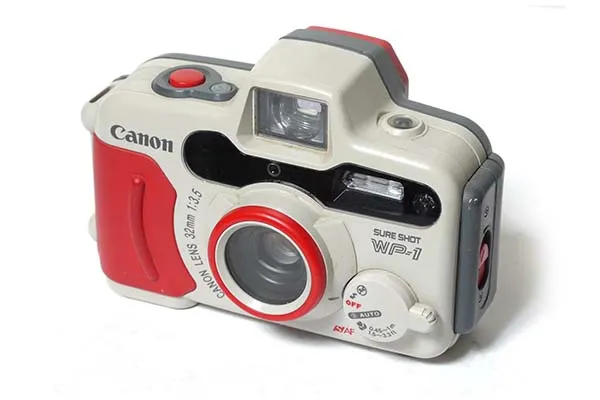 It is a fully automatic camera launched in 1994 that comes with protection against harsh climates. Although it is branded as an underwater camera, in truth it is a camera that can be used for any situation and in all of which it does a magnificent job. His focus is precise and the result pleases. The only drawback that it has in relation to most is its robust size.
Olympus Infinity Stylus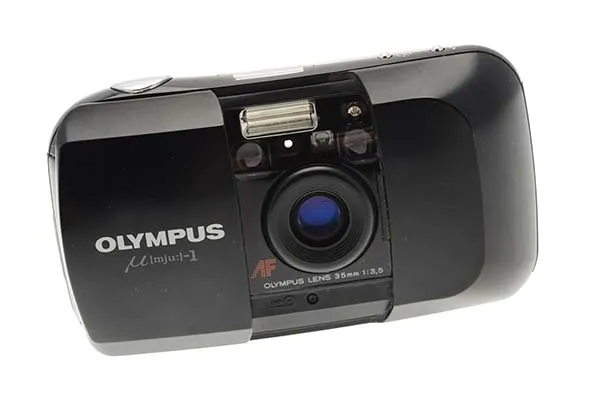 The Infinity Stylus It's the predecessor to the famous Stylus Epic released in 1991, and it's where the fun with compact cameras really begins. Many people prefer it over the second version. It has a very precise focus, and although it carries a higher aperture than its successor (3.5) it doesn't really feel like a disadvantage.
Leica MiniLux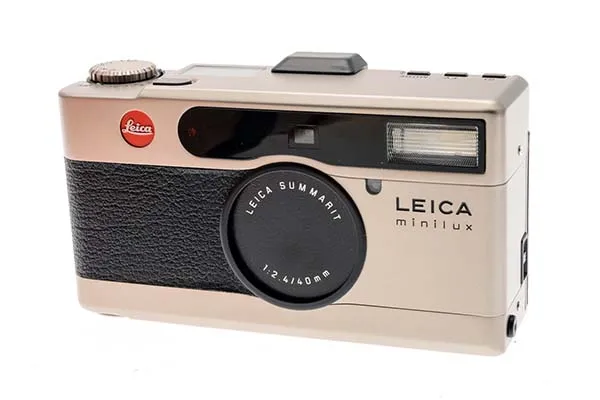 It is a camera released in 1995, it looks and feels like the German style that the Contax T-models carry. It is a Leica so we can get an idea of the quality. The only cons to this camera are the tiny viewfinder it comes with and the lack of availability on the market.
Yashica T3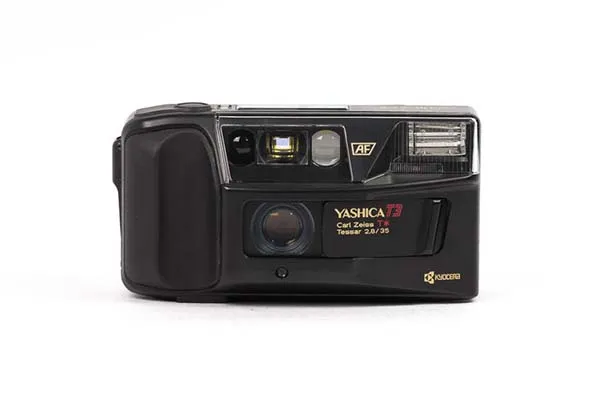 The Yashica T3 was launched in 1988 and it is from there that the Yashica T models begin to gain importance. It is undoubtedly a cult chamber that bears a certain stamp of rebellion.
It is fast, precise and hits all kinds of circumstances. It does not have many cons in relation to the new models, only at the design and size level. It even has possible advantages in relation to the T4 or T5 models, since it has a 2.8 lens, instead of a 3.5, and an N.A Scope viewfinder, with which it is possible to focus as if it were a TLR.