Fujifilm DL Super Mini Review: The Sardine Tiara
Last Updated on March 23, 2023

In this Fujifilm DL Super Mini review, we will focus directly on its technical characteristics and how it performs in practice compared to its more "popular" rivals. It's worth mentioning that if Fuji had wanted to make a stronger impact in Western markets, the DL Super Mini would have had more significance than it did.
Interestingly, in Japan, this camera is known as "the sardine" due to its resemblance to a sardine can (Altoids would have been kinder), although its name in that market was Fujifilm Cardia Mini Tiara, or simply TIARA. In the US it can be found with both names.
But aside from the canned food comparison, this camera has a series of technical characteristics that make it more interesting than one might think, especially when it comes to the lens.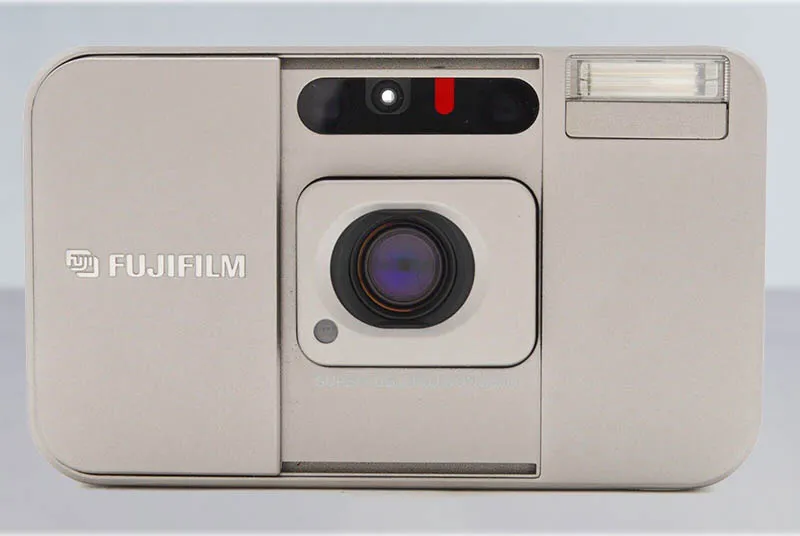 DL Super Mini Specs
| | |
| --- | --- |
| Release year | 1994 |
| Camera type | Point and shoot film camera |
| Camera format | 35mm |
| Finish | Aluminium |
| Lens | 28mm f/3.5 Super EBC Fujinon lens, 4 elements in 4 groups |
| Focus | Autofocus with focus lock |
| Minimum focusing distance | 0.35m |
| Viewfinder | 0.5x magnification |
| Shutter type | Electronic shutter |
| Shutter speed | 1/2 – 1/800 seconds |
| ISO | 50-1600, with automatic DX coding |
| Film Advance | Automatic film advance and rewinding |
| Other features | Panorama mode (masking frame), Time/date stamp possibility |
| Flash | Built-in, On/Off capability, night portrait mode |
| Battery | 1 x 3V CR2 |
| Size | 99.8 x 60 x 31.5 mm |
| Weight | 153 grams (without battery) |
Overview
The Fuji DL Super Mini is a 35mm point and shoot camera released by Fujifilm in 1994, equipped with a 28mm f/3.5 Fujinon lens. Its focus system is automatic (AF) with the possibility to lock it and adjust it to a specific distance. Shutter speeds range from 1/2 to 1/800 seconds, and it can read DX-coded ISOs ranging from 50 to 1600 sensitivity.
It has a compact design with a metallic finish that gives it a premium look. For some, it is the camera that would result if we combined the Olympus Stylus Epic and the Contax T2. However, as we will see in its features, its target audience differs slightly from the profile of these cameras.
Features
Lens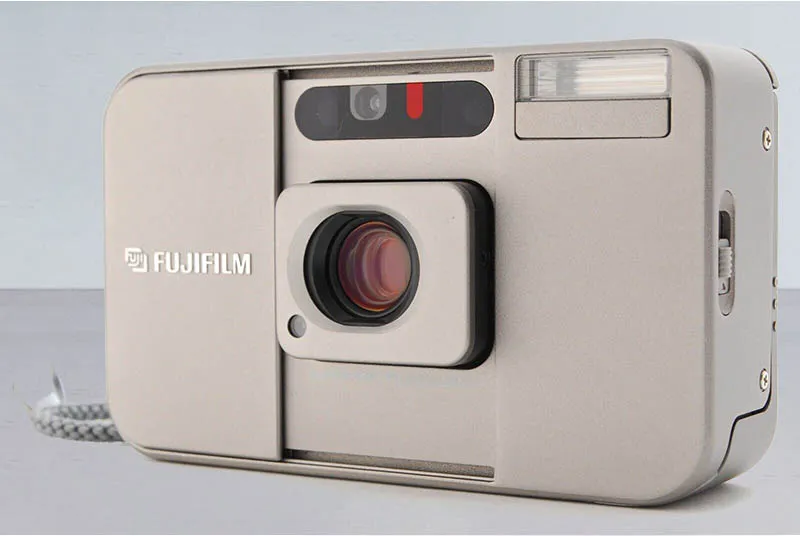 The lens on the Tiara is a Super EBC Fujinon 28mm f/3.5, a true wide-angle lens. Built with 4 elements in 4 groups, it boasts great quality and excellent performance, delivering outstanding results, sharp images with very polished contrast.
This, together with its flexibility for focus adjustments, gives it more of a street photography profile, making it ideal for this type of photography. Although, as I've said before, I disagree with assigning a camera a label, as there are many ways to approach photography. Who says a 28mm lens isn't suitable for portraits?
In any case, the truth is that this aspect sets this camera apart a bit from the niche of more mainstream point-and-shoot cameras, such as the Yashica T4, which, by the way, it closely resembles in size.
Fast shooting or pre-focus mode
This is the quintessential shooting mode for street photographers, as it involves setting the focus at a specific distance. This achieves an instant capture, bypassing the step where autofocus is activated. The same system used by cameras like the Ricoh GR1.
You can lock the focus from 0.35m, which is its minimum focusing distance, up to 10 meters. Or you can set it to "landscape" focus mode, which is infinity focus. The total number of available manual focus steps will be 17.
Lighting modes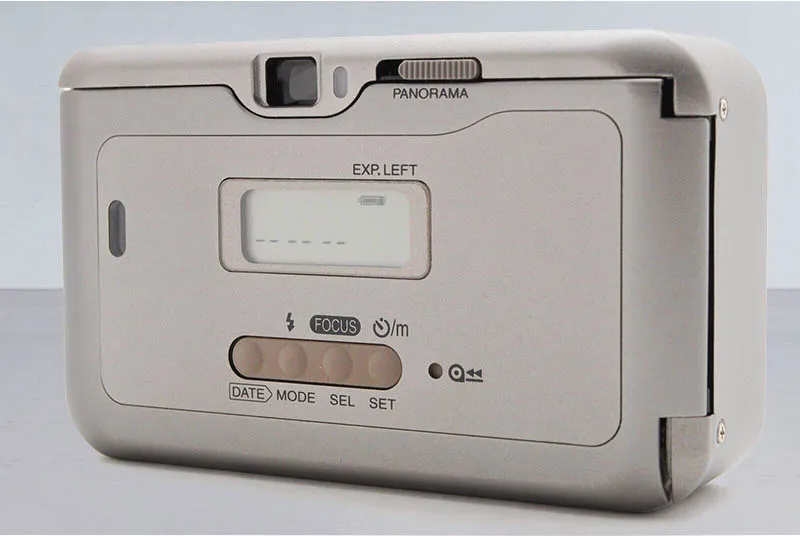 Among the settings, we will find the automatic shooting modes that the camera can offer for different lighting situations.
We can disable the automatic flash firing, which is by default turned on.
We can activate the red-eye reduction mode.
With the night mode activated, the camera will operate in a mode similar to "Av or Tv" on reflex cameras, which is a very simple but effective shutter priority mode.
Panorama mode
This is a mode that we already saw in a version of the Olympus Stylus Epic, remembering that there were two versions of that camera, one with this feature and one without.
And what this mode simply does is to place black "bands" at the top and bottom, or what is called a mask or frame, to simulate the elongated aspect of a panorama.
Personally, I believe that it is more of a marketing ploy than a functionality in itself.
Design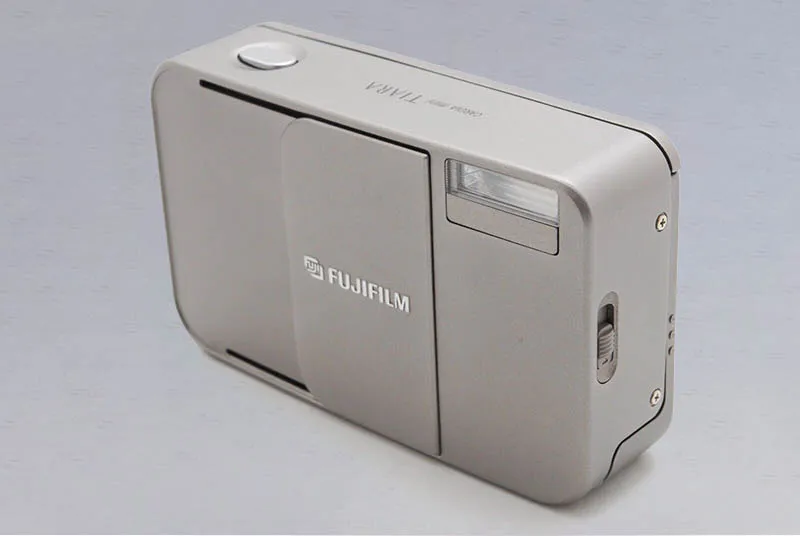 The Fuji DL Super Mini stands out for its minimalist and elegant design. It has a front construction made of aluminum, where its flat and rounded edges also stand out, giving it a premium look.
It does not have a grip, although it doesn't feel like one is needed either. Being small and having a good thickness, it grips well in the hand. Additionally, the lens cover when opened also adds firmness when holding it since it is located where a grip would be.
The square shape of the lens frame is reminiscent of the Minolta TC-1, a camera with which it is often compared, as it also features a 28mm lens.
It is nicknamed "Sardine" because it supposedly resembles the shape of a sardine can. The truth is that it is a fun way to call it, although it is not the first thing you really think of when you see it for the first time.
Performance: Tiara vs Olympus Stylus Epic

Due to its small size, it is very easy to carry around. I thought that since it has the same sliding cover system as the mju-ii, it would have the disadvantage of turning on when I put it in my pants pocket (yes.. I'm one of those). But due to the shape of its design, this inconvenience does not exist. However, it is still not recommended to carry it that way. Using a case like the Lowepro Hardside CS 40 is ideal.
Something concerning the cover that I didn't like is the fact that it has to be closed in two steps, meaning the lens stays in the way and you have to give it a little tap to fold it inside before you can fully close the cover. This is something that doesn't happen with the mju-ii, as the lens stays folded flush with the cover's path when it turns on.
It's not a big inconvenience considering the advantage it has in terms of almost instant shots. The mju-ii, on the other hand, has to move back and forth when taking a photo, which makes it slower. Do you prefer a more comfortable turning off or a faster shooting response?
Undoubtedly, one advantage of the Tiara over the Olympus Stylus Epic is the ergonomics of its adjustment buttons. Its buttons stick out and are not tucked in like the aforementioned camera, so you can use your fingertips to press them instead of relying on your nails.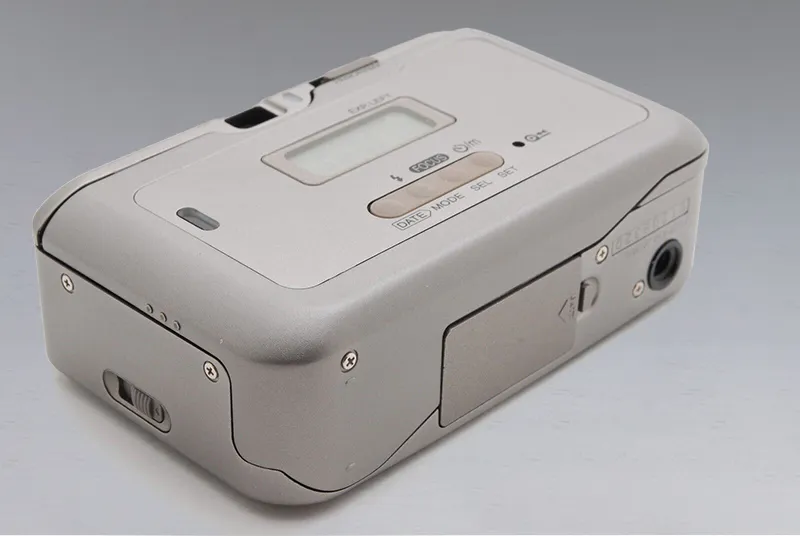 The Tiara definitely has advantages that can persuade us to prefer it over more famous cameras, but there will always be the question of whether you prefer a camera with a 28mm lens or one with a 35mm lens. An f/3.5 lens or an f/2.8 lens. The Tiara is focused on precision when shooting, and an f/3.5 lens is faster to focus than an f/2.8 lens due to its greater depth of field. But you sacrifice a point of light that can be valuable in low-light situations.
In the end, it's a balance. No camera will give you everything, you have to prioritize according to what you need and expect from a camera.
Pros and Cons
Pros
High-quality lens
Elegant design and compact size
Ergonomic settings buttons
Cons
The lid closing system is slow
Not ideal for low-light situations
Price and where to buy it
The Fujifilm Cardia mini Tiara is one of the few cameras that has maintained its price over the years, not counting inflation of course. Its launch price was approximately $250, and that's roughly what you'll pay for a second-hand one today. However, if you happen to find one in "like new" condition and with its original box, you won't see it for less than $350.
You can find it on auction sites like eBay or in stores specializing in second-hand cameras like KEH.
Check availability at KEH Camera
Sample Photos
Photos taken with the Tiara.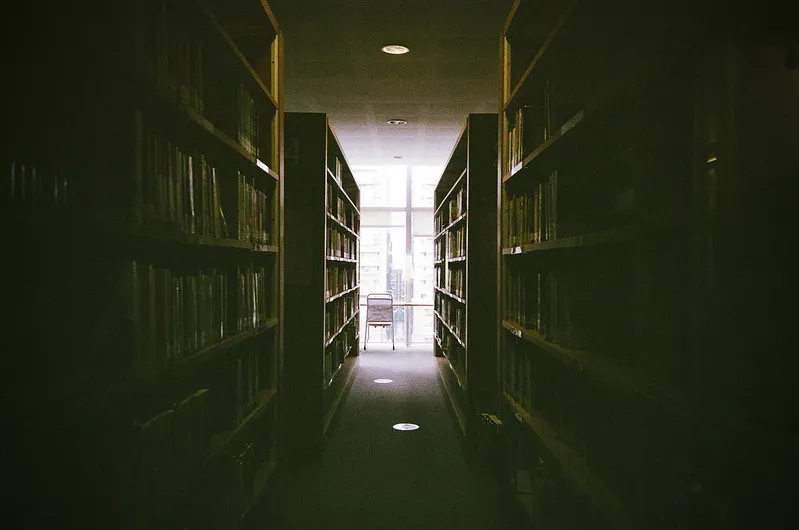 Some FAQs
What is the battery life like?
The camera uses a single CR2 battery, which should last for several rolls of film.
What is the difference between the original Tiara and the Tiara II?
Both cameras, technically speaking, have the same features. The only difference is that the Tiara II or DL Super Mini II has a wrist strap on the bottom of the camera.
Final thoughts
I honestly believe that the Tiara is one of the best point and shoot cameras you can find today. It is a very reliable camera and one that you want to take everywhere. I take a lot of casual portraits, and for me, a 28mm lens is a different focal length that allows me to experiment more.
But the truth is that the real profile of this camera is street photography or even casual travel photography, as it performs perfectly for landscapes or urban photography. So if that's what you're looking for, you can't go wrong with this camera.