Olympus XA: Opening the Doors to a Fresh Market Era
Last Updated on August 23, 2023

The name Olympus XA resonates among the prominent single-focus compact cameras. Despite being surprisingly compact and lightweight, the first generation has the uniqueness of featuring a rangefinder focus, allowing one to enjoy the focus adjustment process. The continuation of this series, the XA2, considered the best-selling model in the XA series, largely retains its original form but has become a best-seller in its own right and has also won the Good Design Award upon its debut in the world of cameras.
Despite being known as an outstanding 35mm film compact camera, the first-generation XA boasts a relatively capable lens, the F-Zuiko 35mm F2.8. It offers performance akin to a professional photographic camera while providing the advantage of portability, making it an extraordinarily powerful camera.
The first-generation XA was launched in 1979, at a time when compact cameras were already finding their place. Numerous high-quality cameras were introduced during this period. This particular camera is undoubtedly a quality piece that opened the market to more casual enthusiasts.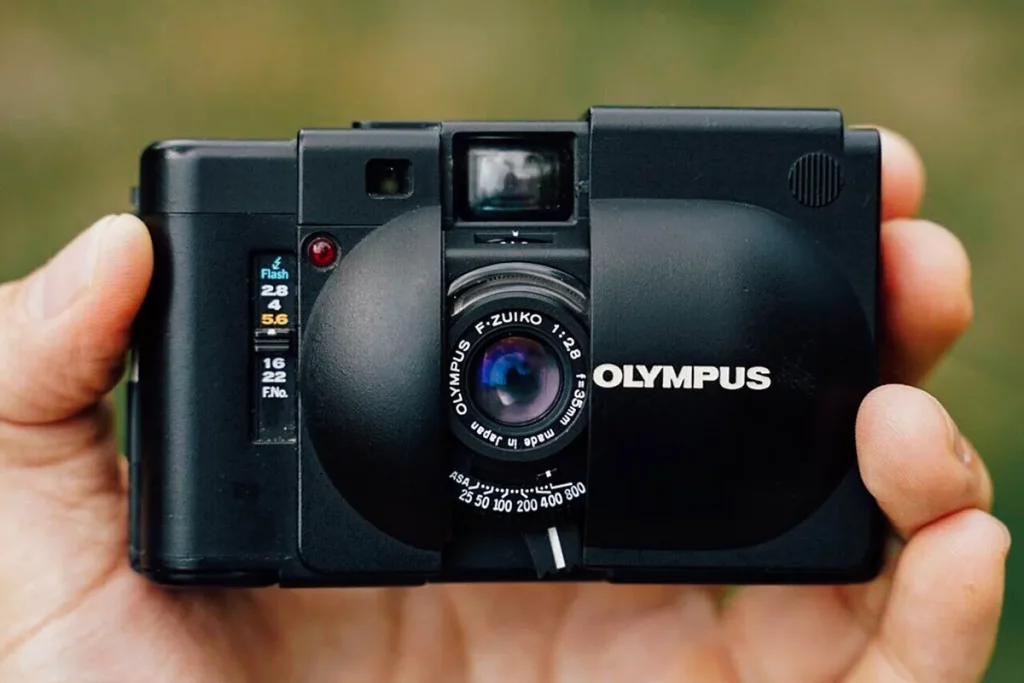 The original Olympus XA was a precursor to the point-and-shoot cameras that would emerge in the mid-80s and flourish in the 90s. The XA is a rangefinder camera that is transitioning toward portability and detachment from technique, prioritizing simplicity and ease of use.
Olympus XA Specs
| | |
| --- | --- |
| Date Release | March 1979 |
| Production | 1979–1985 |
| Camera Type | Compact Rangefinder |
| Film type | 35 mm |
| Lens | Olympus 35mm f2.8 F.Zuiko (6 elements, 5 groups) |
| Aperture | f/2.8–22, blades: 2 |
| Minimum Focus Distance | 0.9 m (3.0 ft) |
| Shutter | Electronic leaf shutter: 10s – 1/500s |
| Self timer | 12 sec delay |
| Exposure | Aperture-priority auto with +1.5 backlight compensation |
| ISO | 25 – 800 |
| Battery | 2x SR44 / LR44 |
| Size | 102 mm × 64.5 mm × 40 mm |
| Weight | 225g |
The XA Cameras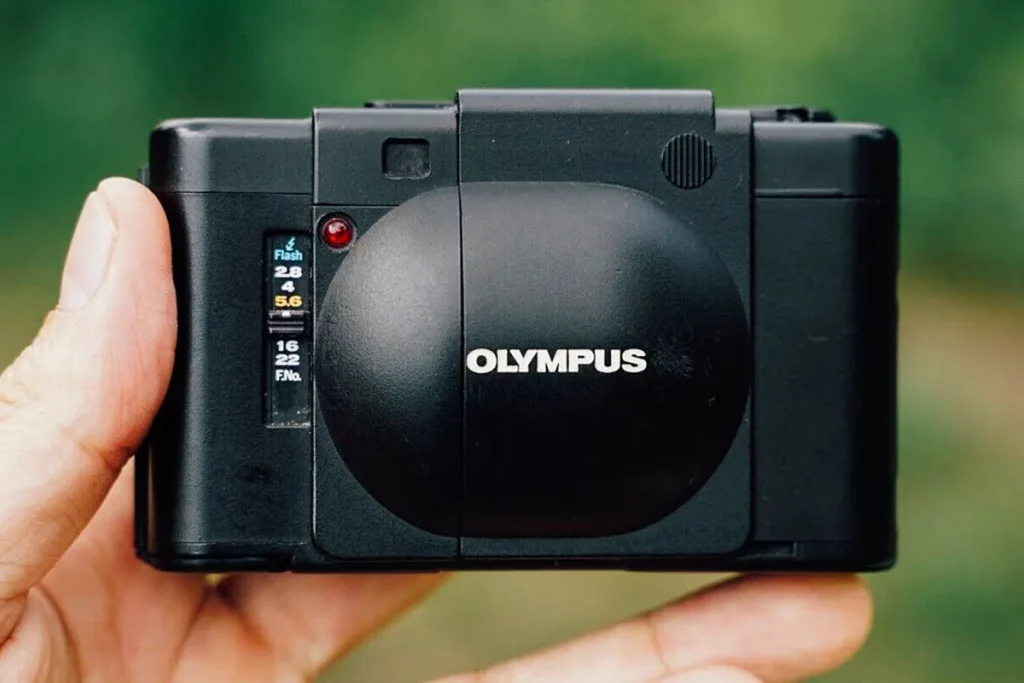 The XA series includes five models: the first-generation XA, XA2, XA1, XA3, and XA4. Considering that the XA4 was released in April 1985, there was a rapid succession of updates. The distinctive feature of the first-generation XA, incorporating a rangefinder, becomes even more appealing and differentiated when compared to later versions that adopted a three-point zone focus.
Despite being a plastic-bodied camera, its outstanding design and user-friendliness make it exceptional. Of course, it can be carried in a pocket and enjoyed for photography at any moment. And since the captured images are on 35mm film, the quality is undeniable. While it has a retro and classic touch, it also exudes a sense of high technology that sets it apart. The experience of looking through the viewfinder, focusing, and taking a photo provides total immersion, delivering a feeling of excitement and satisfaction to the act of photography.
The camera also has the ability to create an instant sense of ownership. While there were many other high-end compact cameras in the market at the time, these offerings stood out for their focus on practicality and did not lag behind in terms of quality. Despite being a precision tool, it also has a playful touch that is pleasing.
The image quality is excellent, with an impressive balance between sharpness and detail. Processed and digitized images in the lab exhibit an attractive visual expression. It works excellently for capturing everyday life in all its splendor. Though comparable to a Quick Snap in terms of manual film operation, the focusing process is much more sophisticated, adding a level of enjoyment to the act of photographing.
Built-in Rangefinder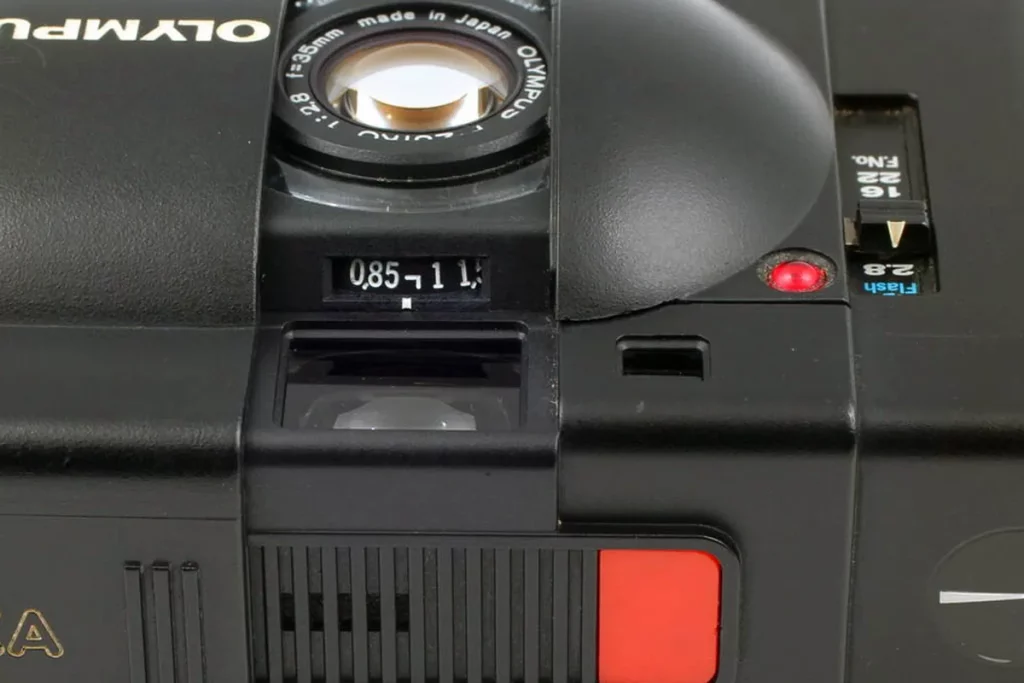 In the world of film compact cameras, aperture-priority automatic exposure (AE) is a commonly used and relatively straightforward mode. However, the rangefinder, which allows for manual focusing while looking through the viewfinder, is a quite unusual mechanism. In this sense, compared to other film compact cameras, the XA feels like a unique and distinctive presence. While it's true that it's not the only film compact camera incorporating a rangefinder.
Despite being promoted as a compact camera, the pop-up lens arrangement is an interesting trick. Adjusting the aperture while setting the film sensitivity (ISO/ASA) and focusing through the rangefinder results in aperture-priority automatic exposure. While it is an accessible camera, it enables both serious photography and a playful experience. Photography and camera enthusiasts are sure to love this product, without a doubt. In this regard, its presence is unparalleled.
These features are notable as tricks, and the lens cover mechanism, which functions as a lens cap, prevents the shutter from firing if not fully open. This prevents minor errors like capturing the lens cover in the photo. Additionally, when the lens is deployed, it's not possible to move the film advance lever to rewind the roll, preventing accidental activation. These considerations are quite useful details.
The shutter button has a very gentle click, which is characteristic of this camera. While it might be difficult to determine if the shutter has been fired based solely on touch, the space efficiency is impressive. Thanks to its distinctive red color, it's highly visible. Sliding the lens barrier, looking through the rangefinder viewfinder, focusing, and then pressing the shutter button. Each of these steps feels immersive, and each process becomes a memorable part of capturing images.
Unlike fully automatic film cameras or point-and-shoots, the process of loading and setting up the film roll needs to be done manually. This is reminiscent of loading film into a reusable camera, but with an even more exciting feeling when using the XA. This relaxed ambiance adds a touch of fun. This approach is enjoyed from the focusing adjustment stage, adding a positive aspect to each shot.
Performance
The quality of the Olympus XA lens is very high, and the aperture-priority AE program is accurate. When correctly adjusting film sensitivity and aperture under daylight conditions, sharp and blur-free images can be obtained. The camera responds exceptionally in terms of image quality, as long as blurry and unfocused images are avoided. The performance is excellent in this regard.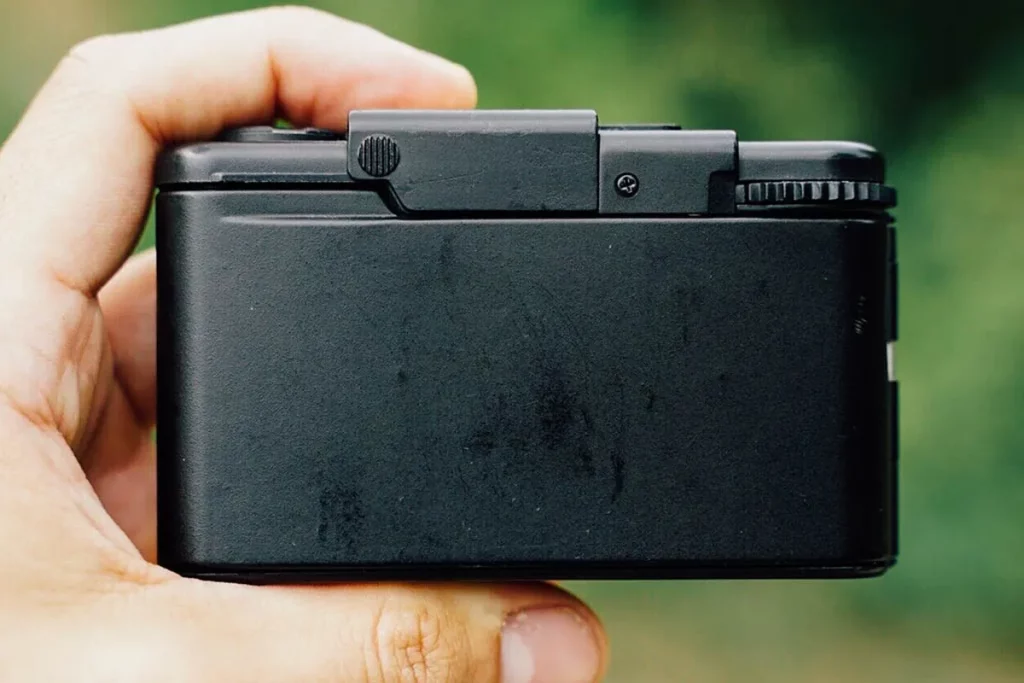 The ability to carry a film camera of this caliber in one's pocket is a significant draw. Despite being small and light, it doesn't feel burdensome when stowed away. The shutter speed ranges from 10 seconds to 1/500th, which is more than adequate for normal use.
The key advantage of the plastic body is its ultralight weight of 225 g, making it a major plus point. However, the focusing time, crucial for photo quality, depends largely on the photographer's skill. It's not so much about taking a perfect or beautiful photo, but rather about enjoying the process of taking photos from the moment focus is adjusted, allowing the act of taking the photo itself to be the primary reason.
Price and Buying guide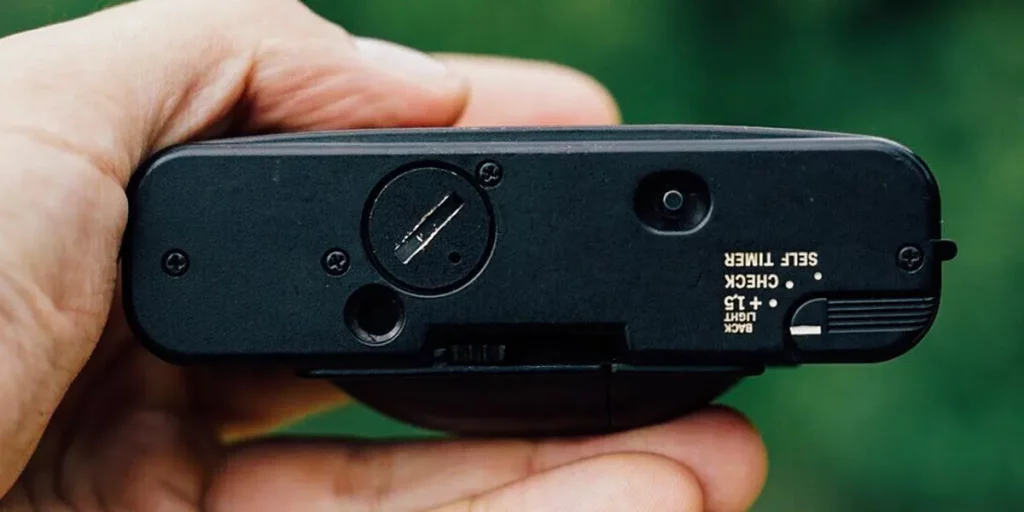 The Olympus XA, due to its rarity and distinction compared to other cameras that may appear similar, is highly valued in the second-hand market today. That's why you can find examples that can have a widely varied price, ranging from $200 to $400. It can even go higher if it's in a "like new" condition or if it comes with its original box, flash, and user manual.
Due to its features, it's not usually a camera that presents technical problems over time. So, finding one in working condition isn't that difficult. However, something worth paying attention to before buying one, whether from a store or an auction, is the lens, as even though it might be mechanically sound, the lens can often have scratches or moisture. Therefore, it's the main aspect to consider.
The XA can be purchased online from places like the KEH Store or on auction sites like eBay, and occasionally, though less frequently, from physical second-hand stores.
Olympus XA Photos
Shots taken with the XA.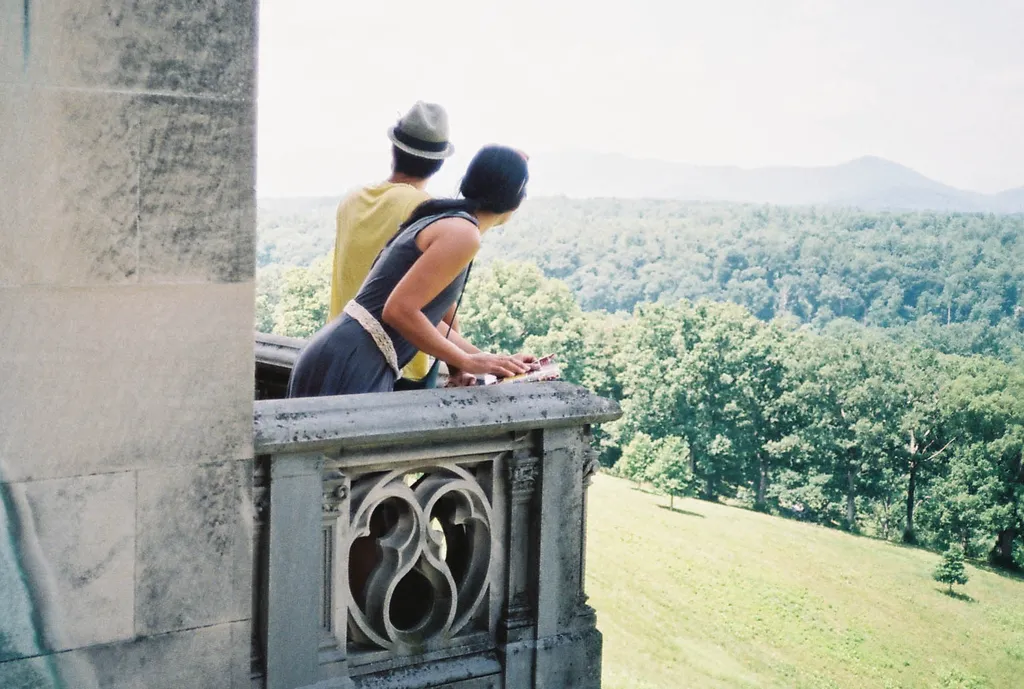 Final Thoughts
When talking about Olympus gems, this series of cameras, including the XA series, is remembered. PEN, the half-frame camera, and OM, the single-lens reflex camera, are some examples of beloved products. A key figure in designing these products is Miku Yamatani, an optical engineer. According to him, the XA became a camera that appeared mechanical but, thanks to the lens cover design, managed not to look overly mechanical.
Since its foundation, Olympus has been committed to originality and uniqueness, and thanks to Miku Yamatani, these ideas have been realized. When Olympus's PEN EE was launched in a time when 98% of camera buyers were men, the proportion of female buyers increased to 33%. Similarly, in an era when a mechanical feel was sought, the focus on non-mechanical aspects resulted in the development of the XA.
The innovative function of the XA's lens cover, making men pleased when it's open and women pleased when it's closed, is the result of a unique philosophy. The intention was to create a camera that could be carried by anyone,
regardless of gender. This becomes evident when one uses the XA and realizes the exceptional fun it offers, aligning with the designer's intention. This kind of enthusiasm is clearly conveyed through the use and possession of the camera.
User Manual
https://www.cameramanuals.org/olympus_pdf/olympus_xa.pdf