Olympus Pen-D Review: Rediscovering Half-Frame
Last Updated on April 28, 2023

The Olympus Pen-D camera played a crucial role in shaping the company's identity as a producer of quality, compact cameras. In this Olympus Pen-D review, we'll delve into the camera's history and explore its features that made it competitive in the market.
Before analyzing it, let's review the technical specifications of the Pen-D to know what type of camera we are dealing with.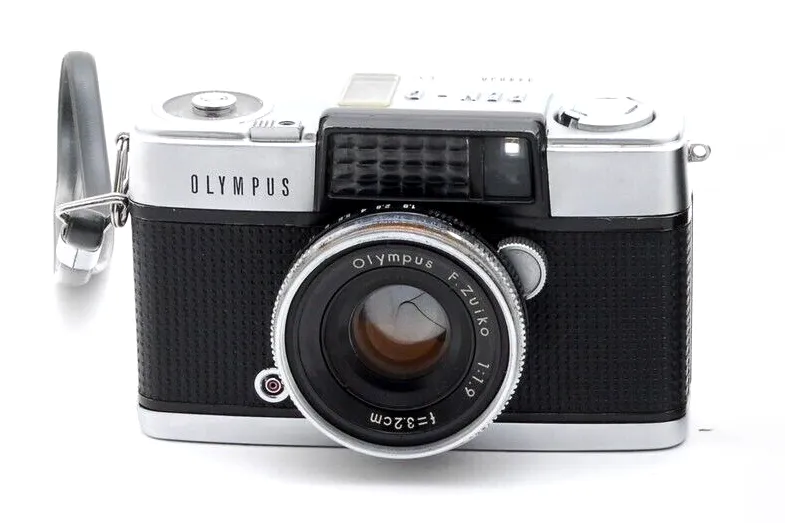 Pen-D Specs
| | |
| --- | --- |
| Year release | 1962 |
| Retail price | $70 ($700 at today's exchange rate) |
| Camera type | Compact half-frame camera |
| Film type | 35mm |
| Number of shots | 72 |
| Lens | Olympus Zuiko 32mm f/1.9, 6 elements in  4 groups |
| Focus distance | 0.8m to infinity |
| Shutter type | Copal  X, leaf shutter |
| Shutter speed | 1/8 to 1/500 sec, Bulb |
| ISO | 10 to 400 ISO |
| Viewfinder | Windowed, no aid focus |
| Meter | Selenium lightmeter |
| Flash capabilities | (x) PC Port, sync at 1/40 |
| Battery | Does not require batteries |
| Size | 108 x 67 x 50mm |
| Weight | 400g |
History
The original Olympus Pen was launched in 1959 and designed by Maitani Yoshihisa. Its production was subcontracted by the company Sanko-Shoji, but after a year, it was produced by Olympus itself.
The original Olympus Pen was improved with the Pen-S model and is considered the first series in the Olympus Pen line. The second series corresponds to the Pen-D, which is the one we are analyzing on this occasion. But let's take a look at the series that were part of the Olympus Pen line.
There were basically 4 series in the PEN line:
The original Pen series: Launched in 1959 and updated with the Pen-S in 1960.
The Pen-D series: Launched in 1962 and updated three times with the Pen-D2 and Pen-D3.
The Pen-E series: Launched in 1961, it was a more basic line than the previous Pens but had a dozen variants (until 1983), characterized mainly by being completely automatic.
The Pen-F series: The original Pen-F was launched in 1963 and had three evolutions, including the Pen-FT and Pen-FV models. The Pen-F stands out from the previous series as being SLR (single lens reflex) cameras with interchangeable lenses, making them more advanced.
The Olympus Pen was a highly successful camera from the 60s to the 80s, leading other brands such as Canon and Konica to also jump on the half-frame bandwagon. However, Olympus would dominate that market. Olympus would reintroduce the Pen in the digital age with the Olympus Pen E-P1 and subsequent models and variations.
Pen-D Features
Lens and Shutter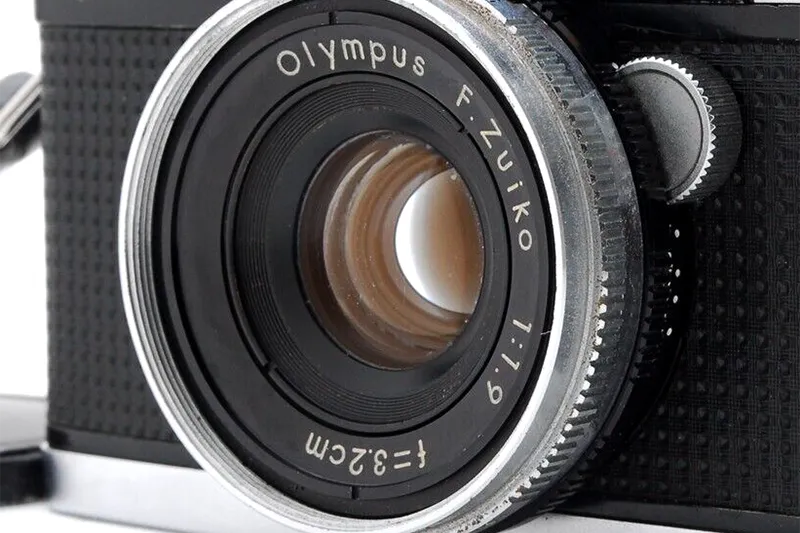 The lens attached to this camera is an Olympus Zuiko 32mm f/1.9 lens. It is a fixed lens that is constructed with 6 elements in 4 groups. The lens features a Copal X leaf shutter, which also serves as the aperture.
The focus quality in the images has a good level of detail, with no distortion noticeable in photos with predominance of straight lines and offering a correct level of contrast. No vignetting is observed when using the maximum aperture.
For the size of this camera, one could think that it has a very bright lens, and indeed it does. But let's bear in mind that we're talking about a camera that only uses half of a 35mm negative frame. Therefore, concentrating the light in that space is not as difficult as doing it in a full frame.
Offering a camera capable of shooting twice as many frames as a conventional camera of its type and including a bright lens were the two marketing strengths that benefited the success of this camera. The only consequence of this is that we will obtain photos with a greater presence of grain, the same phenomenon that occurs today with cameras with small sensors and their tendency to noise.
The minimum focus distance is 0.8m (2.6ft), so it can be very well utilized for portraits with an appreciable shallow depth of field or bokeh. Although the perception will be more like a lens with f/2.8 aperture, due to the dimension of the frame as we explained before.
It's worth noting that this camera does not have a focus aid, so using its maximum aperture at this distance will be challenging.
The shutter on this camera is very satisfying, as it features a leaf shutter that makes it very quiet when taking photos. This is ideal for taking street photography or any other situations where you don't want to draw attention to yourself. However, it's important to note that pre-focusing technique should be utilized.
The camera is capable of shooting from 1/8 to 1/500s, and the ISO can be adjusted from ISO 10 to ISO 400. Both settings are located on the lens along with the aperture adjustment.
Half-Frame format and Viewfinder

As we already mentioned, the main appeal of this camera is the half-frame format, but in addition, the photos are "vertical". That is, holding the camera in the normal position will result in a portrait orientation. So, to take landscape photos, you will find yourself holding the camera vertically, and I must confess that it feels a bit strange at first.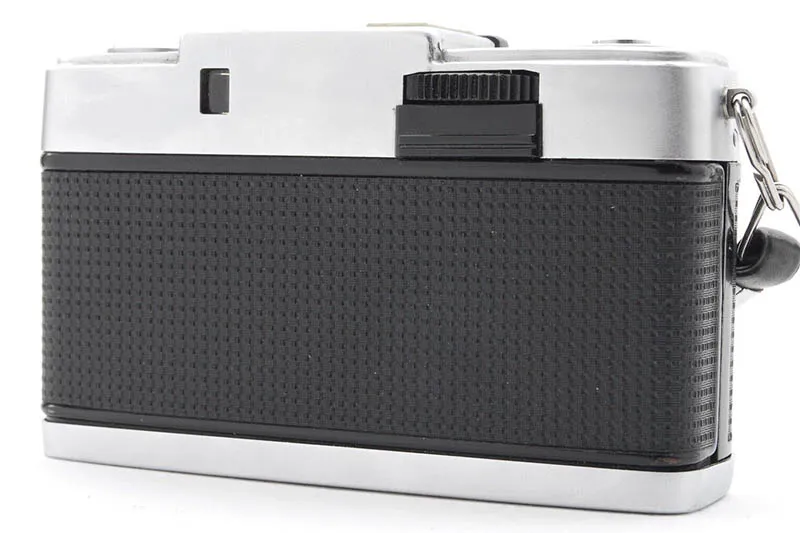 This is especially true if you are used to taking vertical photos, or portraits, to be more specific (as is my case). You will find yourself constantly readjusting the camera orientation. But undoubtedly, being able to take 72 photos on a 135 film, where the norm is usually 36 photos, can feel like a life hack.
It is worth noting that the viewfinder is not very different from that of a modern point-and-shoot camera. The only difference is in size, which is considerably larger and brighter on the Pen-D. There is also no preview (because it is not a reflex camera), and it does not have focusing assistance (like a rangefinder). So, beyond framing, you won't be able to do much more.
Metering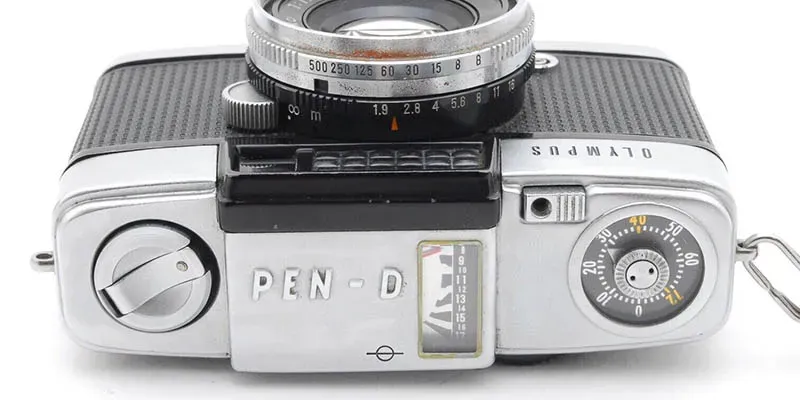 Another distinctive feature of this camera is its light meter, as it has a selenium cell meter that works without batteries. Therefore, this camera operates completely manually and mechanically.
The first necessary adjustment to make the measurement is to choose the desired aperture. Always keeping in mind that the focus will be more or less dependent on this decision. As the aperture gets wider, the range of the focus zone will be reduced. So, if you want to be consistent, use the aperture judiciously. To see how to use the camera in detail, scroll down below this post.
The Olympus Pen-D has a display on the top indicating with a needle, the level at which the shutter speed should be set in accordance with the aperture to obtain correct exposure. The needle will move based on the amount of light the light meter receives.
Film loading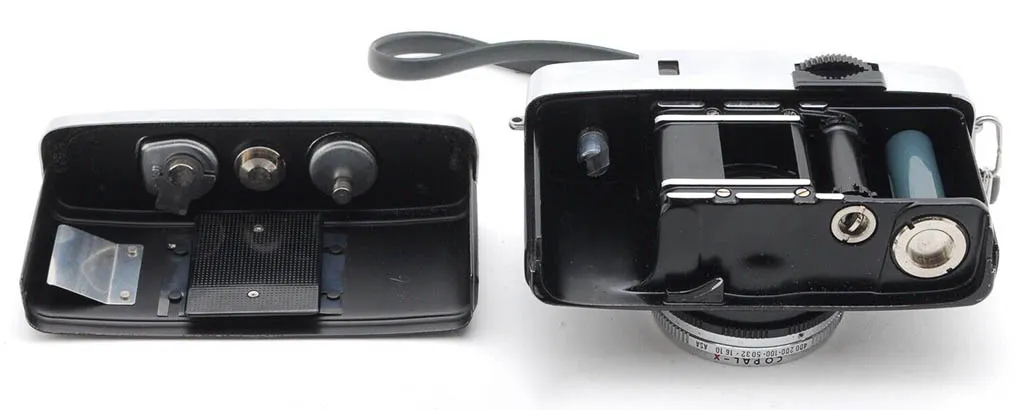 Accessories
Pros and Cons
Pros
Compact and comfortable to hold.
Bright lens (f/1.9), good shallow depth of field.
Does not require batteries.
Large number of shots (72).
Cons
Manual rangefinder focus (no focus aid in the viewfinder).
Selenium light meter (must be kept away from light when not in use).
Manual resetting of the frame counter.
Price and Buying guide
If you're searching for a charming vintage camera, the Olympus Pen-D is a good option to explore. Its price can range from $50 to $150, depending on various factors like condition and location of purchase. When shopping for this camera, you may also find variations in pricing if you opt to buy from a specialized store that offers a warranty. This camera is available for sale on popular online marketplaces such as eBay, Amazon, and KEH Camera.
While purchasing from an auction site, it's essential to assess the condition of the camera carefully and the seller's reputation. The Olympus Pen-D is compact and easy to use, with a bright lens that produces images with a shallow depth of field and detailed contrast.
Moreover, it doesn't require batteries, making it an excellent choice for on-the-go photography. However, keep in mind that the images produced can be grainy, and there is no focus aid. In conclusion, the Olympus Pen-D is an excellent viewfinder camera to play with without stretching your budget.
Olympus Pen-D shots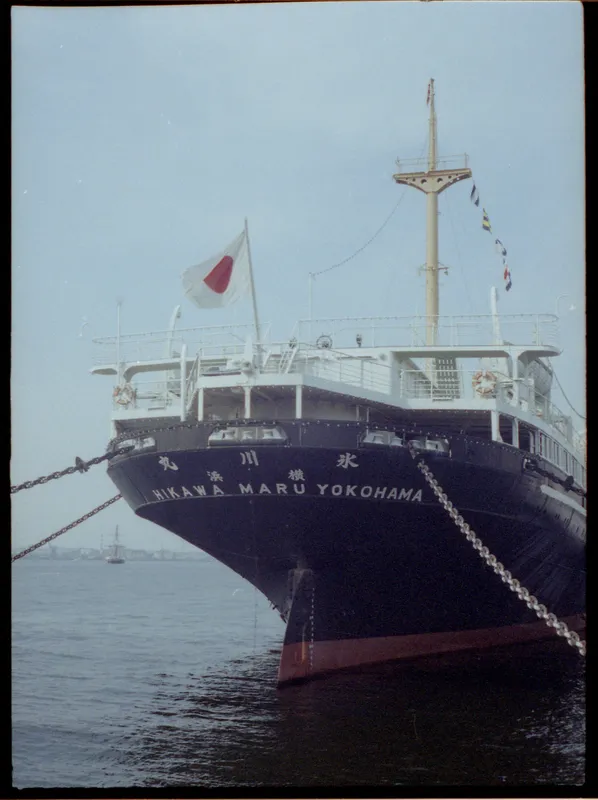 FAQs
How to use the Olympus Pen-D?
Even though it's in Japanese, this is the best manual available on YouTube to learn how to use the Pen-D (just turn on the subtitles). I hope to take the time one of these days to make a video myself.
What's the difference between Olympus Pen-D, Pen D2, and D3?
The Olympus Pen-D, Pen-D2, and Pen-D3 are very similar. The Pen-D features the 32mm f/1.9 lens, an uncoupled selenium meter, and a 1/500 shutter speed. The Pen-D2 replaced the selenium meter with a CdS exposure meter, while the Pen-D3 had a slightly faster 32mm f/1.7 lens, but was otherwise almost identical to the Pen-D2.
What's the difference between Olympus Pen-D and Pen-F?
The Pen-D is a simpler camera designed for a different purpose compared to the Pen-F series.
The Pen-D has a fixed 32mm f/1.9 lens, while the Pen-F series has interchangeable lenses.
The Pen-D has an uncoupled selenium meter, while the Pen-F series has an integrated light meter.
The Pen-D is a half-frame viewfinder camera, producing smaller images than the Pen-F, which was designed as a half-frame SLR system.
The Pen-F series featured a rotary focal-plane shutter, allowing for electronic flash synchronization at all shutter speeds, while the Pen-D had a 1/500 shutter speed.
Overall, the Pen-F series is a more versatile and advanced system, while the Pen-D is a simpler and more compact camera.
Conclusions
Taking pictures with a camera that gives you the possibility to shoot 72 images is the unique quality of this camera. Furthermore, without sacrificing the quality of its construction, since it is not a "professional" grade camera, it is a rare luxury these days.
What I like about cameras from the 60s is that they were designed to create products that would last a long time. They were not like the disposable technological gadgets that we can find today. I had a Pen-EP1 when it first came out, which was the first digital camera in the renewed Pen line of the past. Unfortunately, it didn't survive a fall, and the sensor no longer wrote to the card.
However, my Pen-D is twice as old and works perfectly. These little works of engineering from yesteryear are in a league of their own.
Links
Camera manual: https://www.cameramanuals.org/olympus_pdf/olympus_pen_d.pdf
Olympus Pen forum thread: https://www.rangefinderforum.com/threads/vintage-classic-cameras-the-unvarnished-truth-the-olympus-pen-saga-part-1.175700/