Hanimex 35SE Review: A Plastic Camera with Personality
Last Updated on October 11, 2023
In this review of the Hanimex 35SE, we will delve into some of the most relevant aspects of this camera. Despite being considered a "toy" camera, it can hold its own for the right user. This camera also goes by the name Halina Flash 350.
In the world of amateur cameras, there are some iconic ones like the Nishika N8000 and others similar to the Lomo. While the Hanimex 35SE may not enjoy the same level of popularity, it has the advantage of not costing a fortune like the ones mentioned earlier. Of course, it's not a 3D camera, but you get the idea—it's a very basic plastic camera.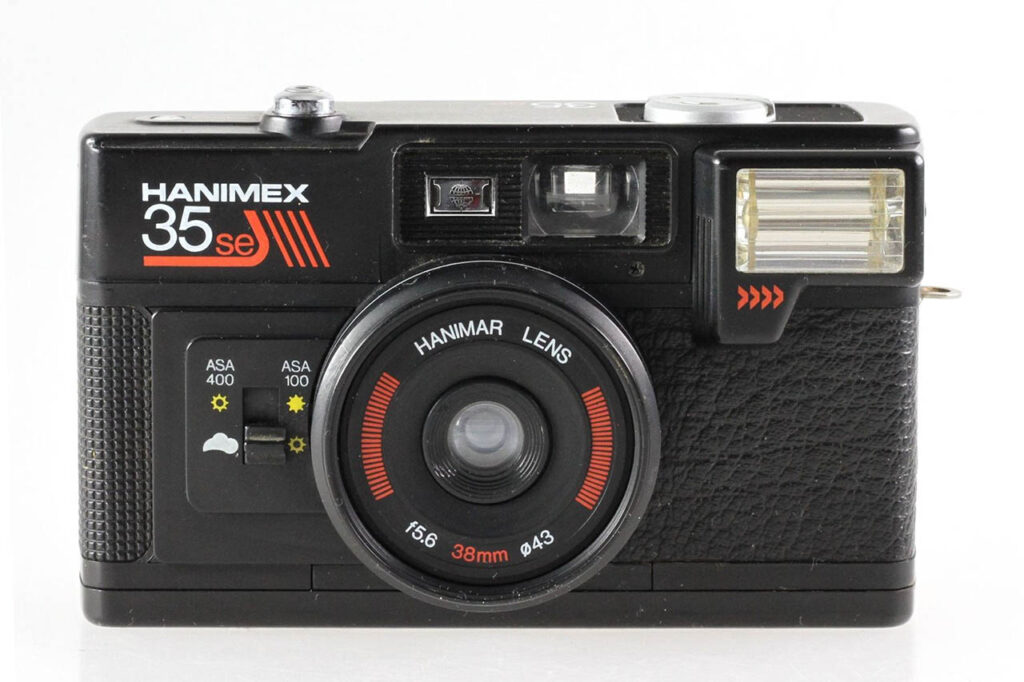 Given its simplicity, its specifications are quite limited. Let's take a look at what they are.
Hanimex 35SE Specifications
| | |
| --- | --- |
| Year release | 1982 |
| Manufacturing in | Hong Kong |
| Camera type | Viewfinder camera, Point and Shoot |
| Film type | 35mm (135) |
| Lens | Hanimar 38mm f/5.6-9.5 (3 elements, 3 groups) |
| Focus type | Fixed |
| Battery | 2x AA batteries |
| Weight | 200g. |
| Price | US $30 |
General Aspects
Hanimex is an Australian company that, in its early days, started by importing and distributing various types of photographic equipment. They are also known for supplying lenses for major SLR camera mounts. The manufacturing of most of their equipment was handled by Topcon, a Japanese company that some may already be familiar with.
The Hanimex 35SE was introduced to the market in 1982, during the heyday of compact cameras. It's not a camera that could boast of competing with popular cameras of the time like the Olympus XA. However, it was a more affordable option with its own personality among many others.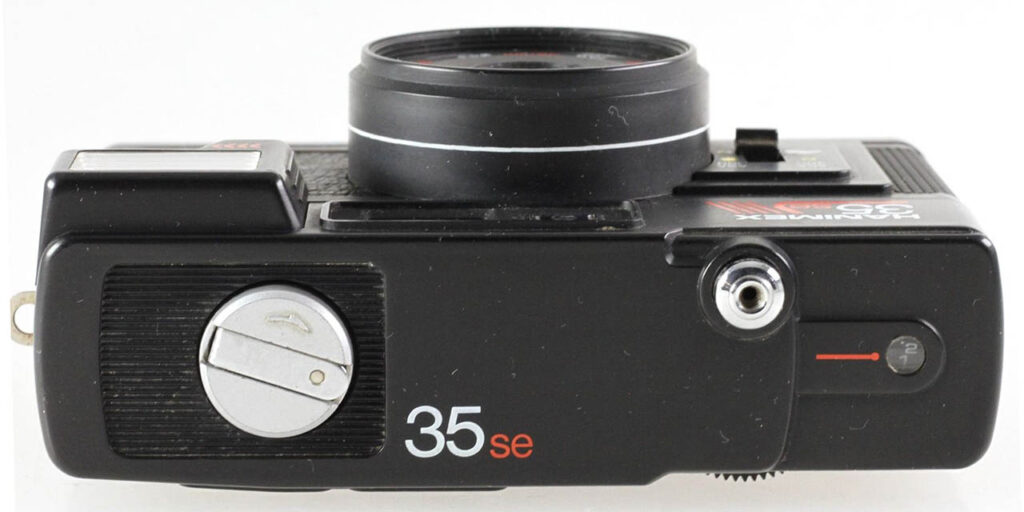 The 35SE is constructed almost entirely from plastic, including the lens. Despite this, it has held up quite well over time—it doesn't fade or break easily. It's a testament to the fact that plastic used to be of better quality in the past than it is today.
The Hanimex 35SE features a Hanimar 38mm f/5.6-9.5 lens. On its front, it has a switch to choose between ISO 100 or 400, which essentially adjusts the lens aperture to either f/5.6 or f/9.5. This allows for minimal "manual" control over the film you're using. If you're familiar with the sunny 16 rule, you can make some adjustments.
Honestly, with the lens that comes with the 35SE, I expected very poor results, but I was surprised that the sharpness of the images is not bad at all. It has a respectable focus for the type of camera it is.
User Experience
Being such a simple camera where all you need to do is frame and shoot, the only factor the user needs to consider is the amount of light in the scene. It has a fixed shutter speed of 1/125, combined with its two aperture settings of f/5.6 and f/9.5, which limits its use to well-lit situations or the use of a flash.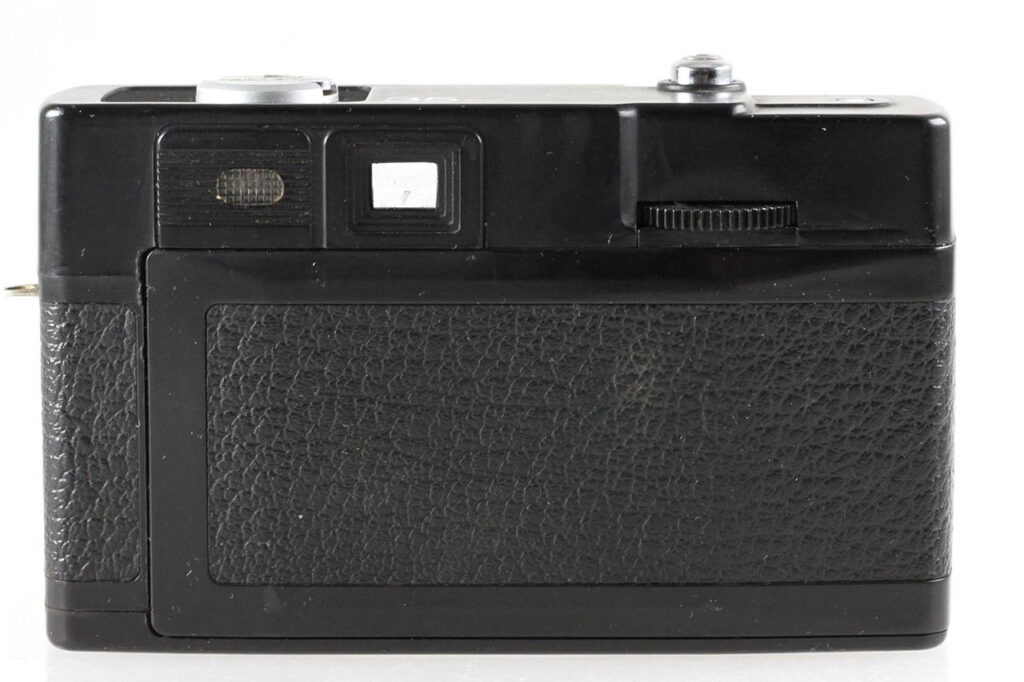 To activate the flash, it's very simple. You just need to slide the flash out, as indicated by the arrows. Undoubtedly, the addition of a flash to this camera adds another dimension to what you can do with it.
It's a camera that, with the right eye, can be a lot of fun. It's great for casual everyday photos, for a trip, or even for a daytime wedding. Due to its random exposure nature, casual underexposures result in photos with pronounced shadow tones, giving that vintage look that many adore.
Pros and Cons
Pros
Nice design
Easy to use
Lightweight and easy to carry
Built-in flash
Decent lens sharpness
Cons
Made of plastic
Lacks advanced manual functions
Depends on ample lighting
Sample Photos
Some shots taken with the Hanimex.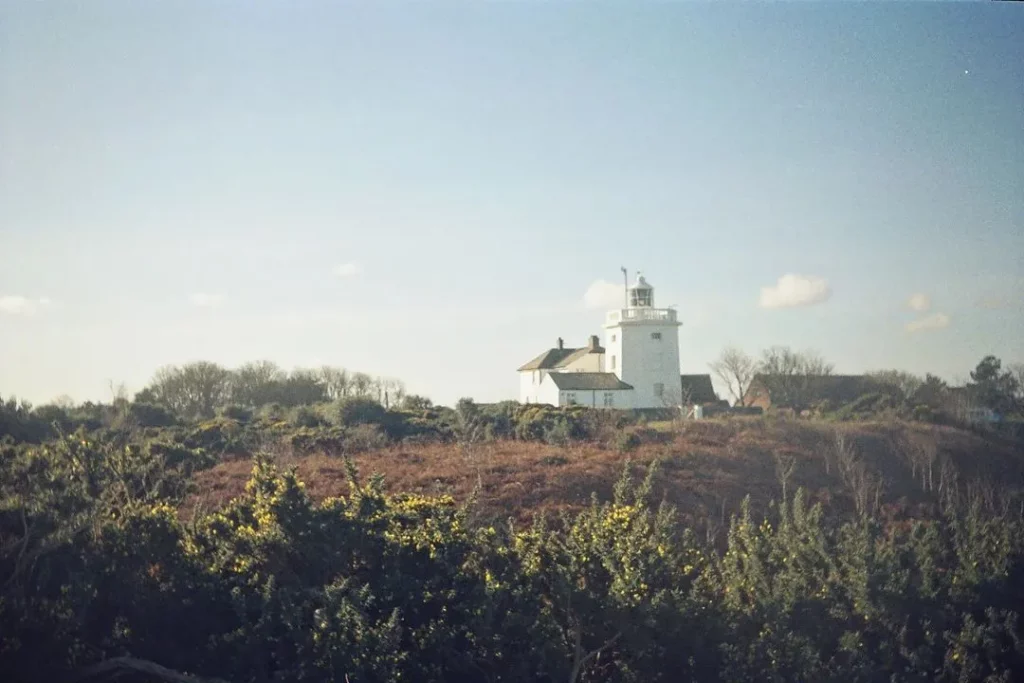 Final Thoughts
As we've seen, the Hanimex 35SE isn't exactly an exquisite camera when it comes to features, yet it is capable of capturing images with a good level of quality. So, if you come across one "out there" at a fair price, you won't be making a mistake. Moreover, it's a camera that can catch the eye of more than a few due to its well-thought-out design, considering the type of camera it is.