Canon Autoboy Prisma Date Review: (A.k.a Sure Shot Ace)
Last Updated on February 19, 2023
In this Canon Autoboy Prisma Date review, we will look at the features of this simple camera and see how it differs from the classic "Autoboy" or "Sure Shot" cameras as they are known in the American market.
While Autoboy is the name Canon uses to identify this series of compact cameras in Japan, there is a considerable number of them in the United States using this Japanese name.
The Autoboy Prisma Date is marketed in the United States as the Sure Shot Ace, although there are almost the same number of cameras circulating under both names.
But beyond the naming confusion, let's talk about its capabilities and features.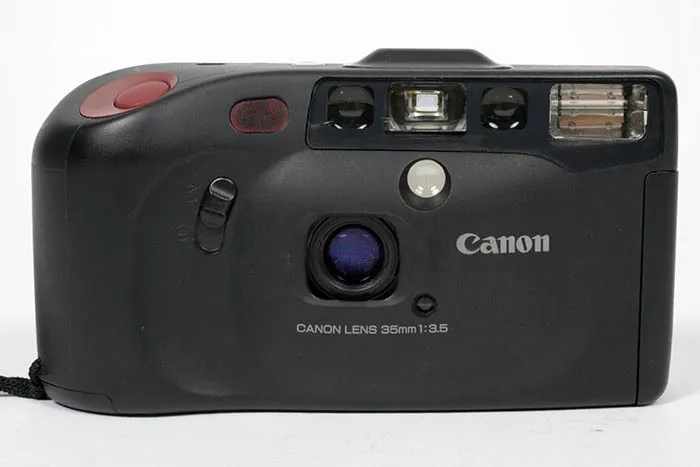 Autoboy Prisma Date Specs
| | |
| --- | --- |
| Year Release | 1988 |
| Camera type | Point and shoot film camera |
| Film type | 35mm |
| Focus | Fully automatic, with pre-focussing |
| Lens | 35mm f/3.5, 3 elements in 3 groups |
| Minimum focus distance | 1m |
| Shutter | Electronic shutter/aperture |
| Shutter speeds | 1/40 to 1/125 |
| ISO | DX reading, ISO 50 to 1600 |
| Self-timer | 10 seconds delay, infrared remote control |
| Viewfinder | Double: Eye-level and Prisma waist-level viewfinder |
| Battery | Lithium 2CR5 6v battery |
| Dimensions | 139 × 76 × 50 mm |
| Weight | 335 g (with battery) |
General information
The Canon Autoboy Prisma Date (a.k.a Sure Shot Ace) is a point and shoot camera released in Japan in 1988. That is, 2 years after the successful Canon Sure Shot Supreme (Autoboy 3), from which it inherits much of its design, but not its characteristics.
The Autoboy Prisma Date doesn't seem to fit in the line or range of the previous 3 models. It seems more like a model created in parallel for a more diverse audience, with basic features that we would see in a domestic consumer camera, but with others that we would see in a more "niche" camera, such as street photography.
And it's that the previous cameras in the Autoboy/Sure Shot line do show an evolution of improvements from one to the other. In the Autoboy Prisma Date, they seem to take a different direction, offering a unique feature, which is the waist-level viewfinder, but at the expense of capabilities in other areas.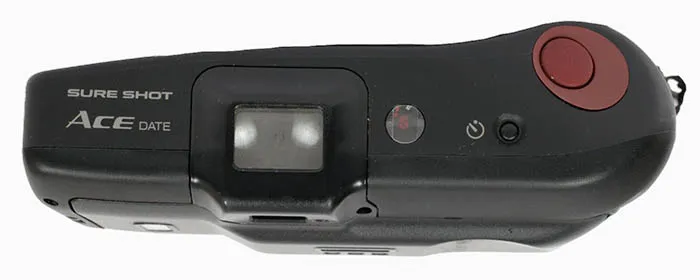 And it's that something that all Autoboy/Sure Shot cameras have in common is that surprise element that makes you smile when you get to know them in detail. Without a doubt, this is the most fun side of Canon when it comes to camera manufacturing.
The design
The design of the Autoboy Prisma Date compared to the Autoboy 3 changes very little. Essentially, the only change is the mechanism for opening the lens cover, which no longer uses a button to open, but simply uses a sliding switch.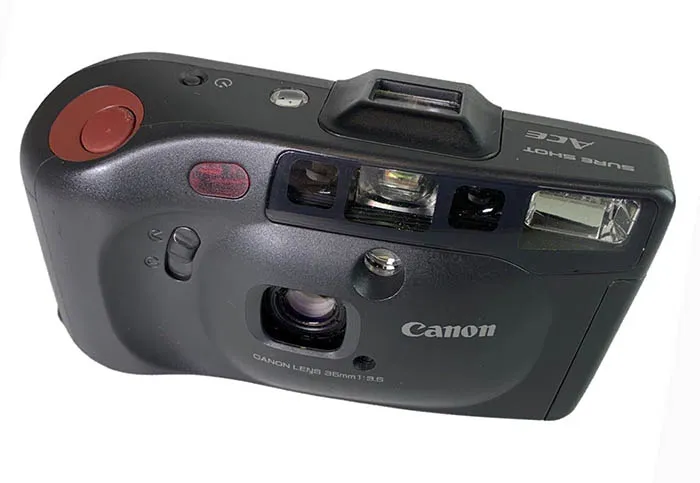 The button is still red, although they added a wider area of the same color around it, most likely because now the thumb also plays an important role in shooting (shooting from hip level).
The Prisma Date is slightly longer than the Autoboy 3, but thinner in depth (by a few millimeters). On the other hand, the shapes are even more rounded, as if welcoming the 90s.
Another thing that is appreciated is the fact that it does not require a screwdriver to change the battery.
Viewfinder features
The Autoboy Prisma Date has a dual viewfinder, one at eye-level and one at waist level. The "Prisma" in the name comes from the functionality of the second viewfinder, which uses a prism to reflect the image upwards, similar to a TLR like the Rolleiflex.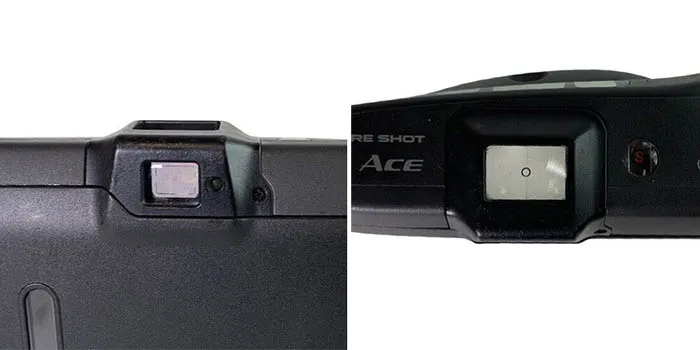 In my opinion, the charm of this camera is centered around the second viewfinder, which allows for a versatile shooting style. Shooting portraits at waist level is not only an ideal way to compose a portrait, but also creates a distance between the subject and the camera, making it an interesting option for street photography.
Both viewfinders are clear and bright, making framing and composing easy. However, shooting against the light with the waist-level viewfinder can generate certain reflections that make it a little more difficult to see through.
It's important to be aware that this camera is very dependent on flash due to the lens aperture, so it's important to hold it in a way that doesn't obstruct the flash.
Lens
The Canon Autoboy Prisma Date features a 35mm f/3.5 lens made up of 3 elements in 3 groups. Although we mentioned that it is not a lens that excels in light gathering ability, it is still a lens with great quality for its type.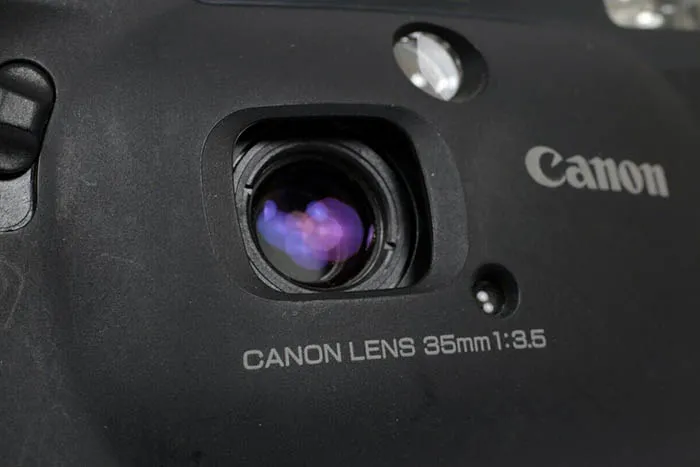 It has virtually no vignetting, and the resulting photos are very sharp. It is not a cheap plastic lens, and its only drawback is the minimum aperture of f/2.8 required to really stand out.
Therefore, using films below ISO 400 is not very worthwhile, since its shutter speeds, ranging from 1/40 to 1/125, do not stand out either. This is a big difference compared to the Sure Shot Supreme, which, in addition to having a decent aperture, could also shutter from 1/8 to 1/500.
It is important to be aware of these limitations to creatively address these shortcomings. But not everything is so bad, the Sure Shot Ace has an ace up its sleeve that could convince you to take it seriously.
Remote Control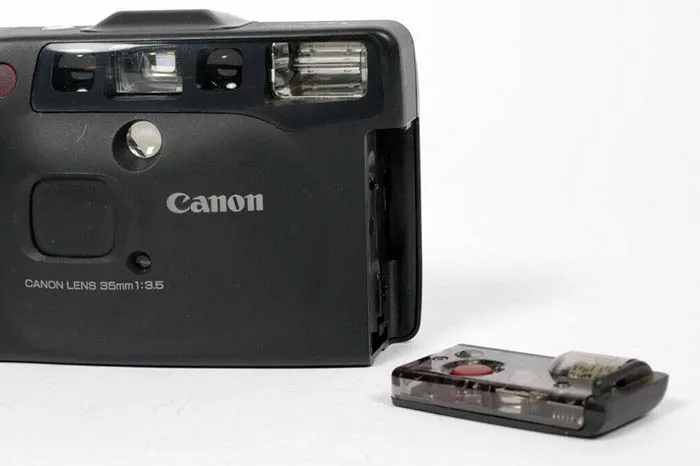 The Autoboy Prisma Date has the ability to be controlled via infrared using a small remote control located on the right side of the camera, which can be detached from the body when needed.
For an advanced amateur, this may be seen as a useless feature, but it actually holds a lot of value. I can't think of any other point-and-shoot film camera that has this ability.
Since its inception, this camera has brought very user-friendly features to the line of compact cameras, especially for those who like to take self-portraits. This camera also has the nifty feature of a tilt knob, which allows for a slight tilt that every portrait frame needs without the need for a tripod.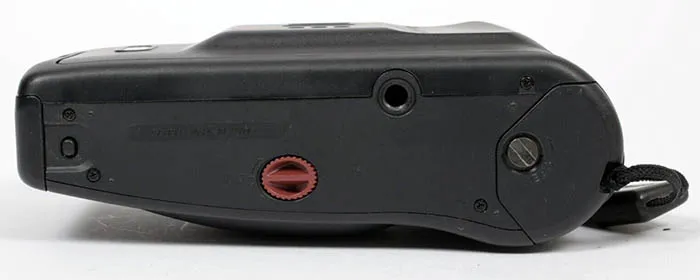 Part of the marketing strategy for this camera was to attract more advanced users without alienating the average consumer. It offered a camera with very unusual and undoubtedly original features.
Price
The price of the Canon Autoboy Prisma Date or Sure Shot Ace varies widely, but I can tell you that it's more expensive than the Autoboy 3. Yes, its basic functions are inferior to the Autoboy 3, but its unique features are what give it extra value.
This camera can cost anywhere from $50 to $150 (and I've even seen them more expensive). It depends on the condition of the camera and where you buy it, as you may get lucky and find one in a secondhand store for just a few dollars.
The price is really due to the fact that there aren't many of these cameras around, and we'll be seeing even fewer in the coming years. Additionally, being a compact plastic camera, people don't usually take very good care of them. So if you manage to find one with barely any scratches, take good care of it because you're lucky.
Camera shots samples
Some photos taken with the Autoboy Prisma Date.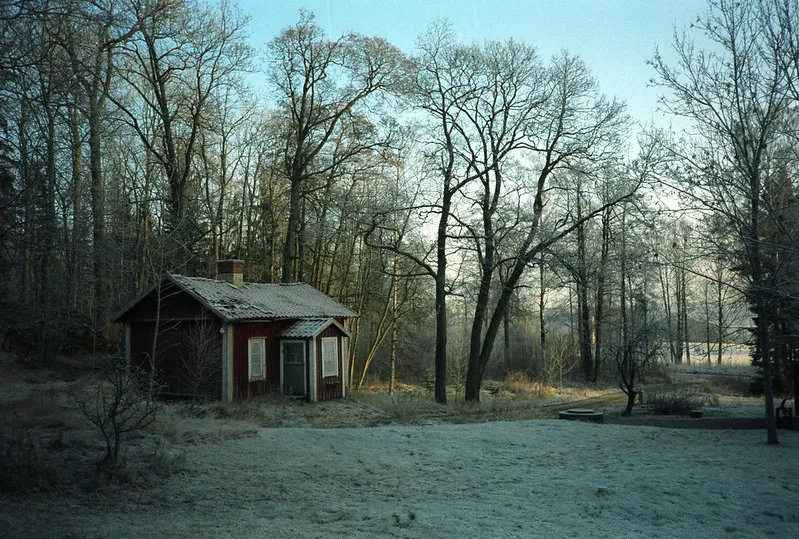 Conclusions
In short, what we have seen in this Canon Autoboy Prisma Date review is that it is a camera with an undeniable personality that makes it stand out from any other point and shoot.
It's very likely that you'll want to have it, like me, simply because it's rare. It may be a challenge to shoot with it as an amateur looking for a camera to behave in a specific way. I wouldn't expect that from this camera. This camera is for having fun, enjoying time with friends without thinking too much about the outcome (or maybe you do, it's up to you).
Anyway, thanks for reading this post, happy shooting.