ILFORD launches a new color film: ILFOCOLOR 400 Vintage Tone
Last Updated on July 4, 2023
ILFORD, renowned as the leading manufacturer of black and white films, has surprised the market by introducing a new line of color films. Despite the significance of this news, it has gone unnoticed on the internet. In this article, we will explore the story behind this release and analyze the details of ILFOCOLOR 400 Vintage Tone, ILFORD's new film.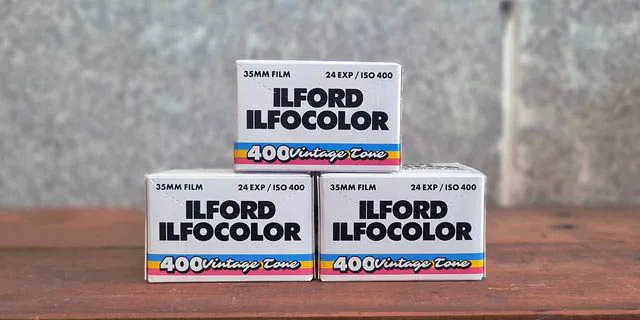 ILFORD and its history in color films
While ILFORD is known for its excellence in black and white films, few know that they also ventured into color film production in the past. During the 1930s, they manufactured slide films in collaboration with a company called Dufaycolor Film. Later, in the 1940s, ILFORD acquired the "Color Film" brand from Dufay and continued selling color films with an ISO of 10. However, their progress was hindered by Kodak's patents, which limited their advancement in the field of color films.
The abandonment of color films
In the 1960s, ILFORD managed to release its first color negative film, known as "Foco Color." However, this endeavor was short-lived as they decided to cease the production of color films in 1969 and focus exclusively on black and white films, as well as color photographic paper. The competition with the giant Kodak proved unsustainable, and ILFORD stopped manufacturing color films for over 50 years.
ILFORD's current situation
It is important to understand that ILFORD is a commercial brand that belongs to different entities. In 2005, the company split into two parts: Harman Technology, also known as ILFORD Photo, which manufactures and sells films like ILFORD HP5 or PanF PLUS 50, and ILFORD Imaging, the Swiss branch of the company that focuses on other photographic products, such as printer paper. ILFORD Imaging is no longer involved in research or development of analog products, limiting itself to selling existing products under the ILFORD brand.
ILFOCOLOR 400 Vintage Tone and its origin
The new film ILFOCOLOR 400 Vintage Tone has sparked suspicions and speculation within the photographic community. It is important to note that Harman Technology, the entity responsible for ILFORD's film production, can still use the brand and logo of the products that existed at the time of the company's split. However, to launch new products, they must use the name Harman or other brands. This is why we can find disposable cameras with color films under the ILFORD brand, while disposable cameras with black and white films are marketed under the Harman brand.
Evaluation of ILFOCOLOR 400 Vintage Tone
Although not all technical details of ILFOCOLOR 400 Vintage Tone have been revealed, some images have been shared on the internet suggesting its possible origin. Visual comparisons indicate that this film could be related to the Wolfeng NC500, a color film manufactured by a renowned German manufacturer. However, the exact manufacturing process and the relationship between ILFORD and this manufacturer are unknown.
In conclusion
The news that ILFORD has released a new color film, ILFOCOLOR 400 Vintage Tone, has surprised the photographic community. While ILFORD has a long history in black and white films, their foray into the world of color films has been limited and with products from other manufacturers.
Although the release of this film creates expectations, photographers must consider its higher price and the reduction in the number of exposures per roll compared to other options available in the market. The photographic community eagerly awaits more information about ILFOCOLOR 400 Vintage Tone and its performance in the field of analog color photography.